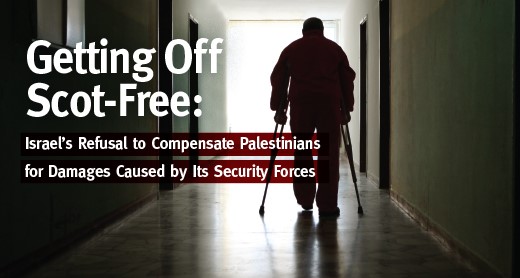 I was only twelve years old when I was injured. I didn't know anything about the military or about demonstrations. I was afraid of soldiers and too scared to take part in demonstrations.
My school is on the Ramallah-Nablus road, about 200 meters west of the fence around the Beit El settlement. On the day before I was injured, 19 May 2013, I was playing with a classmate in the schoolyard. I tossed my school bag to him and he threw his to me. We tossed the bags back and forth like a ball. In the meantime, there were clashes between some students from the school and the soldiers guarding the settlement. We heard them on the other side of the school fence.
While we were playing, my friend threw my school bag very high in the air and it landed on the other side of the fence. I went to fetch it and saw four soldiers had it. The other children warned me not to go get it because the soldiers might arrest me or beat me.
I went to the vice principal and told him what had happened. He went over to the soldiers, but they wouldn't give the bag back and told him to tell me to come get it myself the next day. I was afraid my parents would beat me if I came home without the bag. Also, all my
few minutes later, I heard one of the soldiers calling my name. I guess he saw it written on my notebooks and books. The older kids suggested that we send over a nine-year-old boy who would say he was 'Ata, because a soldier wouldn't hit a little kid or arrest him. But the soldier didn't believe him and said he wanted me to come over. I started walking towards him but the other kids stopped me, because they were afraid the soldiers would beat or arrest me.
In the end, I had no choice but to go home without the bag. I asked my friend not to tell my parents what had happened, but my mother found out, I don't know how. She said she'd call the principal and ask him to go get the bag. In the meantime, I borrowed the English books from my cousin and studied for the exam. When I took the test the next day, 20 May, I knew all the answers. I was a good student and had good grades. After the exam, at noon, I went home, had lunch and sat down to rest. At 2:00 P.M., some kids came by and said the soldiers had left my bag in one of the fields behind the school. I went there with a classmate, Muhammad. We stopped to buy a coke at the grocery store near the school. Everything was peaceful. I went into the closest field, where demonstrators sometimes gather and clash with the soldiers guarding the settlement. I took only a few steps into the field to see if there were any soldiers there, and looked towards the settlement. I didn't see any soldiers or protesters.
Suddenly, I felt something hit my chest. I didn't hear the shot. I felt nauseous and fell over. I felt something warm trickling down my body and realized my back was bleeding. I called out to Muhammad, who was behind me, but he couldn't lift me so he ran back to the grocery store to get help. A 17-year-old kid came and picked me up. When he picked me up, I saw two soldiers standing by the corner of the school, outside it. I guess they were the ones who shot me. They had helmets on and their faces were smeared with black paint, so I can't describe them. I was taken to hospital in Ramallah, and from there to another hospital. I was hooked up to oxygen and then I blacked out. I woke up the next afternoon in ICU at Hadassah Hospital in Jerusalem. I was hooked up to some machines and both my parents were there. They told me I'd undergone complicated surgery in Ramallah to fix the ruptures that the bullet made in my stomach, spleen, pancreas, and spine. I was transferred to Hadassah because I was in such bad shape.
When I woke up in Hadassah, my legs felt heavy and I couldn't move them, not even my toes. I saw that they were hooked up to some contraptions and asked my mother who had put those heavy things on my legs. I asked her to take them off. My mother said it only felt that way because of the injury and that I shouldn't be afraid. Every day, I asked her why I couldn't move my legs. Every day, my legs were examined. When I looked at them, I'd try to move them but couldn't. I kept asking that those contraptions be taken off my legs, and every time my parents would say: Slowly, slowly, be patient. You'll be able to move your legs again the way you used to, and even better.
After 19 days, the devices were taken off and I hoped I'd be able to move my legs. But I couldn't. Nothing had changed. I couldn't even feel my legs, apart from a sense of heaviness. After about two weeks, I was transferred to the Reuth Medical and Rehabilitation Center in Tel Aviv. It was only when I got there that the doctor told me the bullet had paralyzed the lower half of my body and that I was in a bad way. He said there wasn't much hope but that because I was young, maybe willpower and persevering with treatment would ultimately help me walk again. The doctor also said that the injury had twisted my spine and that my arms had lost some function and were very weak.
When I realized what happened to me and that I was paralyzed, I couldn't take it. As soon as I was brought back to my room, I locked myself in and started throwing and smashing whatever came to hand. I cried and shouted: "God, why?! Where are my legs? Why did this happen?! What did I do to deserve this?!". The hospital staff climbed in through the balcony. They grabbed me and gave me a sedative.
Three months later, on 29 August 2013, I returned home. I was depressed and in shock because my legs hadn't improved at all. My hands were doing better. I left the Reuth Center in a wheelchair donated by a German company. At first I found it hard to operate, but I had gotten used to it by the time I left the center.
When I got home, relatives, neighbors and friends came to visit. At first I felt sad and upset whenever people came over. I didn't want to see anyone and wanted to stay alone in my room, sleeping or playing on the computer. I kept to the house and didn't want to go outside, because I was ashamed to be seen in my condition. It was especially hard when the school year started. I learned that the school had given me a pass to start eighth grade because of my end-of-semester grades. I refused to go to school. I thought: How can I go in a wheelchair? How will I get around? How will I sit in class? How will I play?
For a week I refused to go to school, until my friends started coming over every day and encouraging me. My father gave me pep talks every day. In the end, I came around and agreed to go back to school after my father enrolled me in a boys' school in Bir Zeit which is more accessible for me in my condition. Over time I got used to the school and grew to like it, because there's a lot of understanding and cooperation between the teachers and the students.
It was hard to get to and from school, because it's five kilometers away and we don't have a car. I had to take a taxi there and back, which costs my father 130 shekels (approx. USD 35) a day. Although things are very tight financially, the whole family pitched in to help me. I have three brothers who were also working and they helped me.
When I left the Reuth Center, I was supposed to continue doing physiotherapy at the Abu Raya Center in Ramallah to be paid for by the Palestinian Authority. But I didn't go because it clashed with my classes. Because I neglected the treatment and didn't do the exercises, my spine got twisted again. The doctors decided that I needed another operation, which I underwent in Hebron in December 2013. I went back to school about two weeks later.
For a whole year I was on tranquilizers because I couldn't come to terms with being paralyzed. I was depressed and started psychological therapy after I got home. I just couldn't bear my situation and wished I was dead. Whenever I was in pain, I was overwhelmed with despair and lost all hope. Before the injury, I wanted to be a veterinarian because I really love animals, and especially pigeons and other birds. But that hope was crushed. I asked my father to sell my birds, because I couldn't feed or take care of them any more. I had 14 finches and four domestic pigeons that I kept on the roof. But during my time in hospital, the pigeons flew away and didn't come back, and most of the finches died. There were only two left, plus one chick. My father refused to sell them and recently I bought new pigeons. They bred and now I have 18 birds that are an inseparable part of my life.
In June 2014 I went back to the Reuth Center for two months and got more physiotherapy, which was funded by the Palestinian Authority. I felt a major improvement, especially since my body had weakened after my back surgery. The treatment I got at Reuth also helped straighten my spine.
Gradually, I began to adjust to my new life and come to terms with my new reality. I worked harder at school and my grades improved. In 2014 I entered ninth grade and felt better in class. A year later I started high school, which is in a more accessible building. My classroom is on the ground floor and I don't have to go up any stairs. My grades are now back to what they were before the injury and my grade point average in tenth grade was 82. I'm in the eleventh grade now.
Over the past year I managed to overcome my frustration and depression thanks to the support of my parents and friends. My father enrolled me in the al-Majd Club for handicapped basketball players and in a Palestinian youth council center. I started going to both centers. I'm part of the team and I play in matches. I don't feel any different from healthy people. I can play and pursue hobbies like anyone else. I started going to matches with the team in other districts. Yesterday I took part in a Defense for Children International conference in Hebron, along with the Minister of Education and the Minister of Health. Taking part in these activities helps me stay socially involved and improves my mood. I'm also learning new things. For instance, I used to not know anything about human rights and the rights of handicapped people, but now I know how to handle every case and where to refer it.
The biggest difficulty for me was getting into the house and accessing my room. We used to live on the second floor of my grandfather's house, and my father would carry me down every morning. When my brother got back from work he would carry me upstairs, or sometimes my cousin who lived next door would do it. My brother and cousin were often late, and I would be stuck in the street waiting for someone to carry me inside. It was hard carrying me up and sometimes it hurt, because the stairs were too narrow.
To solve the problem, my father switched apartments with my uncle, who lives in the same neighborhood. His apartment is roomier and its design enables putting in an elevator. I wanted to live in the attic so I could be close to my birdcages. At first I still depended on other people to carry me up and down, but about a year and a half after we moved there – just a month ago – we had an elevator put in. It took time because we had to raise enough money – 40,000 shekels (approx. USD 10,500). My father raised two thirds of this, and the other third was donated by a humanitarian organization. This change has made me so happy. I feel free because I can go downstairs by myself whenever I want to. It's an indescribable feeling. I'm optimistic and full of hope.
My last check-up was in April and I was told that my spine wasn't getting twisted again. I recognize the value of exercising now, and I bought some weights to lift so I can stay in shape. I take much less medication on a regular basis, only two kinds – but they cost 1,000 shekels (approx. USD 260) a month. My father pays for them himself, because the ones subsidized by the government aren't good enough. I was told I'd have to take these medicines for the rest of my life.
Recovering physically, adjusting to school, being back with my family and friends, and being socially involved has restored my self-confidence. Now I dream and hope again of building a normal life just like anyone else. I'm thinking of studying to become a lawyer, so I can defend Palestinians from the exploitation and violation of their rights by Israelis. I want to represent them.
My dream of being a vet is buried. It was destroyed by the Israeli sniper who paralyzed me. With my physical limitations, I can't treat animals. My deepest fear is that I won't be able to start my own family and have children. But I trust in God and hope to grow up and find a good woman, get married, and have children. In the meantime, I'm focusing on my studies.
'Ata Muhammad 'Ata Sabah, 16, is a high school student who lives in al-Jalazun Refugee Camp, Ramallah District. His testimony was given to B'Tselem field researcher Iyad Hadad on 20 November 2016.