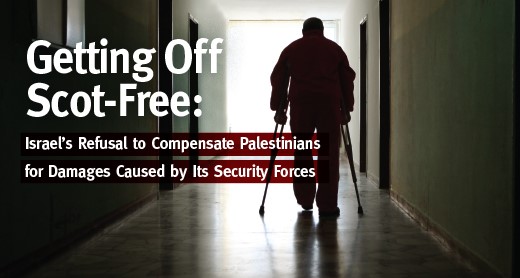 My son Hassan dropped out of school when he was in junior high and started working as a peddler. Sometimes he sold simple things such as parsley and green herbs or clothespins at a market stall. At other times he would help his father sell flip-flops. He and his father would go up and down the streets of the camp with a cart all day. They made very little, barely enough to cover expenses. Sometimes municipality officials wouldn't allow them to sell. Our family is large and we're very badly off financially. My husband is unemployed and we have no money to invest in a business.
It was very tough on Hassan. He started going to protests against Israel held along the border. On 30 March 2012, he was shot in the left leg near Erez Checkpoint. We were visiting my brother-in-law when my husband got the news that Hassan had been hit. I went home right away and my husband went looking for him in hospitals throughout northern Gaza. I was very worried until my husband called and told me Hassan was all right. He was kept in hospital for three days.
On Tuesday, 13 October 2015, I was at home and Hassan was at work, selling things at the market. He came home at midday and we had lunch together. Then some young men came over and told me that my son Muhammad, then 13, had gone to participate in a demonstration near the fence, east of al-Bureij. Hassan said he was going to get his brother, but he never came back. During the muezzin's call for evening prayers, some young men came to our house and told me that Hassan had been badly injured. Their hands were covered in blood. When I saw that, I sank to the floor. I felt like my legs couldn't support me. My daughters immediately phoned my husband and told him that Hassan was hurt.
We went to Shuhada al-Aqsa Hospital in Deir al-Balah and the doctors told us that Hassan had been hit in the left thigh by two bullets. They said he was in critical condition because they couldn't stop the bleeding. When I saw Hassan I became hysterical, and my husband started screaming too. Hassan was then taken by ambulance to a-Shifa Hospital in Gaza City. He was unconscious. They operated on him there for four hours. I waited in the corridor, exhausted and frantic. Every time I saw a doctor or nurse, I asked them if they knew how Hassan was.
After the surgery, Hassan stayed in hospital for over a month. My husband stayed at his bedside the whole time. I left home at ten o'clock every morning and stayed until evening. Our daughters did all the housework. It was one of the hardest periods of my life. We spent a lot of money during that time, on medication for Hassan that the hospital didn't provide and on transportation costs to and from the hospital for my husband and me.
The doctors couldn't restore Hassan's leg to health. We managed to get a referral to al-Makassed Hospital in Jerusalem and a permit to leave Gaza. On 31 December 2015, I went to Jerusalem with him. In February 2016, Hassan went to Jerusalem again, this time with his father. They stayed at the hospital for a week. In March 2016, they went again, this time for ten days. All these trips cost us a lot of money. My husband has borrowed money from his brothers – sometimes 1,000 shekels (approx. USD 260), sometimes more.
Hassan still suffers extreme pain in his left leg and cannot control his foot because the nerves were severed. The pain is worse when it's cold, and he cries out at night. He shouts so much that we can't sleep. There's no electricity, so we can't get him a heater. Our house is small and roofed with asbestos. I cover him with more than nine blankets to keep him warm. He needs daily care, antibiotics and painkillers in order to sleep. The bandages on his leg have to be changed every day. We pay for the medication out of our own pocket. We buy it on credit from the pharmacy, and when my husband gets some work we pay off the debt. We also have to pay specialists for his medical examinations.
About a year ago, Doctors Without Borders put a brace mechanism on Hassan's leg. But about eight months later the device malfunctioned and made his leg swell up, so Hassan stopped using it. He now needs medical shoes that cost about 300 shekels (approx. USD 80), which we don't have.
Ever since Hassan was injured, he hasn't received any financial compensation. Almost all of my husband's meagre income goes towards medication and doctors, instead of food and household expenses. Hassan can't work and if some day he'll want to get married, he won't be able to save up enough to pay a bride price. Even if we do manage to scrape together the bride price, how can he support a family? I feel like his future has been ruined.
Jawaher Hamuda Yusef a-Zaghlul, 50, is a married mother of seven who lives in a-Nuseirat Refugee Camp in the Gaza Strip. Her testimony was given to B'Tselem field researcher Khaled al-'Azayzeh on 3 January 2017.