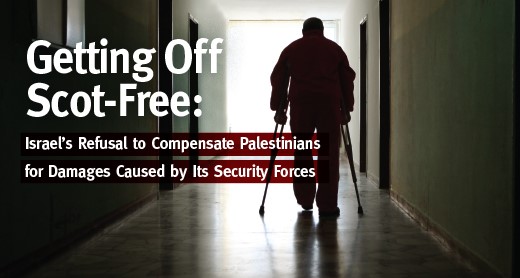 I live with my husband, Fayeq Nassar, 55. He has diabetes and high blood pressure. We have nine children. Ya'aqub, who is now 20, is my eldest son.
On Thursday, 8 January 2009, Ya'qub was hit by a bullet fired by a Border Police officer. The bullet went through his abdomen and broke four vertebrae in his spine. Ya'qub was left a paraplegic for life at the age of 12. He was a mischievous and restless boy. That day, he left school after handing in his final exam paper and went to a demonstration that was being held at the northern edge of the refugee camp.
Ya'qub was badly injured. He was treated in al-Ahli Hospital in Hebron for ten days, and then transferred to Jordan for treatment. His situation was critical for about 70 days. He survived but remained paralyzed from the waist down.
I have no words to describe the shock I felt when I saw my son sitting motionless, crippled. I felt helpless and couldn't go on functioning as a mother and wife. From the very beginning, I had to adjust to a whole new lifestyle. It was a huge calamity for our family. I was so sad when I realized that Ya'qub would live out his life as a cripple, paralyzed in a wheelchair, just like a little child who needs special help with bandages, that I have to care for him like a baby. Since he was injured I have had to bathe him and dress him, and I stay with him most of the time. I sleep in his room. I don't know if I'll be able to keep this up, because I also have to care for my sick husband and my other children.
Ya'qub couldn't come to terms with what happened to him. For a long time, he wouldn't leave the house. I'd talk him into going outside in the wheelchair. He would go out and come back very depressed. His sadness made the rest of the family sad. Over time, Ya'qub grew and put on a lot of weight. Now it's hard for me to care for him by myself, and I need his brothers and sisters to help me carry him to the bathroom or lay him in bed. As he grew older, he increasingly realized the magnitude of the calamity that had befallen him. Recently he's become very irritable and hardly ever goes out. He says he can't stand the way people look at him and pity him.
About six months ago, his buttocks became infected from sitting for so long in the wheelchair. The infection spread to his pelvic bone and we had to hospitalize him. I've stayed beside him ever since. I go to the hospital every morning and come home at night, exhausted and sad. His brothers and sisters stay with him at night. I worry that his health will deteriorate. I can barely take care of my other children. I'm so tired, and Ya'qub's latest illness made the calamity our family suffered even worse.
Ya'qub's medical treatment was lengthy and very expensive for a poor family such as ours. When his father and I travelled to Jordan with him, it cost us more than 4,000 Jordanian dinars (approx. USD 5,600). Ya'qub receives 1,400 shekels (approx. USD 370) a month from a Palestinian Authority foundation. That's not even enough to cover the cost of his medication, bandages, and transportation between the hospitals where he receives treatment.
After Ya'qub was injured, we hired a lawyer from Jerusalem to handle his case and make sure we get compensation to help us pay for his treatment and secure his future. There were several court hearings, but a few months ago, to our surprise, the lawyer told us that our suit had been denied. He refuses to continue working on the case and we're considering handing it over to another lawyer, but I don't know if that will work.
Maryam Ikhmeis Mash'al Nassar, 50, is a a married mother of nine who lives in al-Fawwar Refugee Camp, Hebron District. Her testimony given to B'Tselem field researcher Iyad Hadad on 20 November 2016.