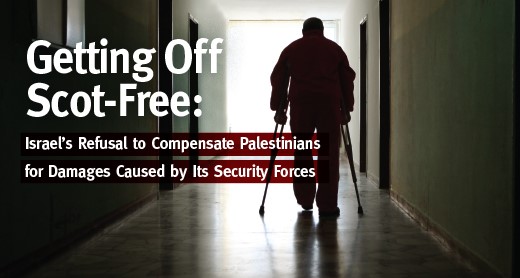 On Thursday, 12 February 2004, at around 12:30 P.M. – I was at home with my daughters. A few of them were playing out in the yard and I was cooking and setting the table for lunch. I heard gunfire and my daughter Nivin – who is now 25 and was 13 at the time – told me there were soldiers outside. I headed to the living room window, which overlooks the yard. When I was about a meter away from the window, I felt a sharp pain on the right side of my face and fell down. Nivin sat down on the floor, covered her ears, and started screaming and crying. My son 'Alaa – who is now 27 and was 14 at the time – came in with a relative of ours who was building a second story to our house and came downstairs when he heard the commotion.
There were many soldiers outside and they demanded that we all get out of the house. Our relative helped me outside and the soldiers laid me down on the ground and tried to give me first aid. My bleeding wouldn't stop and the soldiers couldn't help me. Finally, they put me on a stretcher and carried me about 200 meters to where a Palestinian ambulance was waiting. That was more than an hour after I was shot.
I blacked out in the ambulance. I regained consciousness more than two weeks later in the ICU of Rafidia Hospital in Nablus. I was in intensive care for forty days, during which time I suffered several cardiac arrests. The doctors weren't hopeful about my chances of survival. I lay in bed like a log. I heard everything but couldn't do a thing. I couldn't see, talk, or move. My palate was fractured, there were tears in the major nerve in my face, and I had fragments lodged in my neck and head. I was unable to eat and was fed intravenously. I also had temporary amnesia. I couldn't even remember my children. Sometimes I remembered only some of them. I also forgot the Quran verses I knew.
After forty days in ICU, I was transferred to the gynecology ward and from there, about twenty days later, to hospital in Beit Jala for physiotherapy and rehabilitation. I was in a wheelchair but couldn't operate it or get into it unaided. I was completely paralyzed and had to have everything done for me – to be put in the chair, to be wheeled around, to be fed. I even wore diapers because I couldn't make it to the bathroom independently. In Beit Jala, my condition improved a bit. When I was discharged about six months later, I could even take some steps, but just barely. I got out of bed only to go to the bathroom.
During my time in hospital at Beit Jala, I went home for a few days a month. Every time I was home, my condition deteriorated because I was so frustrated by not being able to help my children. They needed me but I couldn't lift a finger for them. I couldn't feed them, change their clothes, bathe them. Nothing. I couldn't stop crying.
When I got to Beit Jala I started eating, but for the first few months I could only manage gruels because of the tears and fractures in my palate. I had also lost several teeth and part of my tongue. My tongue was very badly injured, and to this day I can't speak properly. I can't walk well, either, so I need help getting around the house. I can't shower or dress independently. I can't even put on my head scarf alone. Nothing in my body works properly – not my legs, my hands, my mouth, or my eyes. I can see a little but not clearly, and I often stumble and fall. I also still have bad headaches because of the fragments that stayed lodged in my head.
When the treatment at Beit Jala ended, I returned home. That was more than a year after I was injured. My eldest son, Diaa', who was 17 at the time, was taken into custody with his father the day I was shot, and they were still being held. Everything that happened to me was because they wanted to arrest my husband. He was tried and sentenced to four years in prison. My son was sentenced to three.
The biggest problem for me once I got home was the mornings. My older children would go to school and I'd stay home with the little ones – Ibrahim, 5, 'Afifah, 4, and Mustafa, 3. All I could do was watch them until one of my neighbors came by and made them breakfast, fed me, and helped with the chores. That's how it's been ever since. If one of the neighbors doesn't come by, we're stuck without food until the girls get home from school. What has changed is that my girls have grown up. It's been 12 years since that terrible incident. Two of my daughters have since married, leaving 'Afifah, 17, who's now in the eleventh grade. She does most of the housework, and her two married sisters come over almost every day to help her and to bathe and dress me.
Thank God that, a few years before I was injured, my husband married his brother's widow so he could raise his orphaned nephews. He spends most of his time in the other house, with his second wife. Why should he stay home with a totally handicapped woman who can't even enjoy a cup of coffee with her husband? I really miss sitting down to coffee with him, but I can't even make myself a cup of coffee or drink it. When I try to drink tea or coffee, I often spill it on myself. The same happens with food, because I can't control my hands. They keep shaking.
The soldiers ruined my life and made it a living hell. I pray for death a hundred times a day. When I got back from physiotherapy in Beit Jala, my kids said, "You're not our mother, they switched you with someone else". When I spoke, they couldn't understand what I was trying to say. I had fits of rage and tears. They were young and couldn't understand what had happened to me. I feel like there's a fire burning inside me when I see that my children need me and I can't help them and support them. Instead, they have to support me and help me with everything. It's an incredibly cruel and tough situation.
What can I do? It's fate. Before I was injured, I loved to cut my children's hair. I didn't send them to hairdressers. I would style my daughters' hair when they went to special events and even for school. I also loved sewing, embroidery, and beading. I made my children beautiful clothes that I showed off to my family and neighbors. But those are all memories from a past that will never return. I have nothing left but those memories. I loved doing everything by myself, without anyone's help or support. Now I rely on other people for everything. That's what hurts the most.
My dream was to have a large, vibrant, happy family with children jumping and running around the house with an energetic mother following them about, playing with them, picking one up, whispering in the ear of another, and making delicious food and sweets to please her children. I did give birth to ten children, three girls and seven sons. But when they were at the ages when they needed me most, I became dependent on them.
Basmah Muhammad Taleb Mansur, 48, a married mother of ten, lives in Nablus. Her testimony was given to B'Tselem field researcher Salma a-Deb'i on 23 August 2016.