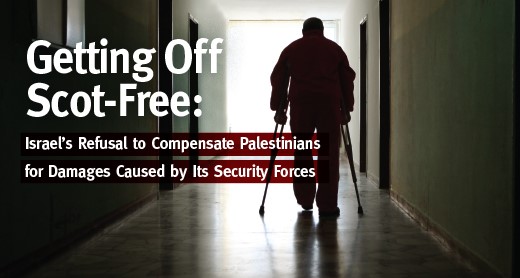 On Friday, 8 August 2014, after the Friday prayers, a protest march began in the village, heading towards the eastern part of 'Azzun, where there's a closed metal gate. Near the gate, clashes began with soldiers. One group of soldiers was lying in wait in the olive groves. Suddenly I saw them about ten meters away from me. I only managed to turn around so I could flee back into the village, and then I was shot in the back. Some of the guys picked me up and carried me about 200 meters to a car that took me to the village doctor.
The doctor called the Red Crescent for an ambulance, which took about half an hour to arrive. I was taken to hospital in Qalqiliyah, where I began to feel severe lower back pain. The doctors decided to transfer me to hospital in Nablus because my condition was so bad. In Nablus they ran some tests and found that the gunshot wound had paralyzed the lower part of my body and that I had to undergo surgery. I was transferred for surgery to al-Makassed Hospital, where the doctors put platinum implants in my vertebrae to set my spine. After 11 days I was sent back to the hospital in Qalqiliyah to receive further treatment and get antibiotics.
Then I went back home and the daily agony began. My home isn't suited to a person who can't walk. For two months I lay at home and couldn't move. Luckily, I have a twin brother who cared for me and did everything for me.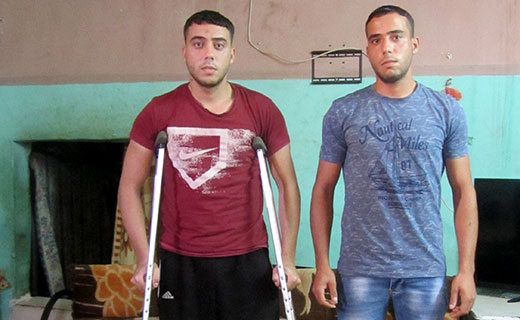 Yunes 'Udwan and his twin brother. Photo by Abdulkarim Sadi, B'Tselem, 14 Nov. 2016
After two months of being stuck inside, the governor of Qalqiliyah District visited me and I asked him to help me get into the Abu Raya physiotherapy center for treatment. It happened and I was treated there for six months. They taught me how to walk with a walker and keep my balance.
Then I went back home to 'Azzun. My life now is very different from what it was before the injury. I need constant care and can't look after myself. I was suffering so much that I was forced to take painkillers, which I still take. My lower back and legs still ache. In the two years since I was shot, I've spent more than 5,000 shekels (approx. USD 1,300) on painkillers and medication.
Before the injury I was planning to start university, but because of what happened I had to put it off for a year. In the summer of 2015 I signed up for English studies at the Open University in Qalqiliyah. I managed to attend classes for two weeks and then had to stop because the university isn't handicapped accessible. There's no elevator and I couldn't reach the classrooms on the fourth floor. For two weeks my brother Yusef helped me up the stairs, but it hurt a lot and I couldn't keep it up. That was the end of my dream to get a B.A. in English. I still hope to study in an accessible university.
My family struggles financially and can't afford to send me to a private university. My father is a simple farmer and we don't have enough money to supply all our needs. We live in a simple house that can't be adapted for a handicapped person. It's very old and can't be renovated. Some non-profit organizations helped us put in a special rail that I use to go up and down the stairs.
My life has changed dramatically. Before the injury, I was strong and good-looking. Now I have to rely on others for help. I used to love sports and hanging out with friends at places we liked. Now I'm bedridden, stuck between four walls. Some days, I don't see any daylight. My twin brother Yusef helps me with everything. He bathes me and helps me go to the toilet. He sits with me and stays by my side like a shadow. It pains me that I can't help provide for my family and instead am an added burden. I will keep trying to rebuild my life. Maybe one day I'll be able to fulfill my dreams.
Yunes Mahmoud Ahmad 'Udwan, 20, lives in 'Azzun, Qalqiliyah District. His testimony was given to B'Tselem field researcher Abdulkarim Sadi on 14 November 2016.