I live with my mother, who is elderly and cannot care for herself, and with my sister, who has cancer, in an apartment in Khan Yunis. For nine years now, I've worked carrying crates and sorting vegetables at a shop in the market in the al-Amal neighborhood. I leave for the market at six o'clock in the morning, carry the vegetables and produce out of the storeroom, and bring them to the stall. Then I start sorting the vegetables and throwing out the bad ones, so they won't make the others rotten. I work until two o'clock. Then I carry the vegetables and produce back to the storeroom, and my workday ends.
It's exhausting work. I'm an older woman and I have to lift crates and heavy things. I sit for hours and hours on the floor, sorting vegetables, and it wears me out. I'm diabetic and have high blood pressure. I take two doses of insulin a day and also medication to keep my blood pressure down. But I have to work to support my mother and sister and to make sure they have food and other things. We have no other source of income and I have no other job opportunities.
I get paid with vegetables instead of money at the end of the day. Some vendors in the market help me and sometimes they give me vegetables, and sometimes even money. Once a week, I get a little meat from one of the butchers in the market. After my hard day's work, I come home and start preparing food and taking care of my mother and sister. It's hard for me that I leave my mother alone all day, because she can't take care of herself. Still, I have no choice but to work. 
Huda Musa Mahmoud Abu Mustafa, 53, lives in Khan Yunis. She is divorced and works as a laborer in the town's vegetable market. She spoke with B'Tselem field researcher Muhammad Sai'd at the market on 1 March 2016.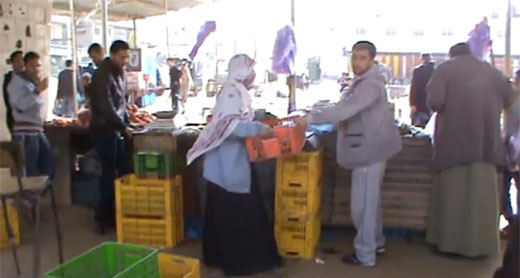 Huda Abu Mustafa at work in the market. Still from video. 

The demand for work in the Gaza Strip is enormous, with an unemployment rate of some 40%. The major reason is the siege Israel has imposed on Gaza for over a decade. To mark International Women's Day, we spoke with three women – a carpenter, a blacksmith, and a vegetable market laborer – who are all trying to sustain families in this near-impossible economic reality. Gazan women face a particularly trying challenge, as they must deal not only with the dearth of work to match their skills, but also, like women around the world, with a society in which women are considered inferior and work harder for lower pay.