I'm a carpenter and have been working on my own for several years now. I was born in Gaza but in 1993, I married my cousin who lives in Ramle, in Israel. I lived with him in Ramle and we had a daughter, Hadil. My husband got involved in criminal activity and went to prison several times. In 1998, I divorced him and went back with Hadil to my mother's house. We've lived here ever since. When I got here, both my social and financial situation were very difficult because of the divorce..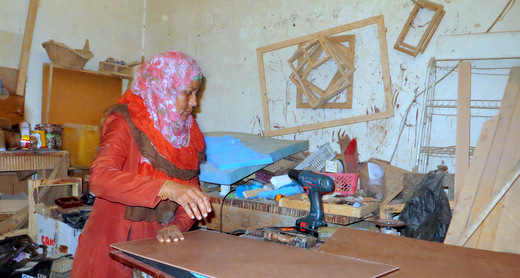 Amal 'Obeid in her carpentry workshop. Photo by Muhammad Sabah, B'Tselem, 17 February 2016
My daughter is mentally retarded. She's now 21. We live in an apartment with my elderly mother and my brother, his wife and their children, in a-Nuseirat Refugee Camp in central Gaza.
In 2000, two years after I returned to Gaza, I learned how to sew and started working a bit at sewing and selling what I made. I also trained as a carpenter through the CFTC project [Canadian Foundation for Training and Consulting]. I wanted a new experience and hoped to acquire new skills and knowledge. The course lasted three months.
When I finished the course, I got a salaried job as a carpenter. For seven years, I made small items out of wood like decorative wall hangings, medallions, and various ornaments. I was paid the paltry sum of 120-200 shekels [approx. USD 30 to 50] once in three months. I also received a benefit of NIS 1,000 [approx. USD 250] dollars once in three months from the Ministry of Welfare. The money wasn't enough to cover our costs, especially because my daughter needs special care, several kinds of medication, and dietary supplements. But we made do.
In 2011, I stopped receiving the 1,000 NIS welfare benefit, I don't know why. They registered me under my mother's name and now the three of us live off her benefit of 750 shekels [approx. USD 190] every three months. I haven't managed to find out why they did that. It has made life very difficult for me. We could barely make ends meet as it was, and now the money really wasn't enough. Also, my brother Bashir, who is 55 years old and unemployed, came to live with us together with his wife and their ten children.
Things became unbearable, so I decided to start my own business. I borrowed 500 dinar from a friend to rent a carpentry workshop, and the Institute for Small Entrepreneurship subsidized the equipment. I opened the carpentry workshop in 2011 and bought a small amount of raw material with the welfare money. I started making wooden items such as stands for potted plants, plaques with verses from the Quran, and medallions, and selling them. I made 500 shekels a month [approx. USD 125] a month.
After about a year, I hired another carpenter to work with me. But he delivered the products to the clients, took their money, and didn't give me all of it. He stole a lot of money from me, so I fired him and went back to working alone.
I take part in various exhibitions to promote my work, such as those organized for International Women's Day or by organizations such as the Islamic University, the Association for Culture and Freedom of Thought in Khan Yunis, and the Association for Folk Culture and Art. The exhibitions help me earn a bit of money and also get new clients. I work on a small scale because I can't buy a lot of material, so I can never make much, either. My marketing would be better if I knew how to use the Internet. Still, I manage to network and sell my products and I do my best to develop contacts with institutions and take part in exhibitions.
I have to face ongoing difficulties because of the power cuts, the rising costs of materials, the lack of material because the border crossings are closed, and the prohibition on importing substances into Gaza such as lacquer. I have to rely on the availability of material on the market, because I can't afford to buy large amounts nor do I have enough space to store them. Because the economy is so bad, people don't buy much, and when they do they often do so on credit. All these reasons make it hard to keep work steady, but I keep working as much as I can.
It's not very acceptable in Gaza for a woman to work as a carpenter. And decause I'm divorced, my status here isn't simple and I face social obstacles. But I don't want to be a burden to anyone and prefer to make my own living. I chose this field because I was drawn to it and also because I wanted to empower myself, challenge tradition and social norms, and prove to society that I could make it on my own. I don't want to end up a beggar. I want to maintain my dignity and be independent, and I do everything I can to improve our situation and support my daughter and mother.
Amal Shehdeh Ahmad 'Obeid, 45, is a carpenter and has one daughter. She lives in a-Nuseirat R.C. in the centeral Gaza Strip. She spoke with B'Tselem field researcher Muhammad Sabah on 16 February 2016 at her workshop.
The demand for work in the Gaza Strip is enormous, with an unemployment rate of some 40%. The major reason is the siege Israel has imposed on Gaza for over a decade. To mark International Women's Day, we spoke with three women – a carpenter, a blacksmith, and a vegetable market laborer – who are all trying to sustain families in this near-impossible economic reality. Gazan women face a particularly trying challenge, as they must deal not only with the dearth of work to match their skills, but also, like women around the world, with a society in which women are considered inferior and work harder for lower pay.