I live with my husband and our children, six girls and a little boy, in a rented apartment in the Sheikh Radwan neighborhood of Gaza City. We moved into this apartment a year ago and a charity pays our rent. Before that, we lived in a tent and in a warehouse. My husband and I work as blacksmiths. We gather metal scraps from the streets and from deserted and ruined houses. Sometimes, we buy metal, too. We work the metal to make knives, axes, decorative swords, rings for tying up livestock, and all sorts of other things.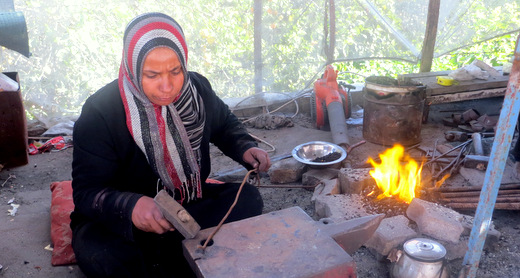 'Ayesha Ibrahim at work. Photo by Muhammad Sabah, B'Tselem, 1 March 2016
We work together at the workshop and I sell our merchandise from a stall in the Firas Market in Gaza City. We make no more than 10 to 20 shekels [approx. USD 2.5 to 5] a day, and sometimes I don't sell a single thing all day. It takes about three days to make one item, which sells for 5-7 shekels [approx. USD 1.5]. I stand at the stall from seven o'clock in the morning to four o'clock in the afternoon, every day. Then I go home, rest a bit, and help my husband with work. Forging and bending the iron with hammers takes a lot of time and requires patience. It's dangerous work, because you have to hold the iron in your hands when you put part of it in the fire and it gets very hot. When you pound the hot iron with a hammer, sparks fly and sometimes bits of iron, too. Also, the work causes arm and back pain. My husband inherited the trade from his father, and this is all we know how to do.
I come from a family of 1948 refugees and was born in Egypt. My husband is from a similar background. Neither of us has an identity card - we only have refugee cards from Egypt. We got married there 21 years ago, when I was fifteen. We lived in Sinai, and already then I started working with my husband in metalwork. In 2011, after the revolution in Egypt, Sinai became very dangerous. My husband couldn't protect us, and especially the girls, so we decided to move to Gaza. We have no family in the Gaza Strip, and there was no one here who knew us and could help us. Starting out here was very tough. We struggled and slaved for every bit of bread we put on the table, and things haven't improved much since.
When we first got to Gaza, we lived for a whole year in a warehouse, where we also worked. It wasn't equipped for living and didn't provide decent shelter from heat or cold. We slept by the toilet, with a smell of sewage. We lit fires inside the warehouse, and the heat and smoke gave us respiratory problems. Now we both have asthma and other work-related health problems: cracks in the skin on our hands, extreme neuropathic pain in our arms and legs, and loss of sensation in our hands. Medication and other treatments don't really help, and there's no real way to improve things other than change profession.
After that, we moved to a tent, and then to this apartment. Since we moved here, our workshop has been in a tent because we can't afford to rent a place – it would cost more than 1,000 shekels [approx. USD 250] a month.
Some of the vendors in the market take pity on me when they see I can't sell anything, and give me some vegetables so we'll have something to eat. Sometimes we literally have nothing to cook. We eat food like chicken or beef only once a month. Even our furniture is from charity. My girls stopped going to school because I can't give them a daily allowance and it embarrasses them in front their friends. All day they wait for me to come home so they can eat. They wait from the morning until I get home at around four o'clock in the afternoon and make them a meager meal from the vegetables I was given. We have no money for cooking gas, so we have to light a fire in the stove to cook and warm the apartment, so the apartment fills with a smell of smoke becomes stifling.
I feel that we're living in utter poverty and degradation. We've lost everything and I'm sad about my family. Our lives are black from smoke and soot, at home and at work, and also the future looks black.
'Ayesha 'Ali Hsein Ibrahim, 36, is a blacksmith. She has seven children, and lives in Gaza City. She spoke with B'Tselem field researcher Muhammad Sabah on 16 February 2016 at her home.
The demand for work in the Gaza Strip is enormous, with an unemployment rate of some 40%. The major reason is the siege Israel has imposed on Gaza for over a decade. To mark International Women's Day, we spoke with three women – a carpenter, a blacksmith, and a vegetable market laborer – who are all trying to sustain families in this near-impossible economic reality. Gazan women face a particularly trying challenge, as they must deal not only with the dearth of work to match their skills, but also, like women around the world, with a society in which women are considered inferior and work harder for lower pay.