Since the Israeli navy confiscated my hasake (boat) I've been out of work and can't support my family. Things in the Gaza Strip are very bad because of the blockade, and there are no other jobs available. I used to make about 20 shekels a day fishing. That enabled me to buy food and drink for my family. Now our lives are very hard.

Tamer Zayed, Beit Lahiya, 27 August 2018
Tamer Zayed's plight is not unusual. He is one of thousands of fishermen in Gaza suffering from Israel's gradual destruction of the fishing sector in Gaza. Before it imposed the blockade on Gaza, Israel used to permit fishing up to 12 nautical miles from shore. Since imposing the blockade, Israel has changed the limits of the permitted fishing zone several times a year. As 31 Dec. 2018 it was nine nautical miles in the area south of Gaza City and six nautical miles in the area from Gaza City and northwards, up to the maritime boundary with Israel. Limiting the permitted fishing zone reduces the variety and quantity of available fish, harming the livelihood of Gazan fishermen.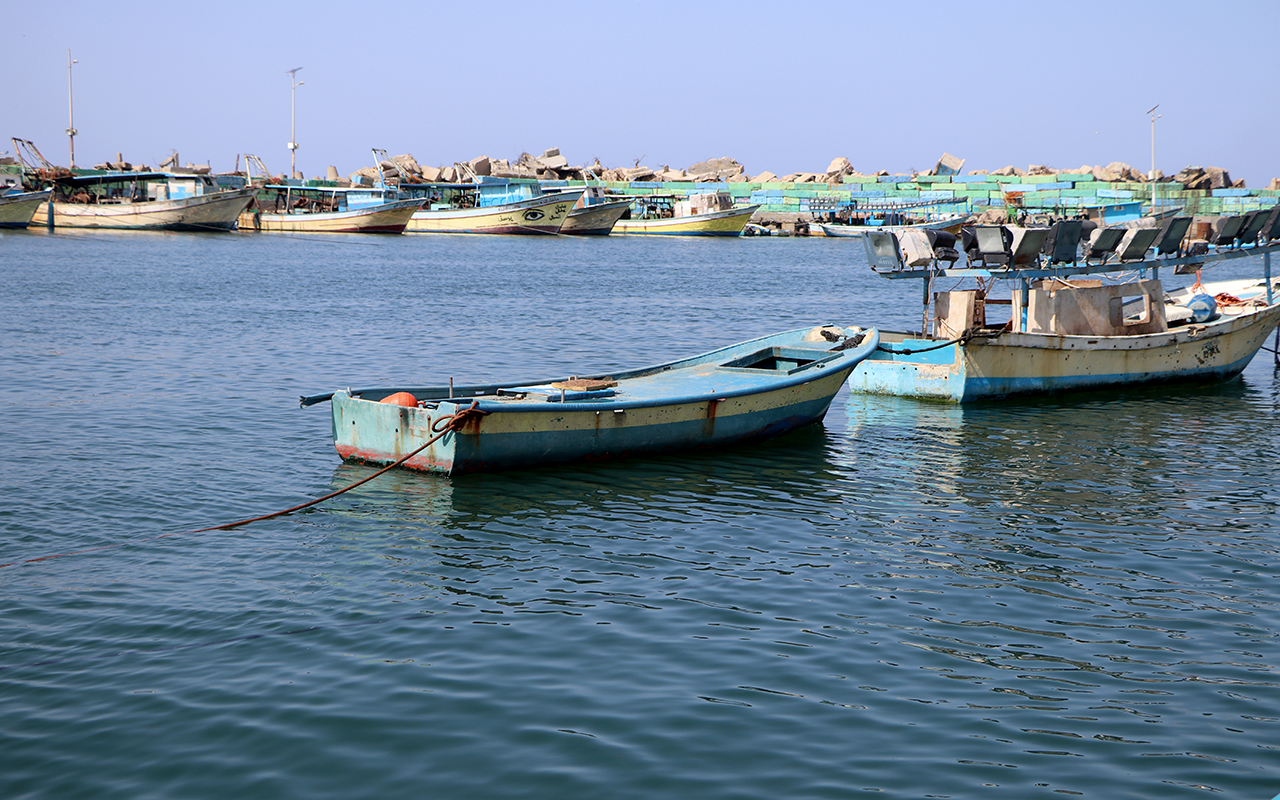 In addition, the Israeli navy routinely abuses fishermen, on various grounds. One reason alleged is boats sailing beyond the permitted area, even when fishermen use GPS devices and ensure they remain within the permitted boundaries. In the last two years, the navy shot and killed two fishermen, and injured dozens with rubber-coated metal bullets. Sometimes, soldiers even arrest fishermen and confiscate their fishing boats, known as hasakes. Israel also restricts the export and marketing of fish and prohibits the import of goods and gear essential to the maintenance of the fishing sector, for example, for repairing hasakes and engines.
All this has led the sector to collapse. In 2000, there were 10,000 registered fishermen in Gaza; now there are about 3,700. In practice, only about half of the registered fishermen actually fish, as many cannot use their boats due to the lack of supplies to repair them or build new ones, or because the military confiscated the boats. About 95% of fishermen in Gaza live below the poverty line, which is USD 4.6 a day in Gaza.
In 2018, the Israeli navy shot and killed one fisherman, Isma'il Abu Ryalah, and injured six with rubber-coated metal bullets. Also in 2018, the navy arrested 53 fishermen, three of whom had not yet been released in January 2019. It also confiscated dozens of hasakes after sea chases. In addition, navy fire resulted in damage to 32 fishing boat floodlights, three GPS devices and one echo sounding device that helps locate fish. In these pursuits, 121 fishing nets were lost at sea.
Israel's policy regarding the fishing sector in Gaza perfectly illustrates why its claim that it no longer bears responsibility for the residents and affairs in Gaza is divorced from reality. The fact is that Israel continues to control many aspects of life in Gaza, at times from afar, and sometimes on the ground. Its actions have caused the fishing sector to collapse and left fishermen in Gaza in dire straits.
Ahmad a-Sa'idi, 40, a married father of two from a-Shati Refugee Camp in northern Gaza, has worked as a fisherman since he was 15. In a testimony he gave B'Tselem field researcher Muhammad Sabah on 16 January 2019, he described the difficulties he has encountered in recent years:
Ahmad a-Sa'idi. Photo by Muhammad Sabah, B'Tselem, 16 Jan. 2019

Since I was eight, my life has revolved around fishing. I started working full-time as a fisherman when I was fifteen, along with my brothers. Back then, in the 1990s, we would sail up to twelve nautical miles from shore, which is the area where Israel allowed us to fish. There were fish of all kinds. We worked day and night. Work was good and we sold a lot of fish. We made a good living. In 2002, I got married and a built a house in a-Shati Refugee Camp.

In 2000, after the Second Intifada broke out, the Israeli navy started gradually restricting us. They limited the permitted fishing zone to less than twelve nautical miles. After [Israeli solider Gilad] Shalit was abducted in 2006, the navy wouldn't let us into the sea at all, for at least three months at a time. Then they reduced the permitted fishing zone even more, first down to six nautical miles and then just three. We didn't know any more when we were allowed to fish and when we weren't allowed to go out to sea. The Israeli navy kept limiting our access all the time, even though we have nothing to do with political matters. We're just fishermen who want to make a living.

In 2012, the Israeli navy arrested my brother and another three of my relatives who were working with my hasake, and confiscated it. I had to buy another one so we could work. Over the years, we suffered a lot of harassment by the navy: summer and winter, day and night. They chased us and fired at us from time to time. We had to work under very difficult conditions, which meant putting ourselves in danger. We were always afraid they'd chase us, arrest us, or confiscate our boat. Also, whenever there's a war, Israel forbids us from sailing altogether.

About a year ago, while I was out fishing with my nephew, the navy arrested me and confiscated my boat. That was when my life started going downhill. I was left with no way to earn a living and my family has nothing to live on. Since then, I've spent most of my time sitting at home or by the door to my house, watching people walk down the street and thinking about my life and how it came to a halt. This forced unemployment has also caused trouble between me and my wife, because we don't have money. I can't meet my family's needs, such as food, clothes and the expenses of the new school year.

We can afford to buy meat and chicken only once a month, and even that only if I manage to get work with other fishermen, sometimes for a day, sometimes for a few days. If I don't get lucky and find that kind of work, we have no income at all. Even fish, which our diet was always based on, we now have to buy in the market. We have to buy fish! And even that, only once a month.

We've become a burden on society. I get refugee aid from UNRWA, such as food items. I've become a beggar. I feel humiliated and wretched when I ask people for money. I used to never need anyone, but now we're begging for help. Our financial situation is really tough, and there are no jobs in Gaza. Anyway, I have no professional skills other than fishing. The Israeli navy is holding onto my boat and has driven my family and me to poverty.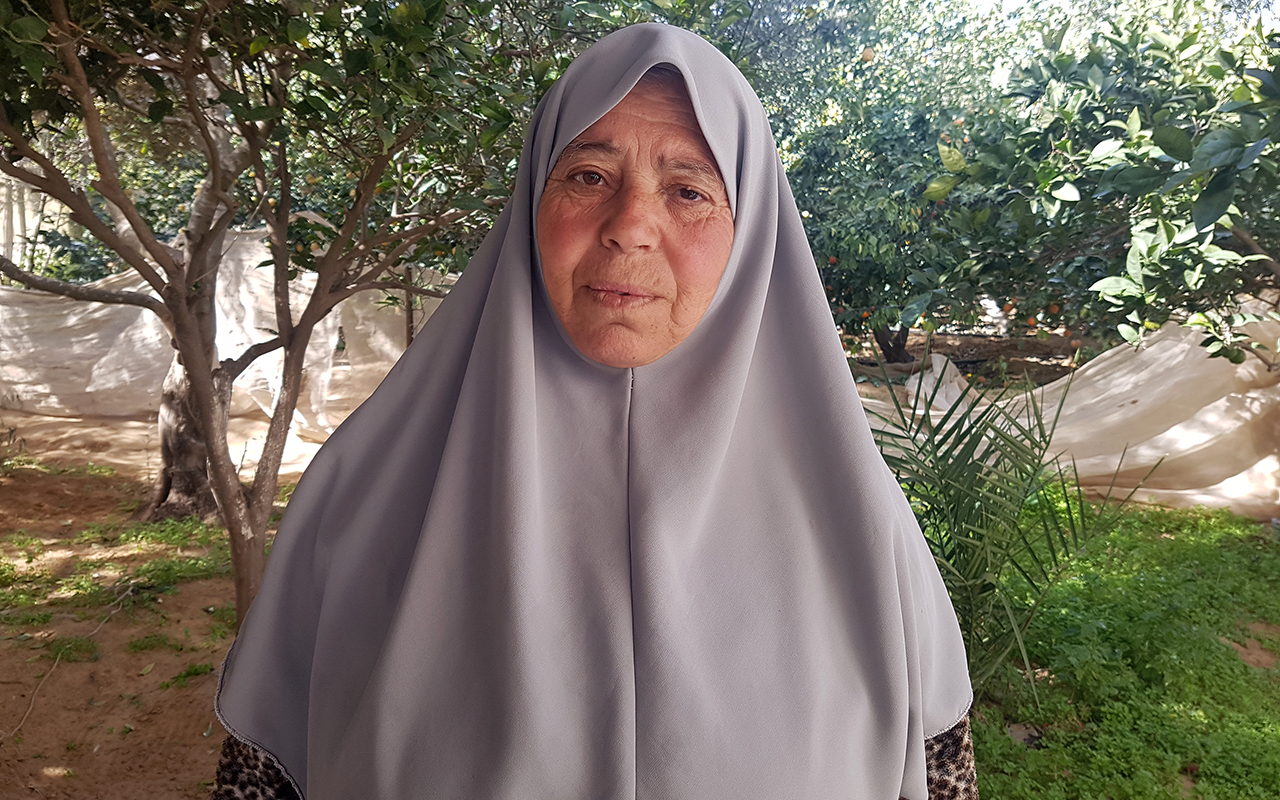 Sadiqa a-Sultan, 65, a mother of nine from Beit Lahiya whose husband and sons are fishermen, related how her family copes day by day, in a testimony she gave B'Tselem field researcher Olfat al-Kurd on 31 January 2019:
Until the Second Intifada began in September 2000, my husband, Ghaleb a-Sultan, who is now seventy years old, worked in Israel. After Israel cancelled the work permits, we used money we'd saved and sold a piece of my jewelry so my husband could buy a hasake and fishing equipment. It cost us more than 2,000 dollars. We thought it was a good idea, especially because we live by the shore. Since then, he and our sons have worked as fishermen. In the first few years, work was good. They would sometimes make 300 to 400 shekels a day. It was enough for the kids and us. That lasted for about six years. At that time, you could bring fishing gear into Gaza and the navy didn't give fishermen a hard time. They didn't shoot or arrest fishermen, or confiscate their equipment. The permitted fishing limit was twelve nautical miles.

Things changed in 2007, when Israel began its blockade on Gaza. They started limiting the fishing zone to six nautical miles, and then it went down to three. The Israeli military started chasing fishermen, even if they were within those limits.

My husband and children suffered from the new restrictions and from navy chases at sea. Sometimes they were shot at, and then they fled and left the nets out at sea. The navy would pull in the nets and confiscate everything. Because of things like that and the closure of the crossings, there was a shortage of nets and their price went up in the markets. The price of a net has gone up from 180 shekels in 2007 to 500 shekels now.

Since 2007, the military has confiscated a lot of fishing gear from my husband and our sons. The first time was in 2009, when they fired at my husband and kids at sea. My husband and my son Ramadan, 43, were arrested. They were released that evening, without the boat and nets, which were confiscated. Four years later, they gave us back the boat without the equipment. But the boat was ruined and unusable.

In the meantime, my husband took out loans to buy a new boat and equipment. The boat we could afford was smaller and simpler than the one they confiscated. In 2010, the military seized the new boat, too. In 2012 it took away yet another one we bought. The nets were lost at sea, but in the end they gave us back the boat in working order and my husband went back to work. He didn't have enough nets, so he could only catch small amounts of fish. In 2016, the military confiscated our fourth boat. They still have our boat and nets. The nets cost us a lot of money. Every time they confiscated a boat, our financial situation got even worse.

The scariest moments of my life are when I hear that fishermen have been shot at sea again. I get anxious and can't relax until my husband and kids get home. In July 2018, they confiscated the boat we had bought in 2016, right after they took away the previous boat and fishing nets. Soldiers fired at the boat and confiscated it. That day, my son Muhammad, 26, and one of my grandsons, 22, were at sea. The navy arrested them two nautical miles out from the shore and let them go at one o'clock in the morning, but without the boat and nets, which they kept.

Since then, we haven't had the money to buy another boat and more nets. All these confiscations have hit our pocket hard and we have nothing left. We still owe money for the nets we had bought before. Even if we had money, we're sick of buying equipment again and again, just for the military to confiscate. My husband is unemployed. Our sons have found work as hired fishermen. Sometimes, my husband says he'd like to buy another boat, but he's afraid it'll be confiscated. He sits at home and doesn't get help from anyone. He's really in a bad way emotionally.

Things are very tough for us right now. I used to sell fish at the market. Now I have to buy fish there, and I don't even have enough money to pay for them. Before they confiscated our last boat, we'd make about fifty shekels a day, because we only had a few nets. Now, with the kids working as hired hands, they make even less: twenty to thirty shekels a day. That doesn't cover our expenses.