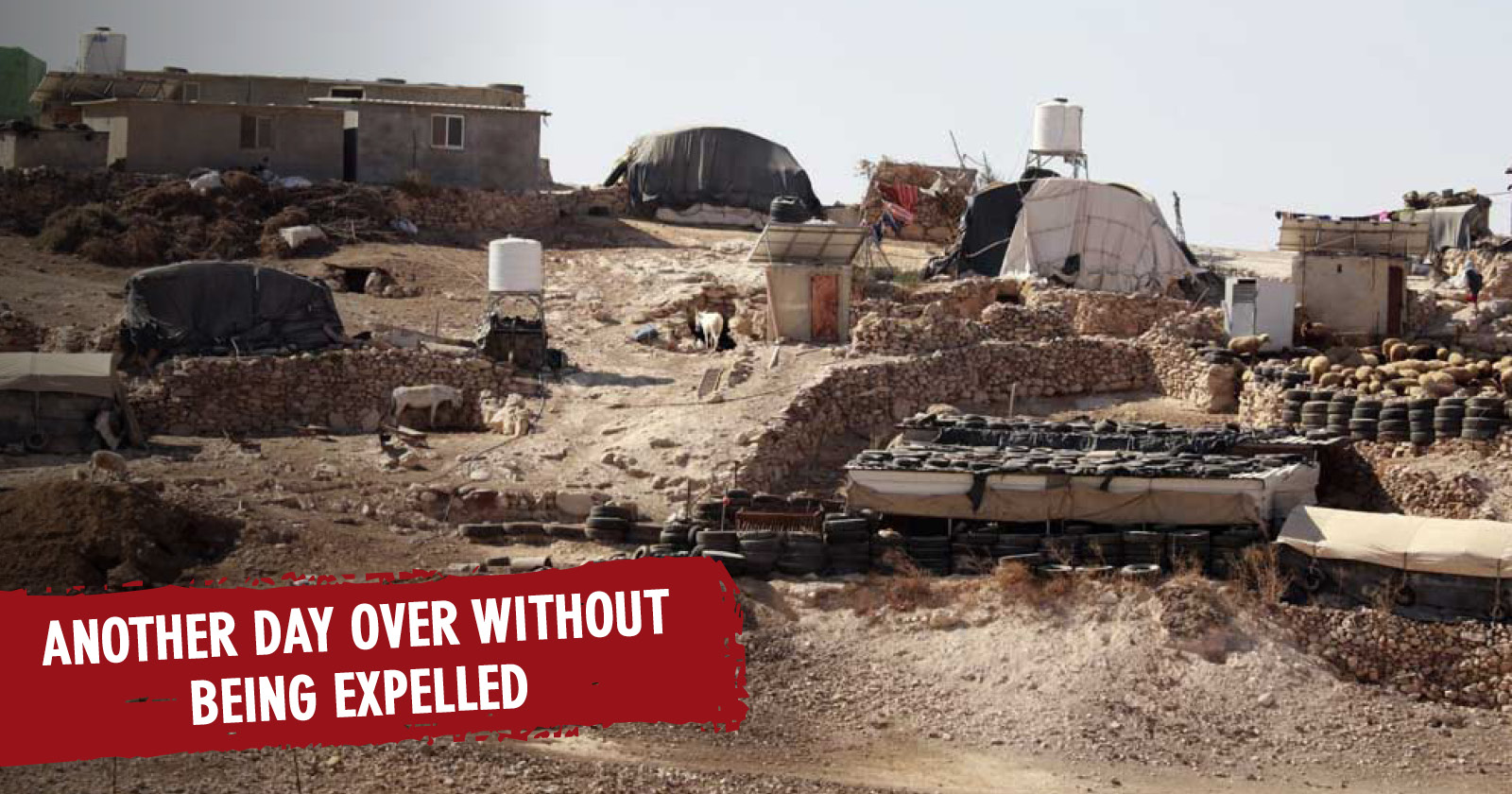 Dear friend, 
 
"Thank God… another day has gone by without being expelled", a 50-year-old Palestinian woman from the area of Masafer Yatta said to me. She lives in the South Hebron Hills, in an area the Israeli military has designated "Firing Zone 918". When I asked how she and the rest of the community were holding up, she said, "We're used to the harsh life of the desert. We're used to living without electricity or water and walking for many miles. We shelter against the cold of winter and the heat of summer in our tents. We're used to leading a simple life on our land, by our sheep. We don't have grand dreams about castles, playgrounds, or swimming pools for our children. Our dreams are small: to live in peace on our land, without fear or worry."
The woman described living under constant threat and a feeling of transience, where Israel defines her mere presence as a violation of the law. She described having her hopes for a peaceful life dashed, along with hundreds of other Palestinians scattered in 12 communities in the area, whom Israel is trying to drive out. 
Firing Zone 918 - An Exercise in War Crimes
Nothing distinguishes this woman and her neighbors from other Palestinian communities in the West Bank. Throughout the area, Israel is taking over more and more land under flimsy pretexts, such as declaring land a firing zone or an archeological site, or claiming illegal construction – all with the aim of making residents' lives unbearable by condemning them to constant anxiety and forcing them to leave their homes, in order to take over their land. By sending its soldiers to harass these residents, Israel is shirking its moral duty and legal obligation, under international law, to protect them – which includes providing basic services such as electricity, water and roads, and allowing them to build their homes. This is yet another manifestation of Israel's policy to deny Palestinians' the right to live on the land where they were born and raised.
The residents of Masafer Yatta are now awaiting a High Court ruling in a 20-year legal process that has prevented the state from expelling them, but has also put their lives on hold. For 20 years, they have not been allowed to build homes for their children, expand their livestock pens or even add a new toilet.
Documents recently uncovered by the Akevot Institute show that the state targeted this specific location, where Palestinians had been living for generations, and declared it a firing zone specifically in order to facilitate their expulsion. Yet the High Court refused to discuss this revelation, instead pressuring the residents to reach a "compromise" with the state that would allow the military to train in the area. The court ordered the residents to negotiate with the state over when they would be allowed to stay on their land and when they would have to leave, ostensibly with their consent, so the occupation army could train in their territory, right by their houses and flocks.
What will happen once the justices issue their ruling and the military trains in the area? The residents will be expelled from their homes and Israel will expand its borders even more, taking over more land and providing settlers with the lives they desire — free from the unwanted presence of the original inhabitants. No more sheep bleating, no more smoke from bread baking on a taboon, no more Arabic spoken. Let them speak Arabic somewhere else. Masafer Yatta is ours. Where to next?

Sincerely, 
 
Musa Abu Hashhsash 
B'Tselem field researcher
More of our work in recent months:
B'Tselem in the media:

Hunger-striking Palestinian close to death, family says, Oliver Holmes, The Guardian

Israel refuses to release Palestinian 'on verge of death' after almost 80 day hunger strike, Gemma Fox, Independent

Palestine's olive harvest marred by rising Israeli settler violence, Alessandra Bajec, The New Arab

Number of Palestinians made homeless by Israeli demolitions hits four-year high despite pandemic, Independent

Israel's Cynical Exploitation of Palestinian Dead Bodies, Hagai El-Ad, B'Tselem Executive Director, Haaretz

Israeli NGOs demand government allow UN rights monitors, Joe Dyke, The Middle East

EU calls on Israel not to demolish Palestinian herding villages, Tovah Lazaroff, The Jerusalem Post

The dehumanization is the point, Sarit Michaeli, +972 Magazine

Israeli Soldiers Placed Explosives in West Bank Village for 'Deterrence', Hagar Shezaf & Yaniv Kubovich, Haaretz

Israeli soldier's plea deal in fatal shooting faces scrutiny, Josef Federman, Associated Press/The Washington Post

When a Palestinian life is worth 3 months menial labor, Amit Gilutz, B'Tselem Spokesperson, Ynetnews.com