Save the Ras a-Tin Elementary School!
Building - forbidden! Studying - forbidden! Existing – not recommended!
The Bedouin community of Ras a-Tin, which lies east of Ramallah, is home to some 280 people, about half of whom are children and teenagers. The community lives on privately owned, registered land, belonging to residents of the neighboring villages, Kafr Malik and al-Mughayir, after Israel has expelled them several times from various locations throughout the West Bank.
Israel seeks to drive them out of their current place of residence, similar to its treatment of other Palestinian communities in the West Bank. Among other things, Israel declared neighboring areas closed military zones in order to limit the community's pastureland. It also executes a planning policy which does not permit residents to build their homes legally or connect to basic, vital infrastructure such as water and electricity.
Faced with no other choice, the community is forced to look for alternative solutions. Residents connect their homes to electricity using solar panels donated by humanitarian aid organizations and buy water in containers from adjacent villages. To ensure their children receive their basic right to education, they built an elementary school for the community's 50 children. The school, funded by the West Bank Protection Consortium, a partnership of EU member states, the UK and the European Commission, was constructed without a permit from Israel, as there was no chance of obtaining one in the first place.
The State is now threatening to demolish the school. If it will succeed, the children will be forced to walk two hours in each direction to a remote school, as they did before the school's establishment, otherwise they can forget about an education. The demolition will hurt the community's girls most of all, as their ability to receive in education in a traditional society is dependent on studying in a school close to their homes.
In an ordinary world, children around the globe attend school without worries, acquire knowledge, play with their friends, face challenges and gain opportunities.
However, as far as Israel is concerned, the children of Ras al-Tin are no more than a nuisance. The Israeli authorities who control their land are utterly indifferent to their fate, and to the neglect and ignorance Israel's policy imposes on them.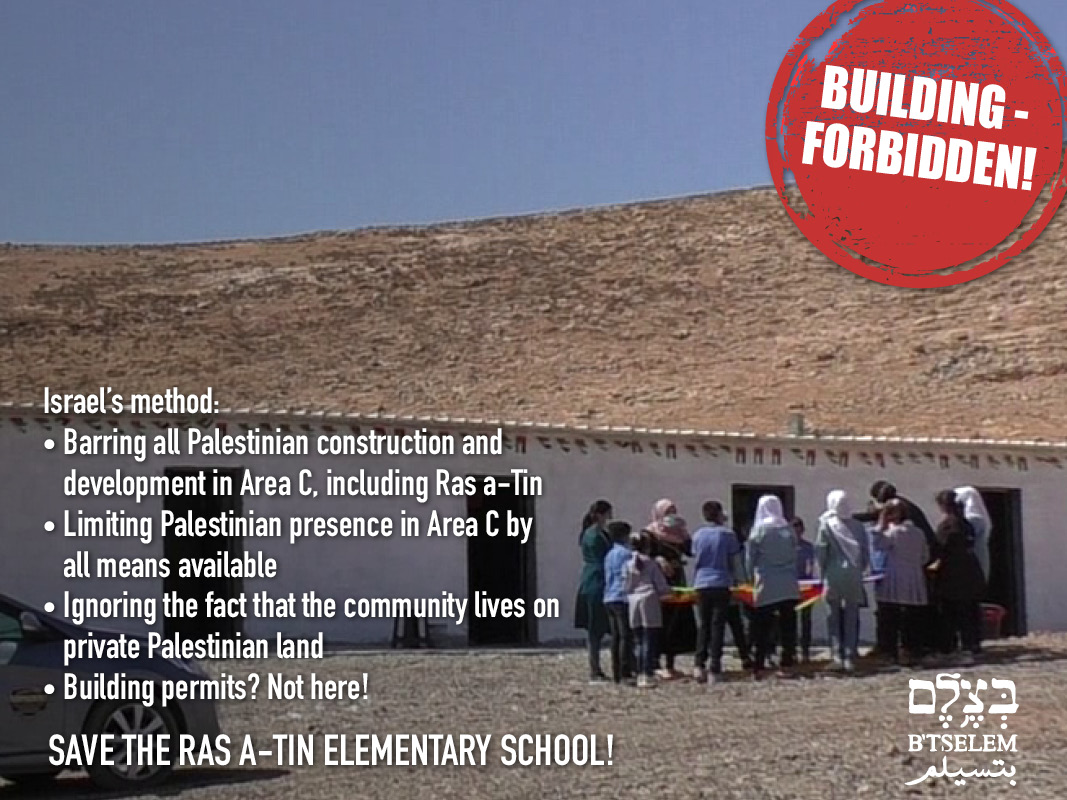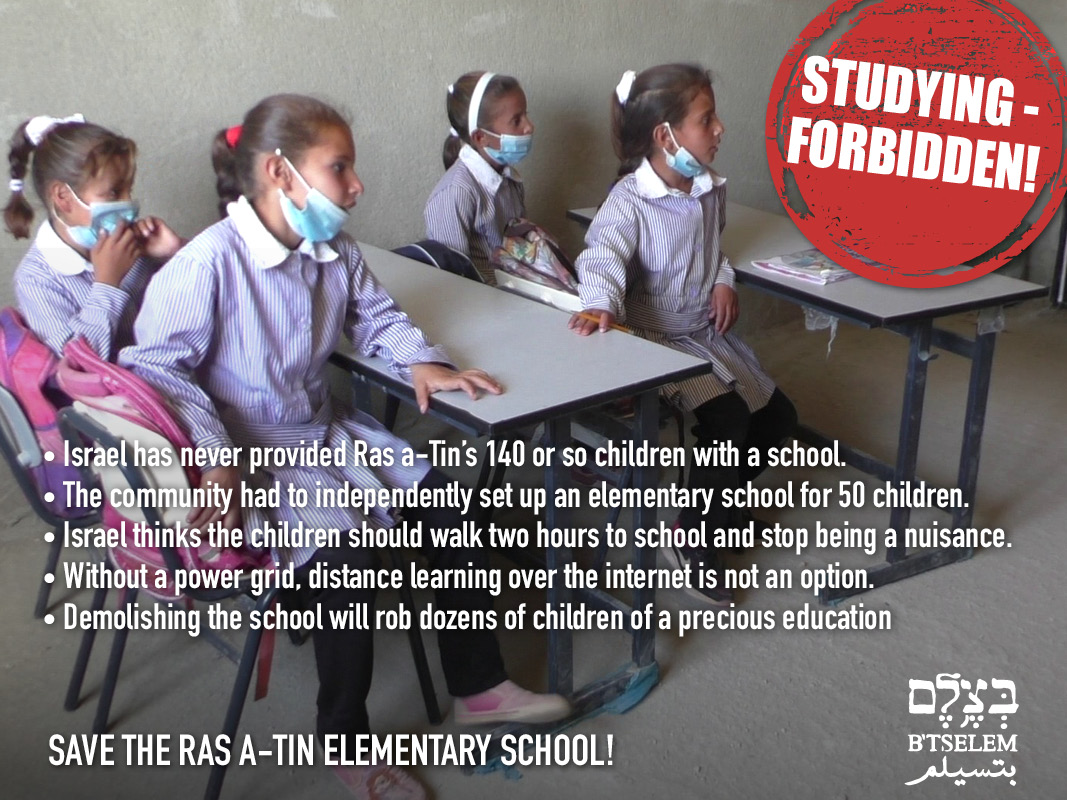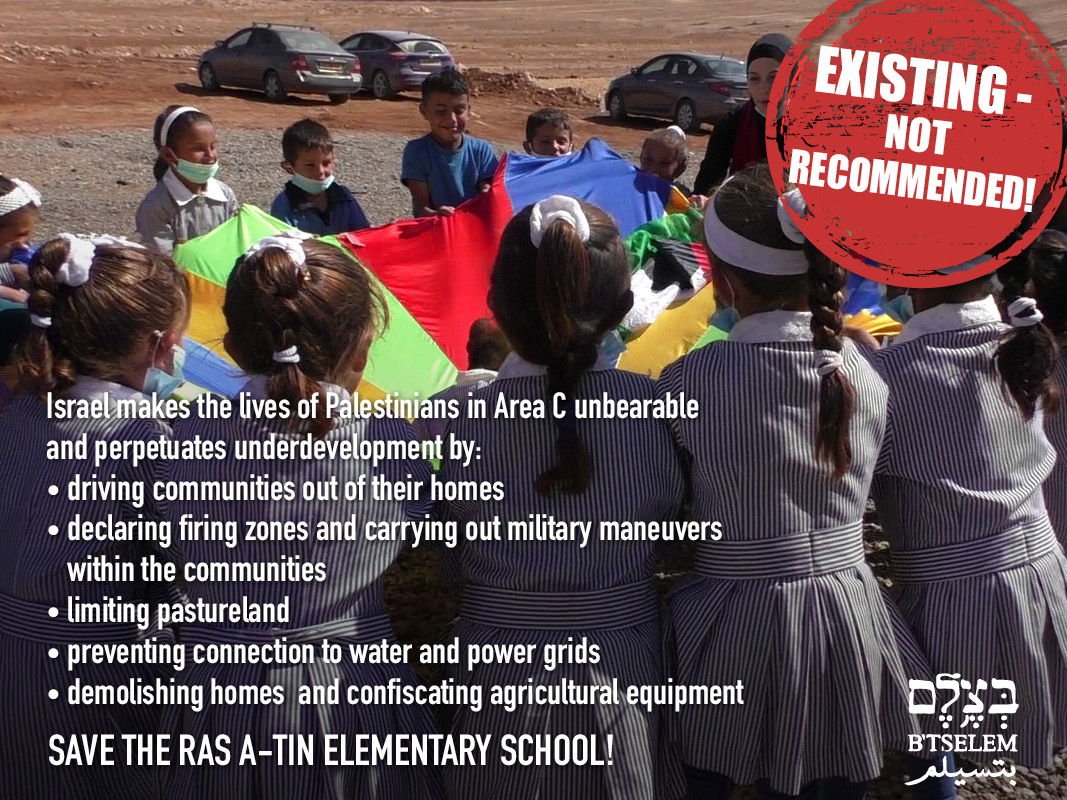 Location:
More on communities facing expulsion