On Wednesday night, 5 August 2020, at around 2:00 A.M., cousins 'Abdallah (20) and 'Iz a-Din (18) a-Sha'ar drove from their homes in Nablus to the village of al-'Aqrabaniyah, northeast of the city, where their family likes to gather in their vacation home. The rest of the family were supposed to join them in the morning. After they turned onto the dirt road leading to the house, another man – 'Abd a-Rahman Jbarah (22), who was staying with his family in the village to look after their flock – came towards them and asked them to stop.
The two cousins, who knew Jbarah by sight as a resident of the area, stopped the car. He explained that there were many soldiers around, so it was impossible to drive on, and asked to hitch a ride. Jbarah got in the car, and 'Abdallah turned it around to drive back. He had driven a few meters when a white jeep quickly drove up and blocked their path. Three officers from a Border Police special unit got out, and one of them stood in front of the car and immediately fired a single shot into the windshield. The bullet penetrated the glass and hit Jbarah, who was sitting in the backseat, in the head. Shards of shattered glass hit the other two passengers.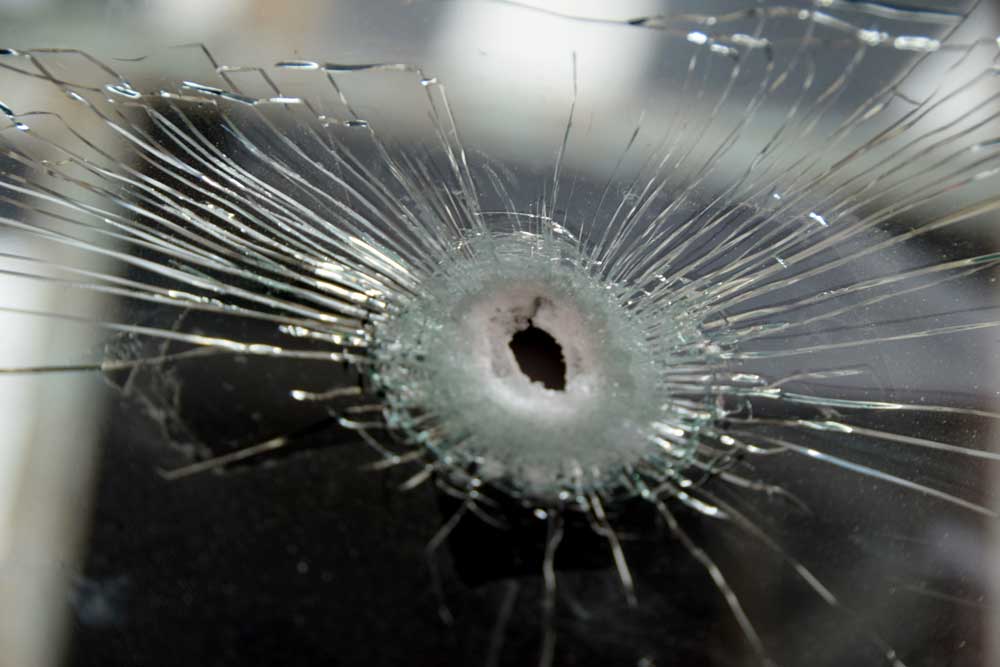 The other officers immediately went over to the car, banged on the windows with their rifles and started interrogating the cousins. They pulled Jbarah out of the car and evacuated him by helicopter to Sheba Hospital in Tel Hashomer, Israel. The two cousins were taken, blindfolded and handcuffed, for another interrogation and later released. Around the time of the incident, soldiers entered the Jbarah family home in the village of Salem, searched it, turned it upside down and left. At the hospital, the doctors found that Jbarah lost one of his eyes and is in danger of losing sight in the other. After about 45 days in hospital, he was discharged for further rehabilitation at home.
According to a statement released by the Border Police, "while security forces in the Jordan Valley area conducted an operation against car thieves, a shot was fired at a Palestinian after he fled from the forces along with others. The case has been transferred to the Justice Ministry for an for an examination of the circumstances of the shooting."
This response is an attempt to unlawfully justify a lethal shooting in circumstances that have no connection to mortal danger — the only instances under which such shootings are permissible. Moreover, it has no connection to what actually happened: Border Police officers stopped the car, and then one went over to it and fired into the front windshield.
It later transpired that the officers had mistakenly suspected one passenger of being a "wanted person". They apparently thought this was enough to justify shooting him. Yet regardless of the circumstances and the suspicion towards the passengers— there is no way to justify the choice to open fire into the car.
The examination reportedly launched by the DIP is unlikely to yield significant results. It is part of the whitewashing mechanism employed by Israel's law enforcement system, intended, among other things, to enable the state's ongoing violence against Palestinians and its continued control over them. This latest incident – which included live fire, a violent house search, detention and interrogation — is part and parcel of the daily violent reality for millions of Palestinians.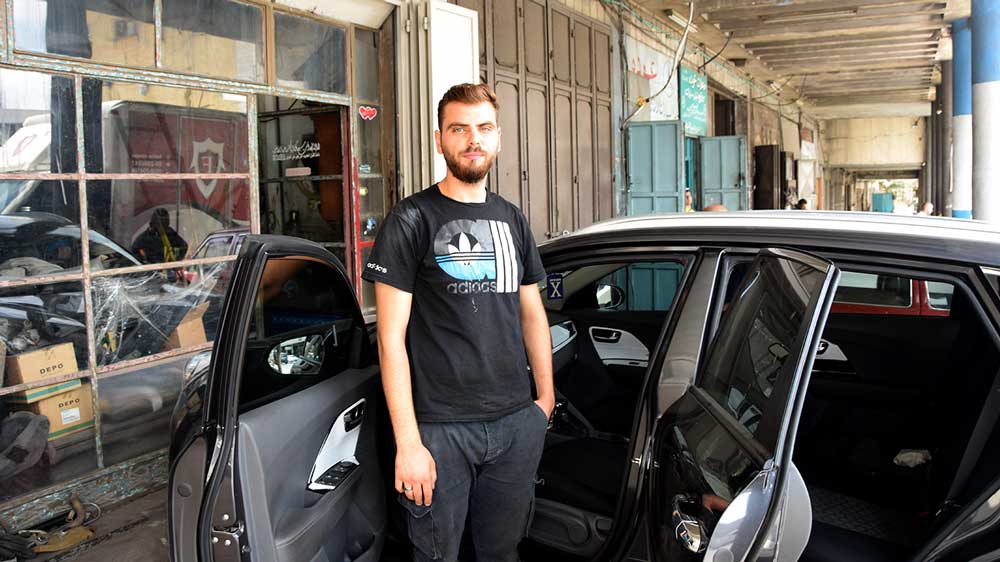 In a testimony he gave B'Tselem field researcher Salma a-Deb'i on 9 August 2020, 'Abdallah a-Sha'ar related:
I was in the driver's seat. The soldier who was standing in front of the car immediately fired a single shot. I felt something hot pass by my head and then felt a sharp pain in my head and neck. I thought the bullet had hit me. The soldier standing next to me hit my window with his rifle. I quickly opened it, and he pointed the rifle at me and said in Hebrew, "Put your hands in the air" and motioned me to do it with his hands. I did as he said, and so did my cousin 'Iz a-Din.

The two soldiers opened the doors of my car, and another guy got out of the white jeep and came over to us. He asked me in Arabic, "Who's the guy who got hit?" I said, "I don't know him." He asked, "There's someone sitting in your car that you don't know?" and I answered, "I only know him by sight. He lives in the area. I've seen him around my house, but I don't know his name." He said, "Ask him for his name."

I turned around to ask the guy in the backseat for his name and saw that his face was covered in blood. I think he was hit in the eye. It looked really serious. He told me his name was 'Abd a-Rahman Jbarah. I heard the soldiers talking on their two-way radio, and one of them told me that a doctor would come to treat my wound soon. At that point, about 10 minutes after the shooting, a lot of soldiers and a military jeep showed up. I heard 'Abd a-Rahman vomiting in the back and wanted to turn around to try and help him, but one of them yelled at me not to. They pulled 'Abd a-Rahman out of the car and took him away. I was so scared that I didn't even notice how they evacuated him.

They demanded to see our ID cards, and 'Iz a-Din and I handed them over. The soldier standing next to me pulled me out of the car forcefully and tied my hands with zip ties. They did the same thing to 'Iz a-Din. The soldier also took my shirt off. Then a soldier came over and said he was a doctor. He wiped the blood dripping down the left side of my head and neck and put my shirt on my neck.
The police officers and the soldiers sat the cousins down by the car, blindfolded them and searched the car. After interrogating them again, the officers took them to a military base, where an ISA agent interrogated them about their acquaintance with Jbarah.
In his testimony, 'Abdallah further recounted:
He told me, "You could've died for something you had nothing to do with, because you were driving a criminal. The punishment for that offense is two years in prison, but I'll be good to you and let your cousin and you go. You should consider yourself born again because anyone in that car could've died, but the soldier who fired was a professional." Later, he told me, "You be a good boy. We won't lock you up for driving a criminal." He took the handcuffs off, phoned my father, and asked him to come take us home. It turned out we were in a military camp in the al-Hamra area. 'Iz a-Din and I left the camp as the officer ordered, but it wasn't my dad waiting for us, it was my cousin and his son. They drove us home so we could rest.
After 'Abdallah got home he went to hospital in Nablus, where he was x-rayed and had the glass shards removed from his head and neck. 'Iz a-din was treated at a local clinic, where they removed the glass shards from his eyes.
Jbarah was evacuated by helicopter to Sheba Hospital in Tel Hashomer, and sedated and ventilated on the way. He arrived at the hospital unconscious. A few weeks later, he regained consciousness and stayed in the hospital until he was discharged for further care at home on 24 September 2020. Hospital tests found he was suffering brain damage and injury to both eyes, losing one and in danger of losing sight in the other.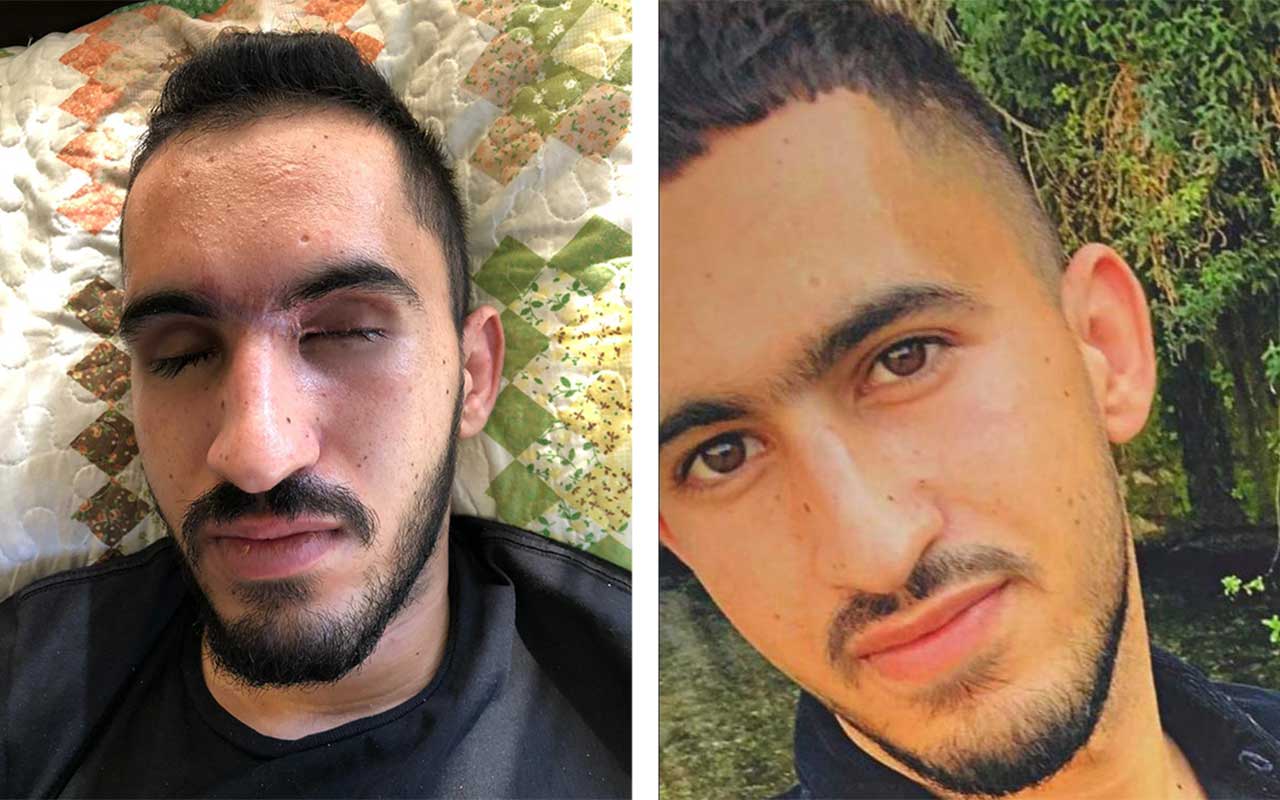 In a testimony he gave B'Tselem field researcher Salma a-Deb'i by phone from hospital on 22 September 2020, 'Abd a-Rahman Jbarah described his feelings since the incident:
I woke up in a helicopter. I thought I was dreaming and passed out again. I woke up a few days later. I tried to open my eyes, but couldn't see anything because they were covered. At that point, I realized I might never see again. I'll never see the beloved face of my fiancée, Tala. I'll never see my mother, who still doesn't believe I'm blind. I'll never see sunlight or moonlight again. I'll never see anything ever again, not even my innocent sheep, every one of which I recognized. I'll never see them again.

At first, they told me I'd lost my left eye and had it surgically removed, but that the right eye had been saved and I'd be able to see. Later, I found out it was also injured because the bullet entered the left eye and exited above the right. I had another operation on my right eye, but so far I can't see a thing. I'm still waiting for the ophthalmologist. I can't take it any more. I feel like I'm breaking down. All I want is to go back to my home, my bed, my family and my friends.
Around the time that Jbarah and the a-Sha'ar cousins were shot, at around 3:30 A.M., soldiers entered the Jbarah family home in the village of Salem. They woke the family, gathered them in one room and searched the house. According to the soldiers, they were searching for 'Amru, one of 'Abd a-Rahman's brothers, who lives with his family in another house. About 90 minutes later, the soldiers left after turning the house upside down. The family tried to phone 'Amru and 'Abd a-Rahman, but after they did not answer, they drove to al-'Aqrabaniyah to look for them.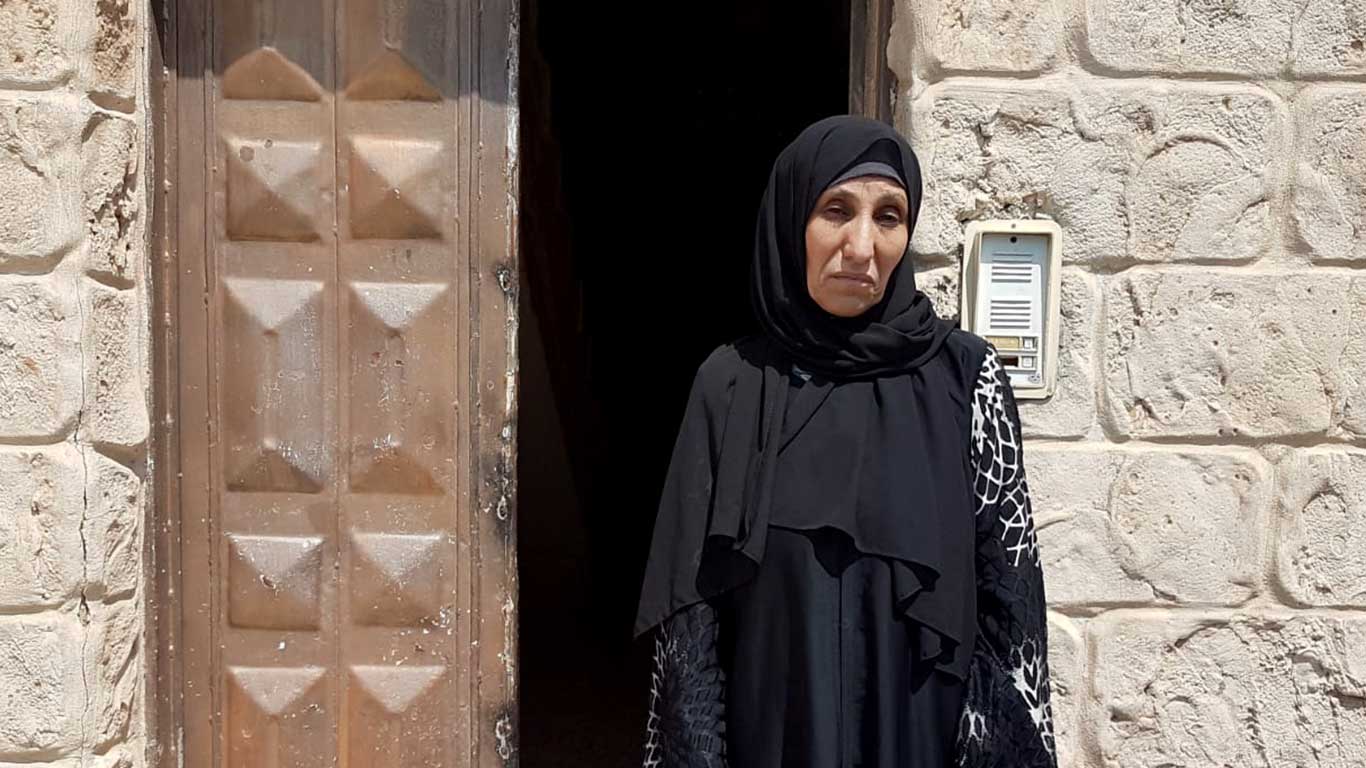 In a testimony she gave B'Tselem field researcher Salma a-Deb'i on 10 September 2020, 'Abd a-Rahman's mother, Hala Jbarah (59), a married mother of eight, recounted what happened when the soldiers entered the village:
A lot of people from the village gathered there. I was worried and asked people what was going on. They told me that soldiers had shot someone from Nablus. I asked them where, and they took me to the spot and showed me the car. I saw blood on the car — a big stain on the floor — and leftover medical equipment, like bandages and other stuff. I felt bad for the injured guy and wished him good health. I heard that the soldiers had arrested him. Shortly afterwards, my husband met me and told me that it was my son 'Abd a-Rahman.

When I heard that, I lost it. At first, they told me he was injured in the shoulder and I thought, "That's not so bad, the shoulder will heal." But later that afternoon, I found out it was a head injury. I can't describe what I went through. I still can't believe it happened to him. It's such an injustice! He didn't do anything and he's never been arrested before. He has a fiancée from our village, an engineering student at a-Najah University. They got engaged in March 2020 and were supposed to get married in September, but then this happened.

'Abd a-Rahman is my fifth son. He loves to laugh and joke around and everyone loves him. It's a horrendous thing to happen to anyone, even if it wasn't my son, the apple of my eye.

My life has changed beyond recognition. I can't sleep or sit still or do anything. I feel like there's a fire burning in my chest. I wander from room to room. I can't even imagine that my son lost his eye and may go entirely blind. I haven't visited him in hospital yet, because I'm afraid to see him that way. I saw a picture of him on my husband's phone and collapsed. I even tore up my clothes. I cried and cried until I couldn't anymore. I couldn't breathe.