Jabriyeh Hamamdeh, Khirbet a-Taban

I was born and raised in Khirbet a-Taban. Here I also married my husband, Musa Muhammad Ahmad Mesleh Hamamdeh, who is 56 years old. I live here in the village with five unmarried sons and daughters. I live in a shelter with a plastic roof. In last week's stormy weather, the shelter didn't protect us from the cold or the rain, and the harsh winter causes us suffering. The Israeli military won't allow us to build houses made of stone or concrete and considers our presence in the area to be illegal. Eight families live in Khirbet a-Taban [year round]. In springtime, the number of families increases, and usually there are as many as 25 families in the village.
Together, my husband and his brothers have 100 dunams of cultivated land. We also raise a flock of 60 sheep. These are our only sources of livelihood. My children and I work the land, tend the sheep and help my husband, who has been diabetic for over 18 years.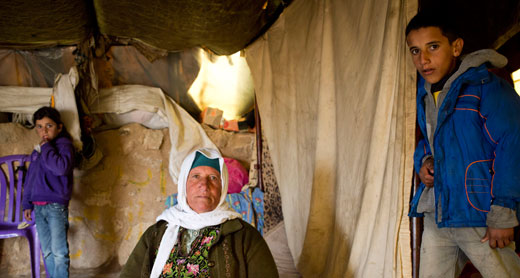 Hamamdeh and two of her children in the tent they live in. Photo: Oren Ziv, Activestills.org, 30 Jan. 2013.
We suffer from difficult living conditions in the village: There is no permanent medical clinic. There is no school and there are no social services. Our young children have to walk more than half an hour to get to the school in al-Fakhit. We also have to go that far if we want to get medical treatment from the volunteer doctors who come to al-Fakhit once every two weeks. In addition, sometimes, especially in emergencies, we have to travel to the city of Yatta to receive hospital medical treatment. The way from here to Yatta is very rough and, to get there, we use donkeys or tractors or walk. The military won't allow us to pave a straight or asphalt road, arguing that the area is a military zone and that a better road would help workers trying to enter Israel illegally.
In 2000, the military destroyed the village, the water cisterns and the caves, and expelled us to the village of Khirbet Ma'in, near the city of Yatta. We returned to the village at night and hid until, twenty days later, the court decided to let us return.
In 2004, the Israeli military destroyed some of our structures: two hothouses, two tents and three sheep pens. We rebuilt the tents and the shelters. The military won't let us alone and watches every attempt we make to put up a new tent or dig a cistern. We suffer from a shortage of water, mainly in the summer. After the water we collect in the winter runs out, we have no choice but to buy water from the Bedouin village of Hameydah. We pay over 20 shekels [approximately 5.5 USD] for one cubic meter of water.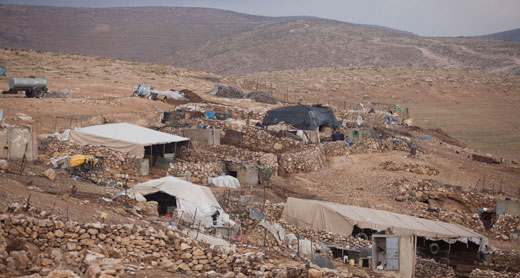 Khirbet a-Taban. Photo: Oren Ziv, Activestills.org, 30 Jan. 2013.
Recently, we got solar panels for electricity and this has made our lives a bit easier. We can now use a television, and for the first time in our lives, we have a refrigerator and a washing machine. A few months ago, the Israeli government announced its plan to evacuate our village and other nearby villages, arguing that the area is a military training and firing zone. Since hearing the announcement, I've been worried. I'm afraid that the military will implement this decision. We will not leave this place. Even if the military forcibly expels us, we'll do as we did in the past – we'll come back. I can't imagine life anywhere else. We have no place other than Khirbet a-Taban. Here I was born and raised, and here I will die.
Jabriyeh Khalil Ghanam Hamamdeh, 45, married mother of 11 is a resident of Khirbet a-Taban, in the South Hebron Hills. Her testimony was taken by Musa Abu Hashhash in the witness's home, 14 January 2013