Halimah Abu 'Aram, Khirbet al-Majaz

I am married to Mahmoud Musa Nu'man Abu 'Aram, 45, and we have four sons and daughters. One of my sons is married and has a son of his own. He lives near me. I was born in Khirbet al-Majaz and have lived here my whole life. My father and grandfathers lived here too. We live near our land and our sheep, which have always been the source of our livelihood. My husband owns 50 dunams [5 hectares] of land and grows wheat and barley. In addition, we have a flock of about 100 head of sheep.
We rely on the winter and its rains. In years with less rainfall, we suffer more because of water shortages and having less pastureland, which affects our animals. When there's less rain, we must buy water during the summer months. That costs money. In addition, we have no electricity. Some families were given small solar panels that supply electricity, but only enough for providing light for a few hours, not like the villages that got large solar devices.
Al-Majaz is one of the larger villages in the greater Yatta area. It's in an area that the Israelis say is an active firing zone. About 40 families live in the village, and there's no easy access to it. The military won't allow us to pave a road to the village, and when we try to, they close the road, claiming that it is used by workers trying to infiltrate Israel. The military considers the area a closed zone.
The military won't let us construct permanent housing of cement, so we are forced to live in shelters and tents that don't protect us from the winter cold, wind and rain. Last week, the strong winds damaged our tents.
We have no school in the village because the military won't let us build one. So our children have to walk to the school in al-Fakhit, which is about 10 kilometers away. They walk there and back in the cold and in the heat. We have no medical clinic. Once every two weeks, volunteer doctors come to al-Fakhit. Women, myself included, have to get there by foot. If someone is seriously ill, we have to take them by donkey or tractor over a grueling route. In the past, we used camels.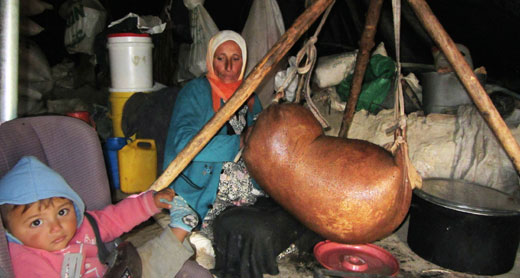 Halimah Abu 'Aram churning butter in a tent. Photo: Nasser Nawaj'ah, B'Tselem, 6 Feb. 2013.
Women usually give birth at home, and don't get to the hospital. I had all my children here in the tent without help from either a midwife or a doctor. Experience and our hard life here have taught us to manage on our own.
In 1999, the Israeli military decided to evacuate our and other nearby villages. Military trucks took our bedding from the village to the al-Barakeh area, in Yatta. For 20 days we came to the village at night and hid during the daytime.
Since the court made its decision, we've been living in relative stability. The military no longer harasses us and hasn't destroyed any of our structures. But this sense of stability wouldn't last for long. We heard that the Israeli military plans to evacuate the entire area, including our village, on the pretext that it is a military firing and training zone. This news frightened me. I can't imagine what will become of us if the military carries out that decision. Where will we go? Where will our children go? They were born and raised here. Where will our grandson go? They have nowhere else to go. Where will my sheep go? What will happen to my land, which is our only source of livelihood? I'd rather die than find myself somewhere else. I hope that the court will help us this time too, and decide to keep us here in our own place.
We have the right to live on the land of our fathers and grandfathers. We have the right to live with dignity like everybody else, with minimal means of sustenance. We have the right to clean water and electricity. We have the right to a road that'll make it easier for us to leave and return to the village, and to get to the hospital. Our children have the right to a school and social organizations. They have the right to a childhood like all other children. Our children are deprived and disadvantaged, and cannot choose another life for themselves.
Halimah Mahmoud 'Issa Abu 'Aram, 41, married and mother of 4, is a resident of Khirbet al-Majaz in the South Hebron Hills. Her Testimony was taken by Musa Abu Hashhash in the witness's home, on 14 January 2013.