Khalil Musa, Khirbet al-Markez

I was born in 1942 in a cave in Khirbet al-Markez, which is east of the city of Yatta, near what is now the Green Line. When I was little, dozens of families lived in caves in Khirbet al-Markez. The entire extended family lived here, worked the land and raised flocks of sheep. My brothers, my sisters and I helped out.
In 1967 [after the Six-Day-War] most of the residents of the village fled to the town of Yatta. My brothers, my sisters and other relatives also fled. I decided to stay in the village because I am the oldest son and I wanted to protect and take care of the land and livestock. My family and I have more than 200 dunams [20 hectares] where I grow wheat and barley for us and our livestock. I have more than 70 head of sheep. My son Feras, 24, is married and lives near me. He helps me with the shepherding and working the land.
My sons were born here in the village, as were the sons of relatives and neighbors who stayed on here. A lot of my relatives are buried in the village cemetery.
Despite the hardships of living here, 20 nuclear families, belonging to 8 extended family groups, live in Khirbet al-Markez on a permanent basis. The families work the land and raise sheep and we have a small, perfect community here.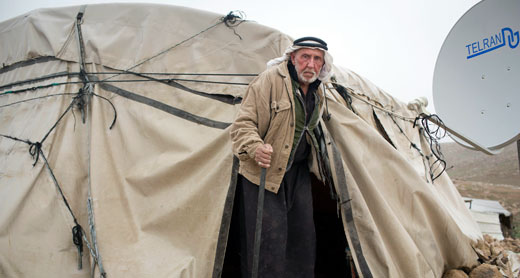 Khalil Musa next to the tent he lives in. Photo: Oren Ziv, Activestills.com, 30 January 2013. 
I think one reason that many families left the area was the opportunity of work in Israel. A lot of the young men looked for work that pays better than raising sheep or farming. Their land and homes are still here, and many of them come back to the village for the farming seasons, in the spring and summer.
Life here is very hard. The road to Yatta is long and to get there, we travel with donkeys and tractors until we get to the road. Then we hitch a ride with a passing vehicle. The military often detains the cars on the road, claiming that they are smuggling workers into Israel. When someone is sick or when a woman is in labor and needs to get to the hospital, it is very hard to get out of here.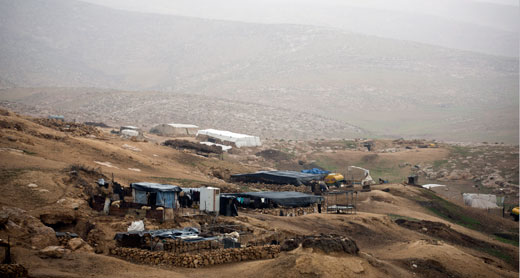 Khirbet al-Markez, Photo: Oren Ziv, Activestills.org, 30 Jan. 2013
We have no electricity and no solar panels like some other nearby villages do. There is only one communal generator that provides electricity for a few hours. Our drinking water comes from ancient cisterns and is polluted. In the summer, the water supply runs out and we are forced to buy water transported by trucks. Sometimes we get water from foreign organizations. We have no school at Khirbet al-Markez, so the children must walk to the school at Khirbet Jenbah, which is about two kilometers away. 
Our way of life is primitive and difficult, but we have strong ties to this place and have no other alternative. Many of the residents here own houses in Yatta but no one wants to leave their cave and shelter. We are connected to the land and the livestock, which are our livelihood.
In 1998 the Israeli military declared the area around Khirbet al-Markez a training area. In 1999 the military decided to evict us from the village, but Israeli organizations helped us petition the Supreme Court. And the court issued an order that enabled us to return to our village.
Last year, the Israeli minister of defense announced the government's intention to evacuate the area's residents in order to use it for military training. Ever since I heard about the decision, I have been worried and frightened. I am 70 years old and I have no ties to any other place apart from my village. If the Israeli military carries out the decision and expels us, I won't have any place to go except to the nearby cemetery, and that will be my next and final stop.
Khalil Muhammad Isma'il Musa, 70, married with 9 children, is a resident of Khirbet al-Markez,in the South Hebron Hills. His testimony was taken by Musa Abu Hashhash on 9 Dec. 2012 in Khirbet al-Markez.