In recent months, shepherds from the Palestinian community of al-Farisiyah in Tubas District, the northern Jordan Valley, have reported an upsurge in the frequency and severity of attacks by settlers. The settlers threaten shepherds, chase them, physically assault them, drive headlong into the flocks to scatter the sheep, and even run over or steal sheep. These attacks are now virtually a daily occurrence. Soldiers are usually present during these attacks and sometimes even take part, demanding that the shepherds get off the pastureland, citing various arguments, e.g., that the area is a closed military zone or belongs to one of the settlers. Soldiers detain shepherds and, in some cases, even arrest them on a variety of pretexts.
These are no isolated incidents, but rather part of the policy Israel has been implementing in the Jordan Valley. Its goal is to take over as much land as possible, while getting Palestinians to leave, which it achieves via various measures, including making the reality of living there so untenable and disheartening that Palestinians have no choice but to leave their homes, ostensibly "by choice." This reality is made up of coordinated attacks by soldiers and settlers, as described below, and a sweeping ban on the development of the Palestinian communities, construction, and the establishment of vital infrastructures, including water, electricity, and roads. When, left with no other option, residents build without permits, the Civil Administration issues demolition orders, demolishes solar panels installed by the residents, confiscates water tanks, and cuts water pipes.
This is what life is like for the residents of al-Farisiyah, a village that existed since before Israel occupied the West Bank in 1967, and was completely demolished by Israel in 2010: The community currently comprises five compounds. About 300 people live in the community year-round, and another 200 live there only in winter. All the residents live in tents or shacks and earn their living as shepherds and farmers. The compounds of the communities compounds are not connected to the power or water grids; and average water consumption is just 20 liters a day, far short of the World Health Organization's recommended minimum of 100 liters per person per day. There are no schools in al-Farisiya, so the children must walk about five kilometers every day to reach school in the village of 'Ein al-Beida. There are two schools in 'Ein al-Baida, one for boys and one for girls, each combining an elementary school and a high school.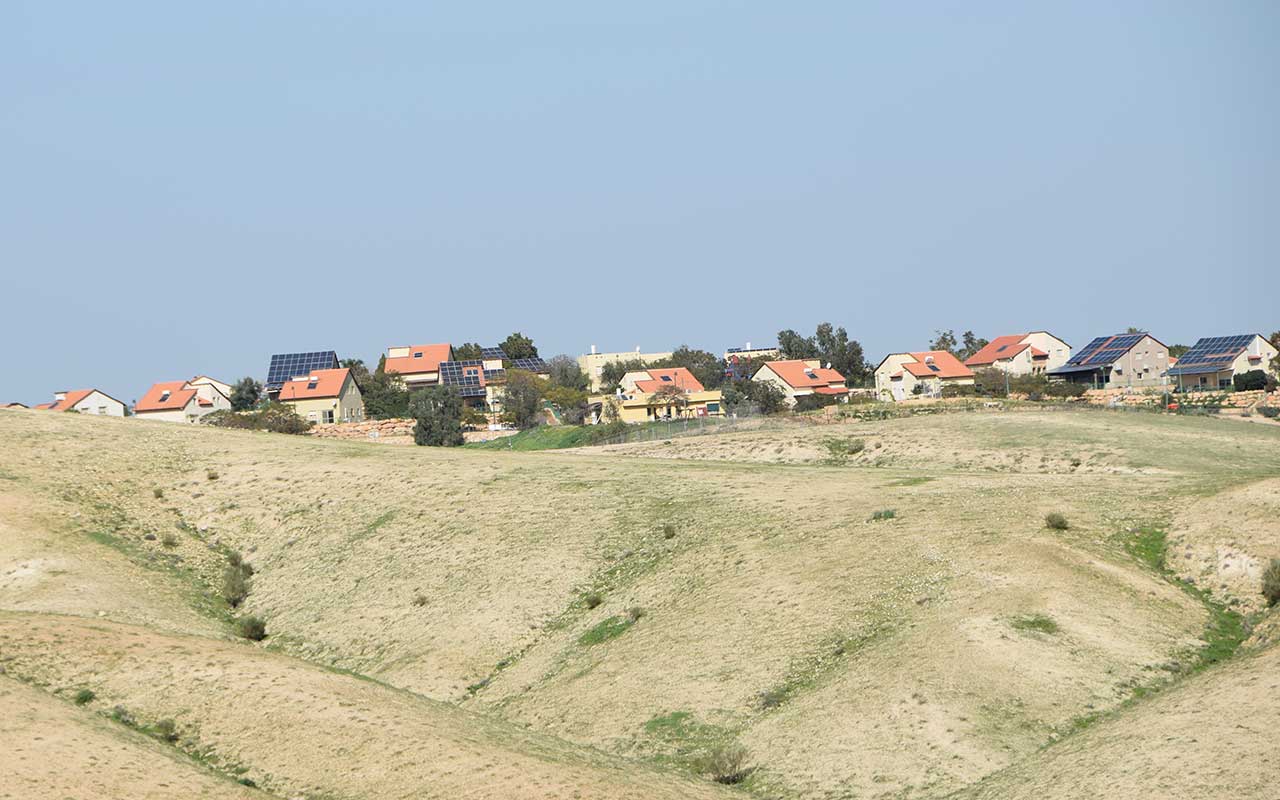 Settlements and settlement outposts completely surround the community: Giv'at Sal'it and Mehola to the north of al-Farisiyah; Shadmot Mehola and Rotem to the east; and Maskiyyot to the south. The military has also declared the village and extensive areas to its south, north, and west as a firing zone. Other nearby land has been declared part of the jurisdiction or municipal area of nearby settlements. Israel uses these designations to completely block off access by al-Farisiyah residents to most of the surrounding land, where they have grazed their flocks for years.
B'Tselem field researcher 'Aref Daraghmeh spoke with al-Farisiyah shepherds and they told him about how the settler attacks disrupt their lives and routines.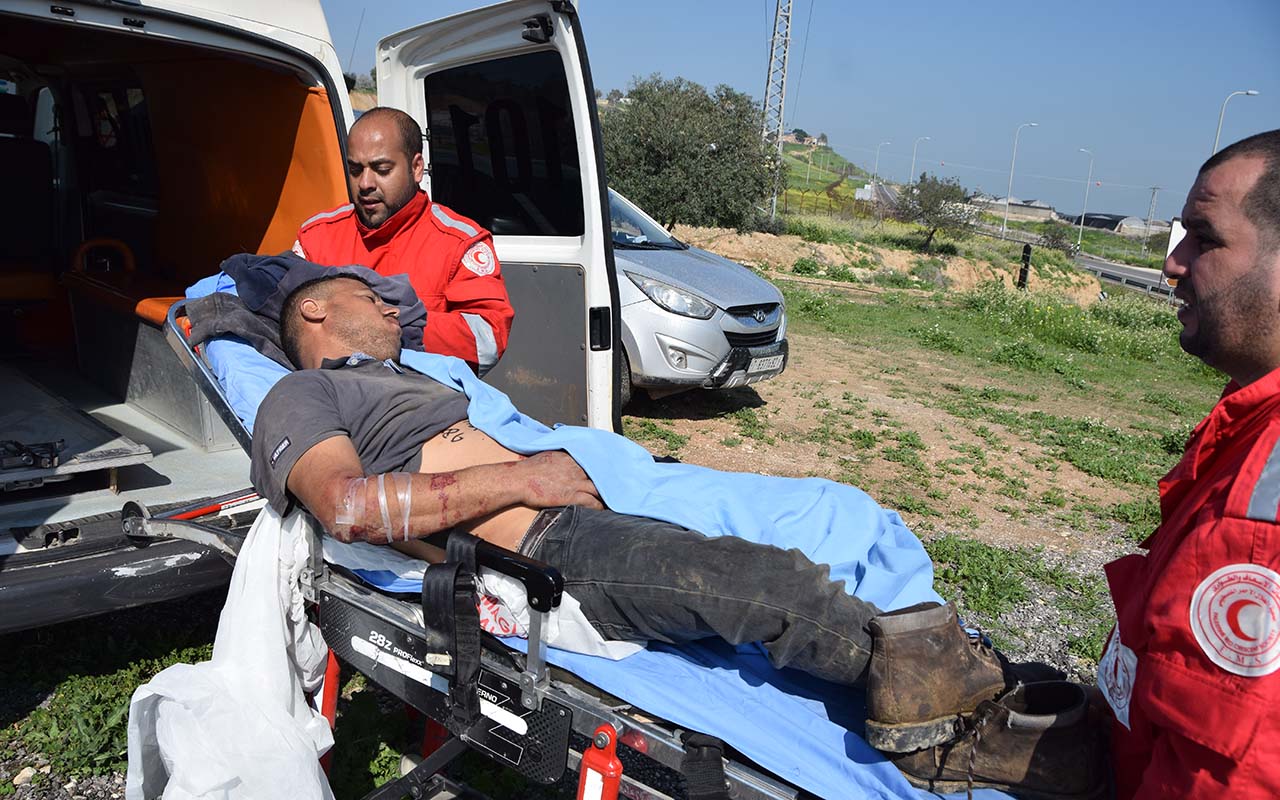 In a testimony he gave on 27 February 2019, Barakat Abu Muhsin, 39, a father of five, described being harassed by settlers and the resulting difficulties in making a living:
My family and I live in tents and structures made of metal and plastic Nab' al-Ghazal community in al-Farisiyah. We live in tough conditions. The Israeli authorities forbid us to build permanent buildings fit to live in. The settlers established the settlement of Rotem about 500 meters east of us, and seized control over most of our land. The settlers from Rotem attack us on a daily basis when we go out to graze our flock. There's an area close to the settlement where we used to graze our flock, but ever since the settlement was established the settlers attack us and it's scary to go out there. Recently the settlers have also begun to graze their flock there. They bring big dogs with them and the assaults have gotten worse. They restrict our movement in the area and drive us off. The soldiers in the area guard them and help them to drive us away, claiming that the area belongs to the settlers and that we aren't allowed to be there. We don't understand how this all came about.

One of the worst attacks took place on 12 February 2019. I went out to graze the flock with my brother Luai, his son and our cousins. The settlers were in the area and they began to set their dogs on our flock. The settlement guard Didi (chief coordinator of military security) arrived on a horse with other settlers and they started to throw stones at us and at our sheep to drive us away. I was injured in my hands and legs. An Israeli ambulance arrived and so did a Palestinian Red Crescent ambulance, which took me to hospital in Tubas. Thank God I only had bruises to show for it.

Instead of stopping the settlers who were attacking us, the soldiers who were on the scene arrested my brother Luai and his son 'Ali. The settlers claimed that they attacked them, but we know that they just want to drive us away from the area.

We don't know what to do. Where will we graze our flock? We can't afford to buy fodder; it's too expensive. We have no other way to feed the flock and we have no way to make a living other than shepherding. We don't even know who we can lodge a complaint with any more.
In a testimony taken on 31 January 2019, Ahmad Abu Muhsin, 27, a married father of five, described the settler attacks:
I live in Nab' al-Ghazal community in al-Farisiyah. Last week we were on our way to the pastureland to the northeast of our home. The settlers arrived and began to swear at us and chase us with their dogs. They set the dogs on the flock. They called the military, and the soldiers closed the roads to prevent us from grazing our flock.

Two days ago I went out with my father and cousin to graze the flock. We were about one kilometer to the north of the settlement of Rotem. We saw at least five settlers approaching us. I hid with my cousin, and only my father was left in the open. The settlers arrived with a military jeep and chased the sheep. They swore at my father. The soldiers handcuffed him, even though he's over 60, and took him in the jeep to military base nearby. We gathered the flock and went back home. I called the Palestinian DCO and the soldiers let my father go after about four hours.

This afternoon, we went out to the pastureland, heading in the same direction but we were far away from the settlement. The settlers came with dogs. They threw stones at the sheep, and chased us. Some of the sheep were hit by the stones and bled. We barely managed to get the flock away from them. They are aggressive and they want to kill us and our sheep.

We live in an atmosphere of fear and panic. Every day we ask ourselves where we can go. We just want to provide food for our sheep. We don't have any other work. To the west, there are military training areas, and on the other sides there are settlements. We face danger wherever we turn. We're living in a prison. No one can stop the settlers' attacks. We thought the military would stop them, but instead they're helping them to force us out.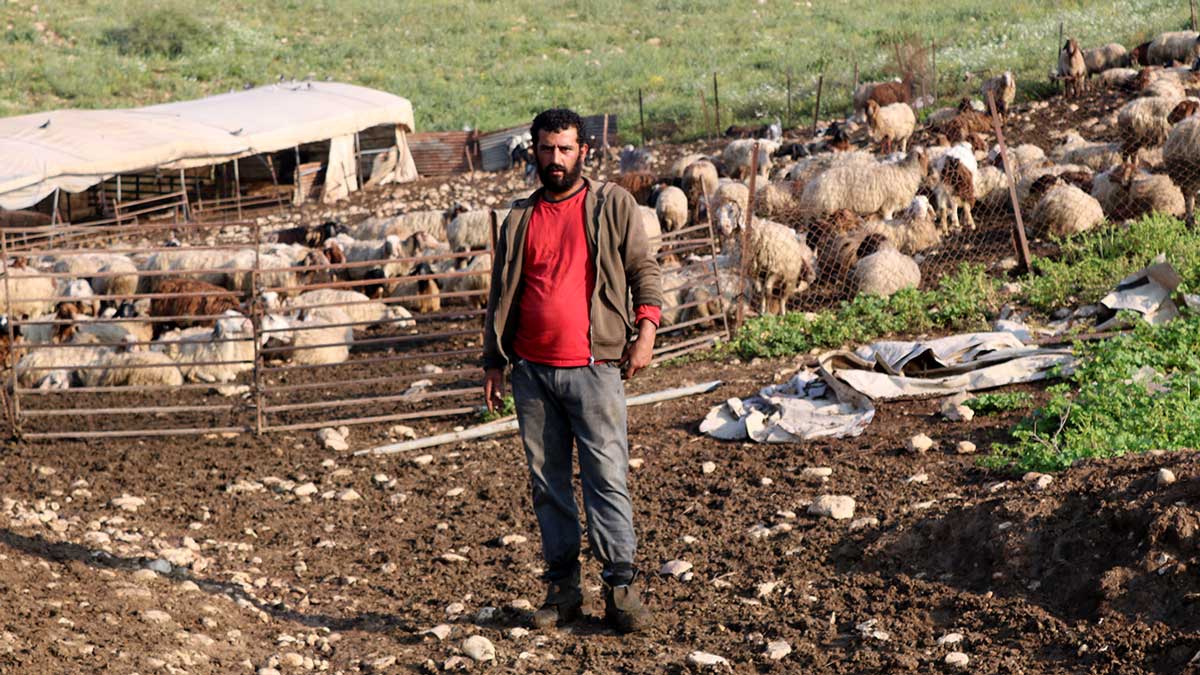 In another testimony taken on 17 February 2019, Ahmad Abu Muhsin described how settlers injured one of his sheep and stole two others:
Over the past few weeks the settlers have been attacking us more often than usual. We're used to grazing our flock on an area to the northeast of where we live. But recently, Didi, who is the guard (chief coordinator of military security) of the settlement of Rotem, has been harassing us and attacking us almost daily. He brings big dogs with him. He shouts and threatens us. This morning I went to graze my flock to the northeast of al-Farisiyah, hoping to avoid the area where the settlers attack us. But when I got there, I saw the settlers were grazing their flock there and I was afraid that they'd attack me. One of them was riding an ATV. He headed toward me and the flock and drove among the sheep to scatter them and force me to leave. He ran over one sheep and the rest scattered every which way. He also managed to drive two sheep away from my flock and into his own flock.

I took the sheep that were left back home, including the injured sheep. A few minutes after I got home, soldiers came to raid it. They wanted to arrest me, claiming that I'd assaulted settlers. But after they saw the sheep, they told me to go the police station in Ariel to file a complaint.

We're at a loss and don't know what to do. The settlers have driven us away from all the pastureland. We know that the military and the settlers collaborate. The soldiers don't get the settlers to leave. On the contrary, to keep them happy, they help the settlers to drive us away. We don't have anywhere else we can go. This is our land. Today, every time anyone leaves their home they feel as if they're going off to war. They think about the settlers and what attack they'll be mounting. They are armed, they have dogs, and they have the backing of the state and the military.
Mufideh Daraghmeh, 69, a widow and mother of eight, is a resident of al-Farisiyah. In a testimony taken on 6 March 2019, she described the difficulties involved in living near the settlers:
Mufideh Daraghmeh. Photo: Amit Gilutz, B'Tselem

My children are all grown up and married, except for one daughter who is disabled and lives with me. My husband died many years ago, but I still live here, alongside my children in Ehmeir community in al-Farisiyah. I raise sheep. I'm an elderly woman and I just want to make a living for myself and my family.

We run into difficulties every day. The settlers from Giv'at Sal'it bring their sheep to graze on the pastureland we're used to going out to.

Every afternoon my son Ashraf goes out to graze the flock. I always warn him to beware of the settlers. When his route takes him behind the mountain and he disappears from my sight, I tremble – body and soul – with fear for him. The settlers have already assaulted lots of people. I count the seconds waiting for him to come back home.

The day before yesterday, settlers assaulted shepherds near where we live. Ashraf was one of the shepherds who were attacked. A settler chased him and threw stones at him. He feared for his life and came home.

Another of my sons, Mansur, works in one of the nearby settlements. One of the settlers called him and said, "Tell your son not to graze his flock up here. The land belongs to us." It rained a lot this winter so there's a lot of grass. We were so happy about the rain and the grass, but the settlers spoiled it for us, and brought us tears and heartache. They divided our land among themselves as they saw fit. They are very aggressive and walk around armed all day, with dogs, in front of our tents and by our sheep. No one dares say anything to them, for fear of the consequences. Every day they chase the shepherds and call the soldiers to complain about them. Then the soldiers arrest the shepherds instead of removing the settlers.

Ever since they settled in the area, we're all scared at night. They don't know the meaning of mercy or compassion. What can we do? This our land, passed down through the generations, from grandfather to father to son, and they want to take it all. We're surrounded by the settlements. We all live in constant fear. There's no peace of mind. What will we do and where will we go?