In the fall of 2016, two new settlement outposts were established in the northern Jordan Valley. They put into practices methods similar to those employed in other instances of Israeli dispossession of Palestinians in the West Bank: The settlement outposts themselves are built on just a few hectares of land, but their footprint far exceeds their actual area, and they serve as the basis for an Israeli takeover of hundreds of hectares of land. Israel's longstanding policy in this area, aimed at the expulsion of local Palestinian communities, is implemented through a combination of military orders, administrative and planning measures, and military activity. The settlers who live in these new settlement outposts function as the long arm of the state: exploiting their status as Israeli citizens in occupied land, they attack Palestinian shepherds and deny them access to land that has been the mainstay of their communities' livelihoods for decades.
The first of the two new settlement outposts was established in the northern Jordan Valley in September 2016. It was initially built on a plot of land privately owned by Palestinians a few hundred meters away from the settlement outpost of Giv'at Sal'it (established in 2001) and the settlement of Mehola (established in 1968). Several months later, in January 2017, the settlers moved the outpost's structures to a nearby hilltop, to a plot of land that had been registered as government property even before the Israeli occupation. Israel appropriates this state land, meant to serve the local population's needs, and uses it exclusively for Israeli purposes. The fact that the settlement outpost was relocated to a plot designated as state land suggests the move was coordinated with the Israeli authorities.
The settlement outpost currently covers five hectares and includes a residential hut, several tents, a livestock pen – for sheep and cattle – and a large water tank. Israeli human rights activists estimate that about ten young adults live in the settlement outpost. Its hilltop location commands a view of Wadi Khillet Hamad, a valley that is home to one of the tent clusters which make up the longstanding shepherding community of Khirbet Tall al-Himma (population: about 200). The settlement outpost lies in the heart of hundreds of acres of pastureland used by the Khirbet Tall al-Himma community, the al-Farisiyah cluster of communities (with a total of about 300 residents during the winter months and 100 in the summer), and the village of Kardalah (population: about 450).
The second new settlement outpost was built in November 2016, about two months after the first. It is located about eight kilometers south of the first settlement outpost, and only 300 meters away from the Megamat Nezah Yehuda military base. In early January 2017, settlement outpost residents brought in a several dozen cows and built a pen for the cattle herd and some agricultural structures. In April 2017, volunteers of human rights NGO MachsomWatch documented a water main connecting the settlement outpost to the Israeli military base. The revelation that the state was supplying water to a settlement outpost it officially considers illegal apparently led to the relocation in May 2017of the outpost to a site known as Khirbet a-Sweidah, some four kilometers away from the military base. The new site is located in an area the military had declared a firing zone, also in this case on a plot of land that had been registered as government property before the occupation.
This settlement outpost now covers four hectares of land. It has tents, sheds, agricultural structures, a cattle pen, solar panels, a large water tank and a tractor. Israeli human rights activists estimate that about ten young adults live in this settlement outpost as well. Like the first settlement outpost, it is surrounded by hundreds of hectares of pastureland used by three longstanding Palestinian communities: Khirbet Samrah, which numbers about 40 residents in the winter and is vacant in the summer; Khallet Makhul, also with a population of roughly forty; and 'Ein al-Hilweh, which numbers roughly 55.

The impact of the settlement outposts far exceeds their built-up areas. The settlers living in them put a great deal of effort into blocking Palestinian shepherds from accessing their land. To this end, they use intimidation tactics, such as patrolling the area on horseback or driving ATV's, armed with guns and clubs, and driving away Palestinian shepherds. B'Tselem has documented incidents in which settlers rode into a herd of sheep to disperse them, ran over livestock or threw stones at them. We have also documented threats and violence against the shepherds themselves.
Settlers take over pastureland and use it to pasture their own cattle and flocks, while keeping Palestinian shepherds from using the land. In doing they seriously harm the Palestinian shepherds' main source of income.
Members of the affected communities have complained to the Israeli military and police about the routine of violence they have been subjected to, but Israeli law enforcement agencies systematically avoid taking any measures against settlers. Palestinian residents report that even when soldiers are on the scene during attacks by settlers, they stand by, taking the part of the settlers.
The establishment of these settlement outposts and the violence perpetrated by their residents against local Palestinians do not take place in a vacuum. They form an inseparable part of Israel's policy in the Jordan Valley ever since 1967, which includes a variety of official and unofficial measures designed to minimize Palestinian presence in the area and further establish Israeli control of it.
As part of this general policy, Israel denies Palestinians use of 85% of the Jordan Valley and northern Dead Sea, using this area for its own needs: Palestinians may not build in these areas, live there, graze their livestock there or cultivate their land. Palestinian access is denied based on various legal pretexts: As early as 1967, a few short months after the occupation began, Israel declared all the land that had been registered as government property under Jordanian rule – an area that covers 53% of the Jordan Valley and northern Dead Sea – as closed zones. In the late 1960s and early 1970s, the military declared 45.7% of the Jordan Valley as firing zones and barred all Palestinians access to these areas, including living there. Israel also declared 20% of the Jordan Valley as nature reserves or national parks, and other areas were allocated to settlements built in the Jordan Valley shortly after the occupation (some of these areas overlap).
Added to all this is the blanket ban Israel has placed on construction in these Palestinian communities, whether for public or residential purposes, its refusal to connect the communities to basic water and electricity services and to build access roads to the communities. When, having no other choice, residents build without permits, the Civil Administration issues demolition orders. Whether executed or not, the threat of these orders constantly looms over the residents. In some of these communities, the Civil Administration repeatedly demolished homes belonging to the same residents.
From 2006 to 30 November 2017, the military demolished 205 structures in the communities encroached upon by these new settlement outposts: in the community of Khallet Makhul, the military demolished 25 residential structures and 37 other structures; in the community of Khirbet Samrah, 4 residential structures and 6 other structures; in the community of 'Ein al-Hilweh, 15 residential structures and 7 other structures; in the community of Khirbet Tall al-Himma, 17 residential and 12 other structures; in the community of al-Farisiyah, 61 residential structures and 21 other structures. All told, as a result of the demolitions, 391 residents lost their homes during this this period, including 157 children and teens.
The unbearable, dispiriting reality forced on these communities is meant to cause them to leave their homes, ostensibly, of their own will. Creating such a reality is tantamount to an expulsion of residents of the occupied territory from their homes and land and constitutes the forcible transfer of protected persons – a war crime under international law. Everyone involved in the commission of such a crime, including the prime minister, the defense minister, the justices who approve measures leading to expulsion and the military general who signs the orders – bear personal liability.
The establishment of the two new settlement outposts helps Israel realize its main goal for the West Bank: dispossessing Palestinian residents of their homes and land, and taking over their property. Each of the restrictions the state imposes on the Palestinian residents has enabled settlers to encroach on their land, build settlements and settlement outposts and take over vast areas around them. The state may say that the settlement outposts are "illegal" and are a "private initiative" by the settlers, but these claims ring hollow given Israel's complete inaction to change this reality. The state's refusal to remove the settlement outposts, prevent the routine attacks and prosecute those responsible for them speaks volumes as to Israel's reliance on the settlers' criminal behavior to entrench its control of the area while paying lip service to the law by formally disavowing any ties to them. These actions complement the official measures Israel takes in its pursuit of Palestinian dispossession in the area (and in other parts of the West Bank) and play a key role in the implementation of its policy.
'Abed Daraghmeh, 80, a shepherd from Khirbet Samrah and married father of nine, spoke with B'Tselem field researcher 'Aref Daraghmeh on 20 December 2017 and related the following account: 
I'm a shepherd. It's a profession that's been handed down in my family from one generation to the next. That's how we earn a living and raise our children. My first wife passed away a few years ago and all my children had already gotten married and moved away to look for work elsewhere. I got remarried. I wanted life to go on. Before the occupation began, we used to roam across our land: in Khirbet Samrah, Khirbet a-Sweidah and Khirbet al-Mzoqah. Life was great – without the occupation, the military bases and the settlers. Our sheep could wander freely through the pastureland. We had open spaces, made a good living and led comfortable lives. For decades I lived at Khirbet a-Sweidah with other families from my extended family.

After the 1967 war, our lives became hell. The military came and expelled us from the area of Khirbet a-Sweidah. They attacked us, confiscated our livestock and killed many sheep. We fled and left everything behind, to save ourselves and our children. Since then we've been hounded by one disaster after another and life has never gone back to normal. The occupation robbed us of our livelihood and of everything that made us happy. Our lives have become very difficult. After we ran away from Khirbet a-Sweidah and Khirbet al-Mzoqah, we moved to Khirbet Samrah. At first, there were dozens of families living here with us, but now there are only a few left because life here is hell. Several years ago, my tents were bulldozed along with the tents of my sons and of our neighbors. We were told that it was because we didn't have building permits for the tents. Meanwhile, they build houses in the settlements.

That's how our life went from bad to worse. This past year has been the worst. Suddenly, settlers came and put up tents on the top of the Khirbet al-Mzoqah hill. We have land in the area, from which the Israel Nature and Parks Authority expelled us, saying that grazing is not allowed there. Now the settlers graze their cattle on that land, while we aren't allowed to bring our flocks there. We're afraid of the settlers, because they're armed and the military takes their side, against us. The military has driven us out of the area, saying that it's a military zone. But the military orders that apply to us don't apply to the settlers. About six months ago, the settlers moved from Khirbet al-Mzoqah to Khirbet a-Sweidah and set up their tents there. That was a catastrophe for us. A-Sweidah is the land of my forefathers. It spans hundreds of hectares. Now the settlers have shut us out of it and there is nothing we can do to about it. The settlers brought in cattle and sheep and they use our pastureland, right in front of our eyes, while we aren't allowed to live on it or even enter it. The settlers wander around the pastureland all the time, with vicious dogs. They have threatened to kill my sons and my family, and also the families of other shepherds, if we set foot on the pastureland. We've filed complaints about it with the military several times, but the military sides with the settlers, imposing restrictions on the shepherds and forcing them to live far away.

Our life has become a misery, and we've also gone into debt. The pastureland used to provide food for the sheep, and we would also gather edible plants. Now we have to keep to a very small area, and we have to buy food for the livestock, which is very costly. I sold some of my sheep to buy animal feed, and so did other shepherds in the area. It has made our lives very difficult – financially and emotionally. We don't know what to do.

In the last few years, because we're being so restricted and have no place left to graze our sheep, we've started wandering far afield in summer. We have to leave our tents to live by the pastureland near Tubas, which makes things even more difficult. Our lives were hard enough beforehand, and since the settlers came they've become hellish. Because of them, we live in constant worry and we fear for ourselves, our children and our livestock. It's our land. What right do they have to take it over?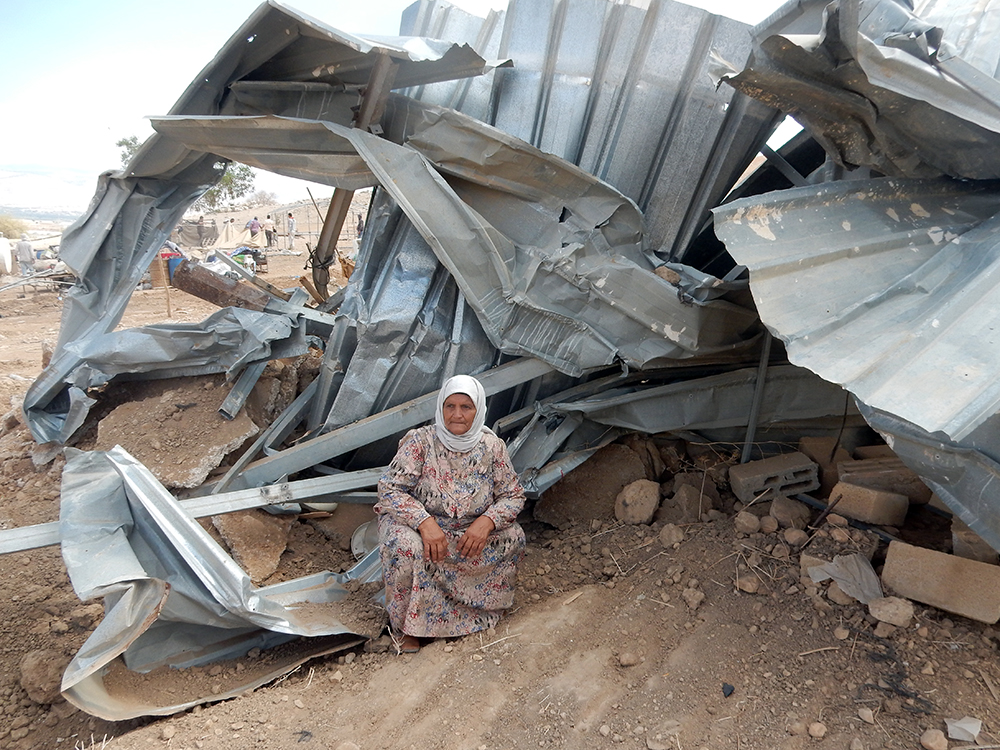 Zahrah Ayub, 69, a resident of Khirbet Tall al-Himma, tends to livestock. A married mother of thirteen, she related the following in a testimony she gave on 20 December 2017 to B'Tselem field researcher Salma a-Deb'i:
Ever since I got married, I've lived with my husband in the area of Khirbet al-Himma in the Jordan Valley. We've had to move several times in the area because of the military and the Civil Administration. The last time was last year, when they demolished the shacks we lived in and the livestock pens, and left us nothing, saying that we had no building permit. We can't build shacks any more because they're too expensive, so we put up tents instead.

Our lives have been especially difficult since they established the new settlement outpost, about a year ago. The settlers chase us all the way home, shout at us, take pictures of us, demand that we leave and say that this is their land – although they are the settlers. They even take photographs of our livestock pens. They chase my children while they tend the sheep. They've often thrown stones at the livestock, too, and several ewes miscarried because settlers were chasing them and throwing stones at them.

Since it's so difficult to graze the sheep on our land, we have to buy feed for them, which is a big financial burden. Buying the feed has got us into debt, which is another source of worry. We barely eke out a living and the profit from the livestock is only just enough to live off. We can't buy animal feed all year round, because we can't afford the huge expense.

The Civil Administration confiscating water tanks at Khirbet Tall al-Himma. Photo by 'Aref Daraghmeh, B'Tselem, 17 July 2017

We live without electricity and running water. In July, Civil Administration officials confiscated the solar panels we had received just four months earlier from an aid organization. We have to buy water from tankers near 'Ein al-Bida. In contrast, the moment the settlers got here, they were hooked up to the power and water grids with amazing speed and even planted olive trees. If we were to plant trees, the military and the Civil Administration would immediately uproot them. I don't know what to do. I can't sleep at night. I'm anxious all the time. I'm worried about my kids, scared that something bad will happen to them and wondering what kind of future they'll have. I'm an old woman and I'm not worried about myself, but I do worry about what will become of my children and their children. I don't know what they want from us. We don't bother them. They're the ones who come bothering us and chase us wherever we go. I told my children, "Let's leave and go somewhere safer, anywhere." But they said, "There's nowhere safe, nowhere without settlers. They've taken over all the land." I suggested we move to Nablus, but they said, "Even in Nablus, the settlers have taken over all the land. There is nothing left."

I keep thinking, where will we go? We don't want anything, just to live peacefully and be safe. We accepted this hard work, and the hardship of raising livestock in such tough conditions. But what can we do about the settlers? Feeling like you're fighting for every crumb, living under constant threat, always in fear, is intolerable. If there were somewhere we could go, with pastureland and a place to build homes, I wouldn't think twice, I'd move there immediately.