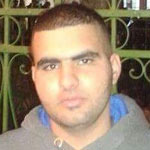 The Military Advocate General's (MAG) today announced his decision to close the investigation against OC Binyamin Regional Brigade Col. Yisrael Shomer who killed a Palestinian youth who threw a stone at his vehicle. Israeli human rights group B'Tselem, which unearthed video documentation of the incident, stated that this decision is an integral part of the whitewash mechanism which is Israel's military investigative system.
Col. Shomer shot and killed 17-year-old Palestinian Muhammad 'Ali-Kosba with three bullets to the upper body, one of them in the head. The MAG's assertion that the firing was legal, since the officer claimed that he aimed at the youth's legs but missed, clearly indicates the investigative system's willingness to ignore the law and open-fire regulations, all in the interest of providing impunity to members of the security forces who unlawfully killed Palestinians.
B'Tselem's research and security camera video footage revealed that the Binyamin Brigade Commander shot and killed Muhammad 'Ali-Kosba, 17, while the youth fled after throwing a stone, on the morning of Friday, 3 July 2015, in the West Bank town of a-Ram north of Jerusalem.
The unlawful killing was immediately condoned by military commanders and government ministers. These statements of support compounded the gravity of the event, as top military and civilian officials conveyed an unlawful message to soldiers on the ground: shooting a Palestinian stone thrower is acceptable, even desirable, even if the person is fleeing and no longer poses a threat. Such statements by top public figures empty the official restrictions on use of force, and particularly on live fire, of real meaning. They render the open-fire regulations that supposedly govern the use of lethal force in the West Bank utterly superfluous.
The MPIU did launch an investigation into the incident. However, B'Tselem stated that the automatic public support provided to the shooter, and reassurance that no fault was to be found with his actions voided from the outset the possibility of justice in this case.

A B'Tselem processed version with the area of the incident enlarged

The raw footage from the video copy provided to B'Tselem
* On 5 July 2015 B'Tselem contacted the MAG Corps demanding it order an MPIU investigation. On 8 July 2015 the MAG Corps informed B'Tselem that an MPIU investigation had been launched. According to media reports, on 10 April 2016 the case was closed without an indictment. On 19 March 2017 the Association for Civil Rights in Israel filed an appeal with the Attorney General, appealing the closing of the case. On 13 December 2018, the Attorney General denied the appeal. On 10 March 2019, Kusbah's family and the Association for Civil Rights in Israel (ACRI), jointly filed a petition with the High Court of Justice, seeking that the HCJ order the Attorney General to indict the shooter, Col. Israel Shomer and prevent his appointment to the position of commander of the Nahal Brigade. On 3 September 2020, the HCJ rejected the petition and ruled that the closure of the case and decision to delay Shomer's promotion "fall within the boundaries of reason and do not justify judicial intervention."