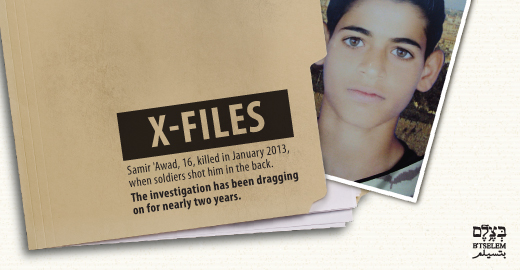 On 25 March 2015, Israel's High Court of Justice (HCJ) reiterated its ruling that by mid-April 2015 the State Attorney's Office must announce its decision in the case of the killing of Samir 'Awad. The HCJ made this announcement in response to the State's request for yet another extension, and after the MAG Corps and the State Attorney's Office had not heeded a previous HCJ ruling that they reach a joint decision in the case and advise of it by 1 March 2015. Instead, the State informed the HCJ that the Military Advocate General (MAG) Corps had "just recently" transferred the case file to the State Attorney's Office, and accordingly requested another three-month deferral to allow it to review the case. B'Tselem objected to the State's request and, although the HCJ did not accept the objection, the State was allowed to defer its response for one month.
Samir 'Awad, 16, was killed on 15 January 2013 by gunshots fired by soldiers close to the Separation Barrier in the West Bank village of Budrus, although he posed no danger. The Military Police Investigation Unit concluded its investigation of the case and the additional investigation requested of the incident. However, although more than two years have passed since the incident, no decision has been made in the case. Ahmad 'Awad, the father of the deceased, petitioned the HCJ together with B'Tselem a year ago, in March 2014, demanding that the MAG be obliged to decide whether to indict the soldiers who killed his son or close the case file.
In a court hearing on the petition on 1 December 2014, the judges 
criticized
 the foot-dragging in the investigation of the case, which was so protracted that it lasted long after the soldiers involved in the incident have completed their military service: in the hearing it transpired that the two main suspects had been discharged from compulsory service more than six months earlier, and that the MAG Corps was aware of their impending dates of discharge. Att. Gaby Lasky, legal counsel for 'Awad and B'Tselem, explained to the court that this complicates the handling of the case as military law ceases to apply to an individual once six months have elapsed from discharge from military service, and the case must be transferred to the State Attorney's Office. Accordingly, Att. Lasky requested that the court add the State Attorney's Office as a respondent – in order to prevent further delay involved in transferal of the case.
B'Tselem criticized the MAG Corps and the State Attorney's Office for treating court decisions as merely optional recommendations, and their ongoing postponement of a decision concerning measures to be taken against those responsible for the killing of Samir 'Awad. The family has been awaiting the decision for more than two years.