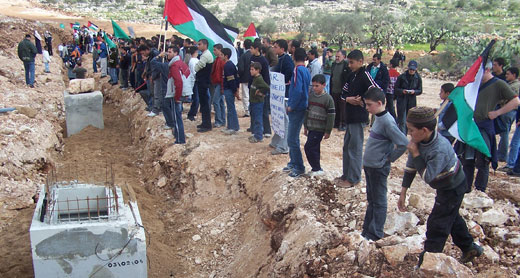 Demonstrations against the Separation Barrier, Budrus. Photo: Aisha Mershani, Feb. 2004.  (http://amershani.com)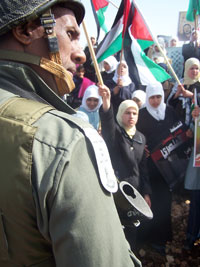 The village of Budrus pioneered the popular demonstrations against the proposed route of the Separation Barrier. Demonstrations against construction of the barrier on village lands began in November 2003 in conjunction with legal appeals to Israel's High Court of Justice. The route of the barrier was changed even before the petition was filed and then again, following the court's nisi order, reducing the amount of privately owned village land left on the western side of the Separation Barrier from about a fifth of the village lands to fewer than 100 dunams [10 hectares]. However, a petition filed by the Association for Civil Rights in Israel states there are no Israeli settlements or other Israeli sites between the proposed route and the Green Line, making the route arbitrary and disruptive to the cultivation of olive trees, wheat and other grains. The High Court of Justice rejected the petition and made no changes to the planned route.
The non-violent popular protest in Budrus inspired other local protests. A documentary on the Budrus campaign was first screened in 2010 (See the film's web site at: http://www.justvision.org/budrus ).