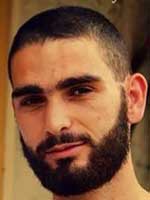 At about 7:30 P.M. on Friday, 18 Oct. 2019, 25-year-old Ra'd al-Bahri from the village of Zibad, which lies southeast of Tulkarm, drove to the Tulkarm / Al-Kafriyat checkpoint (Te'enim checkpoint), where he met a cousin from Israel and transferred olive tins to her car. He then walked towards the checkpoint, which was staffed by security guards from the Land Crossings Authority of the Israeli Defense Ministry.
B'Tselem's investigation found that al-Bahri continued walking toward the guards despite warnings from a Palestinian who was nearby and calls to stop, in both Hebrew and Arabic, shouted by a guard who was standing behind a concrete block. The guard also fired two shots in the air. When al-Bahri was several meters from the guard, he fired at his legs. Al-Bahri fell down and, as he attempted to get up, other guards fired another eight to ten shots at him.
Al-Bahri's cousin, Manal M., 63, a homemaker and married mother of five from the town of Taybah in Israel, arrived at the checkpoint with her husband at about 7:30 P.M. to collect the olives from al-Bahri. The couple parked their car in the lane leading toward Israel. A few minutes later, al-Bahri arrived with the olives, quickly put them in their car and headed off.
In a testimony she gave B'Tselem field researcher Abdulkarim Sadi on 23 Oct. 2019, Manal stated:
I called out to him and asked him to wait so I could pay him for the olives he'd brought. I also wanted to give him some clothes I'd brought in the car for his nephews and relatives. He said he was in a hurry and that a friend was waiting for him, so I didn't manage to pay him for the olives.

But instead of heading back through the olive grove to his car, which was parked on the road connecting Tulkarm and al-Kafriyat, he walked quickly west towards the checkpoint, until I lost sight of him . A few minutes later I heard shouts: "Go back, turn back, go back." I was sure they were shouting at Ra'd. Then I heard two shots fired, and a few moments later more shooting. I couldn't see Ra'd but I guessed that the shouts and the shooting were directed at him, because I hadn't seen anyone else walking toward the checkpoint. After the shots we drove off quickly, and other people who were at the checkpoint also started to run away.
In a testimony he gave B'Tselem field researcher Abdulkarim Sadi on 22 Oct. 2019, an eyewitness to the incident, H.'O., described what happened:
At about 7:20, a young man I don't know walked past me towards the checkpoint. He walked past the red plastic barrier that blocks part of the sidewalk. I tried to warn him and shouted, "Hey man! You can't go there! If you keep walking, the guards will shoot you!" He didn't respond and ignored my warning. He made a dismissive gesture with his hand and kept walking toward the checkpoint. He wasn't holding anything.

When he got near the sign that reads "no entry" in three languages, a security guard started calling out to him from behind a concrete block: "Go back, go back!" He shouted loud and clear, but the guy kept walking. Then the guard fired two shots in the air. After the guy kept walking, he fired two shots at his legs and the guy fell down. He tried to get up, and then other guards fired about eight or ten more shots. He fell down and didn't get up again.
B'Tselem's investigation found that the security guard at the checkpoint fired two shots at al-Bahri's legs from mere meters away, as the latter was walking towards him. While al-Bahri was lying on the ground, presumably injured, he tried to get up. Other guards then fired between eight and ten more shots, killing him. Shortly after the incident, the Defense Ministry published a statement claiming that al-Bahri had run toward the checkpoint wielding a knife. Whether or not he was carrying a knife and whether or not he tried to get up, the choice of armed, well-protected guards to open lethal fire at al-Bahri as he lay on the ground was unlawful and immoral. It is hard to believe that the large number of guards on the scene did not have less injurious means at their disposal to handle the situation.
Grave as this incident may be, it is not exceptional. Since October 2015, Israeli security personnel have used lethal firepower as virtually the only means of response to attacks or alleged attacks by Palestinians. Unless this policy changes, they will continue to open live fire at Palestinians even when they do not present a lethal danger.