Structures demolished or slated for demolition
Between 12 and 14 January 2016, B'Tselem documented a number of Civil Administration (CA) activities that constitute direct or indirect harm to five Palestinian communities in the Jordan Valley. In Khirbet 'Ein Karzaliyah, CA officials photographed structures apparently slated for repeat demolition. In Khirbet 'Einun, forces destroyed agricultural structures and a reservoir that supplies water to the neighboring community of Yarza. CA officials told families from the communities of Yarza and Khirbet a-Ras al-Ahmar that they would have to temporarily leave their homes yet again due to military training nearby. These actions are some of the measures that Israeli authorities have employed as part of their efforts to reduce Palestinian presence in Area C.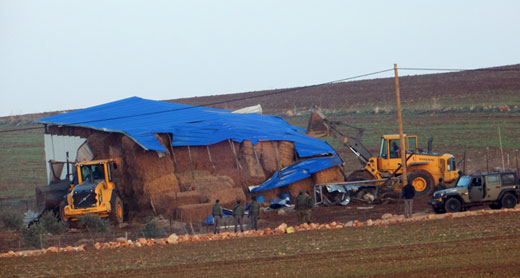 Civil Administration bulldozer razing agriculture structure in Kh. 'Einun. Photo: 'Aref Daraghmeh, B'Tselem, 14 January 2016
On Tuesday morning, 12 January 2016, CA officials photographed residential tents and other structures in Khirbet 'Ein Karzaliyah, a small shepherding community located in the northern Jordan Valley, some five kilometers south-west of the village of al-Jiftlik. Members of the community lease the land they live on from residents of Aqrabah, a village that lies some 20 kilometers to the east. The community consists of five families originally from Aqrabah, who have lived at the site for more than 25 years. It currently numbers more than 30 persons, about half of them minors, who subsist on farming and shepherding. They leave the site for several months every spring and summer in order to graze their livestock in other parts of the Jordan Valley and last returned to their homes in Khirbet 'Ein Karzaliyah in October 2015.
Through 2014 and 2015, the Civil Administration demolished all the structures in the community four times. There is strong concern that the CA took photos last week in preparation for another demolition of the community's structures, which would leave members exposed to the elements in winter.
In addition, on Thursday morning, 14 January 2016, the CA demolished four structures used for storing agricultural equipment and grains in Khirbet 'Einun, which lies some five kilometers from the town of Tubas. The structures belong to families from Tubas who own farmland in the area. On the same day, the CA also demolished a reservoir from which water is piped to Khirbet Yarza, which lies some seven kilometers north-east of Tubas. In August 2015, the Civil Administration demolished two homes in Khirbet 'Einun and in January 2015, Administration officials took apart and confiscated pipes intended for supplying water to Khirbet Yarza, which is not hooked up to the water grid and is not easily accessible to water tankers due to rough roads.
Temporary forced displacement
The same day, 14 January, Civil Administration officials also arrived at Khirbet a-Ras al-Ahmar, a community located some four kilometers west of the town of Tammun. The community consists of more than 20 families numbering 120 members in total, about half of whom are minors. The officials handed temporary evacuation orders to ten families, numbering 50 members, including 26 minors. The orders require the families to vacate their homes on 26 January from the afternoon until the evening, and on 27 January from the morning to midday. The reason cited is that the military needs to hold maneuvers near that part of the community. In 2015, residents of the community were temporarily displaced eight times on the same grounds. The day before (13 January), the CA handed evacuation orders to 14 families from Ibziq, who are also required to vacate their homes for seven hours on 27 January 2016. These families number more than 86 members, including 46 minors. In 2015, the Civil Administration temporarily displaced members of the community eight times, citing the need for military training nearby.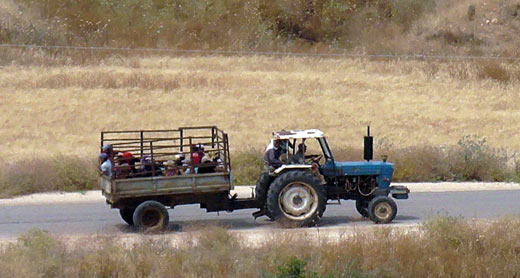 A family evacuating their home, near al-Malih, northern Jordan Valley. Photo: 'Aref Daraghmeh, B'Tselem, 3 May 2015
The continued harassment of Palestinian communities in the Jordan Valley by Israeli authorities is part of ongoing efforts made by the Civil Administration and the military to force Palestinians out of Area C. These efforts violate international humanitarian law, as they constitute forced transfer of protected Palestinian residents inside the occupied territory of the West Bank. This holds true whether the expulsion is carried out directly, by demolishing the homes of these residents, or indirectly, by creating impossible living conditions in the area that entail a constant threat, periodic displacements and draconian restrictions on the residents' ability to support themselves.