The village of al-Farisiyah has been located in the northern Jordan Valley since before the 1967 occupation of the West Bank. It is home to over 200 residents who live in tents and sheet-metal shacks, and earn their living by grazing their 3,000 head of sheep and farming. The village is not connected to water or electricity and has no schools. Its children attend school in 'Ein al-Beida, a five-kilometer walk each way. Average water consumption in the village is twenty liters per person per day – far less than the 100 liters per person per day recommended by the World Health Organization.
In June 2010, the Civil Administration served notices to the residents, instructing them to evacuate the village within 24 hours, claiming it was a firing zone. According to the residents, the military has never conducted training exercises in the village. The residents remained in their village.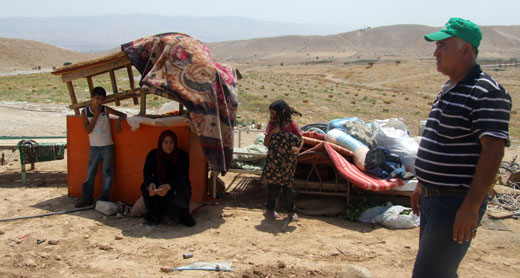 Alan Dagharmeh and members of his family, residents of al-Farsiya, with the remains of their property. Photo: 'Atef Abu a-Rub, B'Tselem, 10 August 2010. 
On 19 July 2010, the Civil Administration demolished 26 huts and residential tents in al-Farisiyah, as well as dozens of sheep pens, kitchens, water containers, toilet stalls, irrigation lines and farm buildings. The farm buildings demolished included a packing house established 23 years previously in collaboration with the Israeli export company Agrexco and, at the time of demolition, was being used to store agricultural produce. At least 107 people, including 52 children, were left without shelter from the hot July sun, at a time of year when Jordan Valley temperatures can reach a high of 50 degrees Centigrade (122 degrees Fahrenheit) in the shade. On 5 August 2010, the Civil Administration returned to the village and destroyed 27 temporary tents provided by the Red Cross and the PA to residents who had been rendered homeless.
In September, the residents petitioned the High Court of Justice seeking to rescind the expulsion and have the Court void the notice that they were living in a firing zone. In its response to the petition, the State argued that the site was not continuously inhabited and that military exercises, including live-fire exercises, were frequently conducted there. The State further argued that there were nearby Area-B villages, Bardalah and 'Ein al-Beida, for which it had made plans that would meet the needs of the area's population. The residents of al-Farisiyah opposed relocation to these villages, and their legal counsel sought to have the Civil Administration allocate state land for their community. The Civil Administration suggested land in Area C, south of Bardalah. The villagers and their attorney are still studying the proposal.