The al-Makhrour area, defined as Area C, extends over approximately 300 hectares west of the village of Beit Jala, Route 60 and the planned route of the Separation Barrier, and south of the Israeli settlement of Har Gilo. Al-Makhrour is an agricultural area with ancient farming terraces on the slopes of the hills, ancient shomerot [unique stone towers used to store harvests and house watchmen] still used by the local farmers, fruit orchards and groves, some wild, others planted. At an elevation higher than 900 meters above sea level, the al-Makhrour area has clean air, open spaces and scenic views, all quite rare in the densely populated vicinity. The area attracts locals, who enjoy hiking and spending their leisure time there. A restaurant built there in 2001 had operated successfully; Italy's foreign office is funding a tourism project in the area to improve the paths linking al-Makhrour to the village of Battir and to arrange guided walking tours.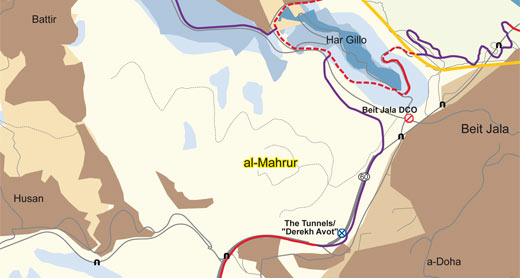 Apart from the ancient shomerot, there are 12 buildings in al-Makhrour built 150 to 500 meters apart. The buildings serve the local landowners during cultivation seasons as well as their extended families who join them on weekends. In 2006, with funding from the European Union, the Beit Jala Municipality erected about 50 electric utility poles in al-Makhrour. Having electric power allowed the local farmers, most of them elderly, to light and heat the agricultural outbuildings, making cultivation easier, since it enabled them to use electricity-powered equipment such as water pumps and electric sprayers.
The Civil Administration refuses to draw up plans for this area and demolishes structures built there without permits. In December 2011, the Civil Administration demolished three of the agricultural structures. In May 2012, the Civil Administration demolished the restaurant and three months later, after it had been rebuilt, demolished it once again. On 3 April 2012, the Civil Administration demolished about half of the electric utility poles. The local farmers purchased new poles and cables, and managed to restore the power supply with the aid of the Palestinian electric company. On 16 January 2013, the Civil Administration demolished the restored power grid once more, and on 18 April 2013 demolished the restaurant, which had again been rebuilt, for the third time.