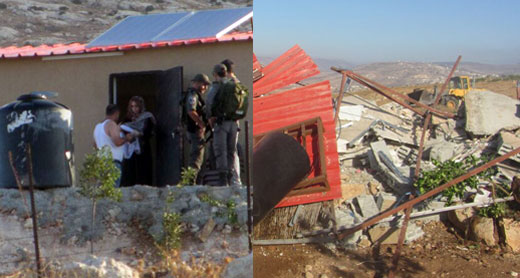 The Daraghmeh family home in Khirbet Einun this morning, before and after demolition. Photo: 'Aref Daraghmeh, B'Tselem
This morning, 20 Aug. 2015, Civil Administration and military representatives came to the community of Khirbet 'Einun, which is located around 5 km east of Tubas. The forces demolished the homes of two families, totaling 11 people, including 7 minors, and a sheep pen. Then, the forces moved on to the Khirbet a-Deir community, located between the Palestinian village Ein al-Beida and the Jordan border. They demolished the home of an 8 person family, including three minors. The authorities also demolished an unused structure in the Khirbet Samrah community, southeast of Tubas.
Residents of the Jordan Valley experienced temperatures of up to 40 degrees Celsius today. In most of the communities in the area, as in other parts of the area C, Israel prevents Palestinians from establishing permanent homes and connecting them to water and electricity infrastructures, thereby leaving them exposed to the elements throughout the year. Today, the authorities left 19 persons, including 10 minors, in conditions of extreme heat without any solution.
This is the third time this week the authorities have demolished homes and income generating structures in area C. The wave of demolitions left dozens of people homeless in the extreme August heat. Since 5 Aug. 2015, the Civil Administration has demolished 34 residential buildings and 31 other structures in Palestinian communities in the Jordan Valley, in the vicinity of Ma'ale Adumim, and in the southern Hebron hills. A total of 167 people have lost their homes in these actions, including 101 minors.
These demolitions take part in the context of efforts by the military and the Civil Administration to push Palestinian communities out of Area C. These expulsion plans run counter to the provisions of international humanitarian law, which prohibit the forcible transfer of protected persons, unless carried out for their own protection or for an imperative military need. Even when the transfer meets these criteria, it must be temporary. Moreover, as the occupying power, Israel has an obligation to work for the benefit and welfare of the residents of the occupied territory. The plan to expel these residents from their homes as well as impose living conditions on some that would undermine their livelihood violates this obligation.