The neighborhood of Batan al-Hawa, East Jerusalem, is the site of the vastest dispossession effort being planned in the city. Settlers moving into the neighborhood - attended by police, Border Police and private security guards – has resulted in much friction with the local Palestinian residents. The neighborhood's children and teenagers are hardest hit by the situation, suffering from the friction as well as being subjected to harassment by settlers, police and security guards. They are also often detained or held by the police and the Border Police.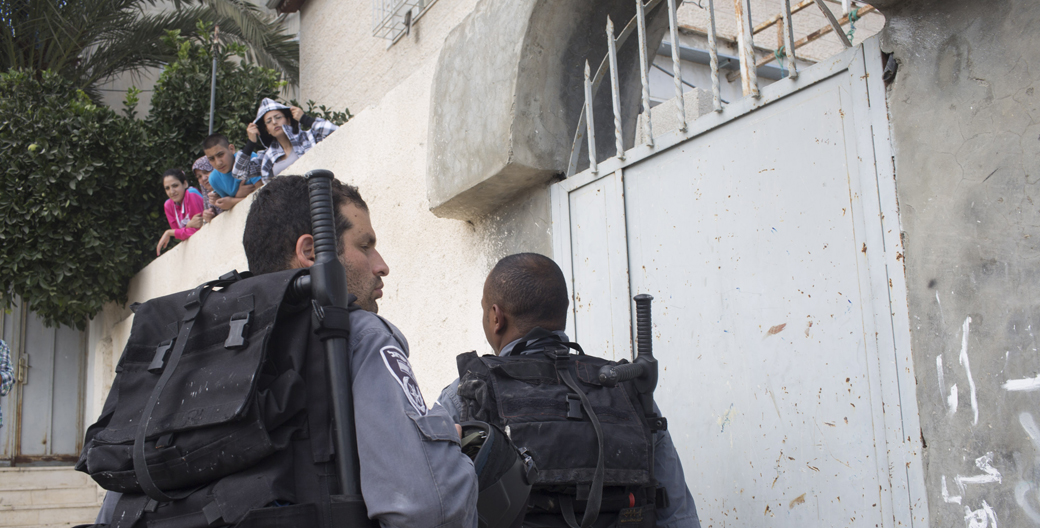 Border Police entering a Palestinian home in Silwan. Photo by Activestills, 30 Sept. 2014
According to figures provided to B'Tselem by the Israel Prison Service (IPS), on 31 July 2016, the IPS had 110 minors from East Jerusalem in custody, 26 of them aged 14 to 16. On 31 August 2016, 93 East Jerusalem minors were held in custody, 24 of them aged 14 to 16.
Testimonies given by Batan al-Hawa children and teenagers regarding incidents that took place over the past year paint a grim picture of minors being held or detained, often with security forces employing violence and acting in a demeaning manner.
Several weeks ago, at around 12:30 P.M., 13-year-old M.Q., was on his way home from his school in Silwan, together with two friends, 'A.R., also 13 and M.Z., 14. On their way, the boys stood by the side of the road and threw stones, trying to shoot them into an empty container that lay there. Border Police officers in a jeep driving by at a distance photographed them throwing the stones. A little while later, the boys continued on their way downhill toward the neighborhood. When they got to the bottom of the road, they were blocked by a police car and the Border Police jeep. M.Q. and his two friends were taken in the two vehicles to the police station on Salah a-Din Street. During the ride, the officers swore at them and hit them on the head whenever they tried to look up. After they were taken into the police station, the officers searched them and their bags, and then transported them to the Russian Compound police station, in west Jerusalem. Officers there refused to receive, likely because there was no interrogator available at the time, and the boys were taken back to the Salah a-Din Street police station, where they were searched again.
M.Q. spoke with B'Tselem field researcher Hussam 'Abed. He recalled:
A police officer named Fares made us stand facing the wall, and kicked our legs hard until we spread them apart. Then he beat us and spoke to us very rudely. He said: "Do you want me to fuck you?" When I said no, he asked: "Have you ever been fucked?" I said no, and he kept asking: "Do you want me to fuck you some other time?" I turned around and said: "If you want to for yourself". He said: "I'm going to punch you now so hard it'll flatten your face". Then he searched our bags, and when he checked mine, he threw in on the floor and said: "Pick it up like a dog". After the search they had us stand facing the wall again and asked for our parents' and siblings' names, our addresses and other personal information.

They then moved us to a room that was open to the street, and had cables and electronic equipment, and then they brought us back in, and left us standing there for three hours, until a lawyer came and told us he'd represent us and that we had nothing to worry about. Right after that, they started taking us into the interrogation room one by one. I was the last one in, and I was questioned for two hours in two different rooms. The second time, I was kept standing for a whole hour while I was being questioned.

During the questioning, the interrogator said I had thrown stones at the policemen and that he'd let me go if I admitted to it, but I denied it, and explained to him that we'd only thrown stones into the container. There was another police officer in the interrogation room who told the interrogator: "How about if we change his name to jackass?" I laughed at the officer, and he said: "Go on, laugh…". The interrogator threatened that I'd go to jail if I didn't confess, and the officer kept asking me: "What do you think? Should we take you to room 4 at al-Moskobiya [the Russian Compound] and after one lashing you'll tell us everything you've done and how you threw rocks?"

When the questioning was over, they put us in a different room and told us not to move, not to turn our heads, not to do anything. We stayed there, standing, until an officer who was passing by brought us chairs.
'A.R. spoke with B'Tselem field researcher Hussam 'Abed on 16 December 2016, and described the search and interrogation he underwent at the Salah a-Din Street police station after the trip to the Russian Compound police station:
When we went into the police station, one of the policemen searched us, violently, and swore at us as he was doing it. He told us to spread our legs like a ruler and used very foul expressions like "asshole", "motherfucker", and "I'll fuck you". Then they took us back up to the top floor for questioning. I was the second one to be questioned. It took about half an hour or an hour. After they finished, they fingerprinted us and took our pictures. They told me to confess and that then they'd take me home, and that my friends had testified against me.
Manar, 32, is the mother of one the boys. She has lived in Batan al-Hawa since 1991 and works at the women's center in Silwan. On 29 November 2016 she recounted that evening's events to B'Tselem field researcher Hussam 'Abed:
At 5:00 P.M., I started to get worried about my son, because he hadn't come home, and the police didn't tell us they'd arrested him. I called my son's teacher, and he told me the police had taken him together with other boys. My husband and I went to the police station on Salah a-Din Street to ask about my son, but instead of helping us, they started swearing at us. After we argued with them, they told us they were holding him for questioning on stone-throwing charges. It was late, 8:00 or 9:00 P.M., and it was very cold outside. In this cold weather, the officers kept the kids, as a sort of punishment. Later, my son told me that policemen had sworn at them using foul language, assaulted them for no reason; opened the kids' bags and tossed their contents on the floor, and ordered the boys to pick everything up. At 9:30 P.M. ¬- after much suffering, and a long wait out in the cold, by the police station, with the officers constantly swearing at us - the police asked that the parents sign guarantees, and they released the kids, allowing them to go home.

Imagine a kid being taken into custody without his parents' knowledge, being searched, beaten, insulated, humiliated, kept on a cold balcony, all because he's suspected of throwing stones.
About four months ago, in the early afternoon, M.Q. and three of his friends had gotten into an argument with a group of settlers who were removing some items placed in a parking space near Zuheir a-Rajabi's home, to make room for their own car. During the row, marbles were thrown at the settlers and the children, apparently by some other children from the neighborhood. The settlers called the police, and the children got scared and ran home. After about an hour and a half, the clashes that had erupted between the police and Border Police and neighborhood residents died down, and M.Q. went back out into the street. When he stood in his doorway, several Border Police officers came up to him, accused him of stone throwing and were about to arrest him. M.Q.'s mother, Manar, came out of the house, and asked to go with her son, but the officers refused. After Manar kept arguing with them, explaining that her son had been at home, they put M.Q. and his mother into the car and went on a 45-minute drive.
M.Q. described the trip to B'Tselem field researcher Hussam 'Abed:
The police officers sat me and my mother in the same seat, and swore at us the whole way, saying rude things and cursing Arabs. When we got to Salah a-Din Street, they said: "Go on, go home now". They opened the door for us, but my mother refused to get out.
On 29 November 2016, Manar spoke with B'Tselem field researcher Hussam 'Abed, and described the rest of the ride:
I told the officers: "You took me for questioning, not to the street. You have to take me back home, where you took me from". When they saw I wouldn't get out, they brought an older man, who was on the street, to persuade me to get out of the police car. People started gathering around, and I was embarrassed. Eventually, the police officers had to take me back where they had picked me up. During this whole incident, my son was anxious, and very afraid.
A.R., 10, who was born in the neighborhood, spoke with B'Tselem field researcher Hussam 'Abed. He described what life is like in the neighborhood alongside the settlers and the police who guard them:
About a year ago, in the evening, I was playing by the front door of my house with my cousin, H.R., 14. We were playing marbles when about ten police officers dressed in black showed up. When I saw them, I got scared, and I hid the marbles under a chair that was under the window of my uncle's house, which is next to ours. One of the officers came to see what I was hiding and shoved me in the chest. I nearly fell, but my cousin caught me. Another officer came and grabbed my leg to scare me.

They took my marbles with them.

One of the officers asked me who the marbles belonged to, and I said they were mine. He kept asking me why I was throwing marbles at them and who was throwing marbles at them. My cousin and I were standing there alone, with all the officers around us, and we were very scared. My father came, went up to the officers and started talking to them. He took me away from there, but the officers took my marbles with them. I'd paid ten shekels for the marbles, bought them with my own money, and they didn't give them back...
The next day, A. stayed home all day, for fear of the police. His cousin said that for the week after the incident, A. was very scared every time he went out into the street.
Israel's Juvenile Law stipulates that the arrest of minors is a means last resort, and that it is to be carried out only after the minor is summoned, and his or her parents informed. Alternatively, if minors are brought into a police station not under arrest, the officer in charge must inform the parents of the minors' intended arrest, after the minors themselves are informed of it. The law stipulates that questioning must be conducted in the presence of a parent or other relative, unless the minor objects. There are exceptions stated in the law, allowing for the arrest and questioning of minors without informing their parents, and without their presence. However, these are exceptions and must be used as such, only in exceptional cases.
The accounts given to B'Tselem indicate that police officers act in contravention of these provisions, which are meant to protect minors, a particularly vulnerable group. The accounts show that the officers do not treat minors as vulnerable individuals in need of special protection. In some cases, the minors reported violence, degrading treatment and abuse. This is the state of affairs in other neighborhoods in East Jerusalem as well. However, in Batan al-Hawa, the presence of settlers, which comes with increased presence of Border Police and private security guards, increases the potential for friction between the local children and teens on the one hand and settlers and security forces on the other, and, consequently, increases the harm to the minors' rights.