In 2013, the Regional Planning Committee approved two new national parks in East Jerusalem: Mount Scopus Slopes National Park in its north (located between al-'Esawiyah and a-Tur), and Refa'im Stream National Park in the south (on lands belonging to al-Walajah). These parks join two others: Tzurim Valley Park, declared in the year 2000 on an area at the foot of Mount Scopus (adjacent to a-Sawaneh), and Jerusalem Walls Park, declared back in 1974 on a large part of the neighborhood of Silwan. These national parks were approved inside Jerusalem's municipal boundaries, on privately owned Palestinian lands and in built-up areas or areas bordering the built-up sections of Palestinian neighborhoods and villages. Moreover, the Jerusalem Municipality has plans to declare additional national parks in East Jerusalem, on the Mount of Olives, in a-Sheikh Jarrah and in Bab a-Zahreh.
Declaring national parks inside the municipal borders of an Israeli city is usually a source of conflict between the Israel Nature and Parks Authority (NPA) and the relevant municipality. The latter does not always support the designation of urban areas as national parks. The situation in Jerusalem is different. The municipality actually supports the declaration of national parks in its jurisdiction, and in some cases is even the body that suggested the park. East Jerusalem is the only urban area where the NPA has declared a number of national parks, including ones partially located in built-up urban areas. The NPA even delegated certain authorities to Israeli NGO El-Ad (Hebrew acronym for "To the City of David"), whose official objective is to "strengthen the Jewish bond to Jerusalem through the ages by conducting guided tours, educational programs, settlement […]" and which promotes various issues, including Jewish settlement in the very center of Palestinian localities in East Jerusalem.

The unusually large number of national parks declared in Jerusalem and the fact that some are located in areas devoid of any significant archeological findings or natural treasures, indicate that that the designation of these areas as parks is not meant simply to protect nature, landscape and heritage, as in the case in other national parks declared by the Nature and Parks Authority. These parks are also, perhaps mainly, meant to promote political agendas such as maintaining a Jewish majority in Jerusalem, creating a contiguous bloc of land free of Palestinian residents, extending from the Old City of Jerusalem to the planned settlement in Area E1 (beginning in Jerusalem Walls Park, via Tzurim Valley Park and Mount Scopus Slopes), and bolstering Jewish presence in East Jerusalem. Declaring parts of the city as national parks helps promote these goals because it means virtually no construction or urban development can be implemented in these areas. In this way, such declarations are a powerful and effective tool that serves the political agenda far better than any restrictions on planning and building that can be applied by the municipality.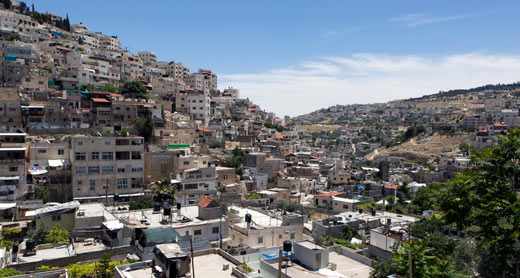 Al-Bustan neighborhood: Projected National Park Garden of the King. Photo: Keren Manor, Activestills, 15 May 2014
The Municipality of Jerusalem has chosen to ignore its responsibilities toward the city's Palestinian residents who live in or near areas declared as national parks. It has conceded its planning powers in these areas to a national authority, which is neither duty-bound nor capable of meeting the needs of the local residents, thereby leaving the residents with nowhere to turn for remedy. Like all East Jerusalem neighborhoods, neighborhoods that are either home to these parks or adjacent to them are plagued by severe restrictions on construction, by overcrowding, demolitions of homes built without permits because none can be obtained, as well as a severe dearth of public institutions and open spaces. The planning and approval of national parks limit the ability of Palestinian landowners to farm or build on their lands as they see fit. In consequence, there is even greater injury to Palestinians' right to adequate living conditions, to which proper planning is indispensible.
Moreover, the declaration of national parks in these areas which are in fact part of the West Bank, their incorporation into Jerusalem's municipal boundaries notwithstanding, is also designed to "nationalize" them and make them "Israeli". The brochures, guided tours and educational activities offered to visitors in these parks essentially claim the land as having a none but Jewish heritage, in an attempt to create an ideological ethos that denies any Palestinian link to these areas, above and beyond the physical restrictions already imposed on Palestinian use of the land.
Further reading:
Bimkom, From Public to Nations – National Parks in East Jerusalem, 2012.
Emek Shaveh, Where Are the Antiquities? National Parks between the Old City of Jerusalem and Area E1, January 2012.
Peace Now, Government's Plans to Deepen Hold over Jerusalem, May 2009.