Since 30 March 2018, Gazans have protested along the fence with Israel every Friday, with anywhere between thousands and tens of thousands of people participating. At least 39 people have been killed by live fire shot by Israel security forces and, according to Palestinian Ministry of Health statistics, some 8,000 people have been wounded, more than 2,100 of them from live rounds. According to the media, Gaza doctors report particularly serious injuries, mostly to the lower extremities, which, "include an extreme level of destruction to bones and soft tissue, and large exit wounds that can be the size of a fist". According to Palestinian Ministry of Health Data, as of 30 April 2018, Gaza doctors had performed 24 amputations on wounded individuals, 19 of them of lower limbs.
Even an advanced, functioning healthcare system would have had difficulties handling such a large number of casualties in such a short period of time. All the more so for Gaza's healthcare system, which has been in a state of collapse for years, mostly since the Israeli blockade began more than a decade ago. Israeli restrictions apply to replacing broken equipment, importing advanced medical equipment and drugs, travel by physicians for professional training outside Gaza and more. In addition, Gaza's intermittent power supply, largely Israel's doing with the High Court's seal of approval, also disrupts the work of hospitals.
In these conditions, it is impossible to provide the wounded with adequate care. According to figures released by the World Health Organization (WHO), as of 28 April 2018, 75 drugs and 190 types of disposable medical equipment were immediately needed. Doctors are also in short supply. In the entire Gaza Strip, with its population of two million, there are only ten vascular surgeons, which means it is impossible to provide immediate care for all the wounded in the weekly mass casualty incidents. According to reports coming out of Gaza, to relieve the pressure on the system, hospitals try to release many of the previous week's wounded on Thursday, in preparation for the influx of new patients expected the next day.
Israel's blockade includes a ban on travel out of Gaza for medical treatment in Israel or transit through Israel for treatment in the West Bank (including East Jerusalem) or abroad, except in rare cases and according to strict criteria. Since the demonstrations began, it has come to light that Israel has chosen to ignore even the narrow criteria it had put in place. On the first week of protests, Israel denied applications to allow demonstrators who had been hurt to exit Gaza for urgent medical treatment in a West Bank hospital. On 8 April 2018, the Adalah and Al-Mezan centers petitioned Israel's High Court of Justice on behalf of two wounded men, Yusef al-Kurunaz, 19, and Muhammad al-'Ajuri, 16, since amputation could not be avoided with the care available in Gaza. In response, the state told the court the applications had been rejected, "given the policy of the Minister of Defense on the issue, whereby, as a rule, entry into Israel shall not be granted to persons injured while taking part in the violent public disturbances organized by Hamas, where the concrete medical circumstances were not deemed to warrant considering a departure from said rule, as there is no real danger to any of the petitioners' lives". The state said it had "also warned Gaza residents against participating in the demonstrations", as if this was a justification for denying them access to adequate medical treatment.
The justices refused to schedule an urgent hearing and, with the legal proceedings stretching out,z the doctors had no choice but to amputate the leg of each patient. More than a week after the petition was filed, the High Court ordered the state to allow al-Kurunaz to travel to a hospital in Ramallah, where doctors were able to save his other leg. The justices did state, however, that this was an exceptional case and that they were not taking a stand on Israel's overall policy toward injured protestors.
According to figures released by WHO, by 28 April 2018, 27 urgent applications to exit Gaza for medical treatment had been submitted since the start of the demonstrations. At least one was approved following the court case. Eighteen were rejected and the rest were approved only after a lengthy process of applying to the DCO for the permit, receiving a rejection, contacting human rights organizations and them contacting the State Attorney's Office, which finally resulted in the much needed approval (without court intervention at this point). This complicated bureaucracy delays the necessary treatment, may cost the health, perhaps the lives, of the wounded and puts unnecessary added strain on their families.
The serious injuries, particularly in cases of leg amputations, necessitate lengthy rehabilitation. However, rehabilitation options in Gaza are limited and there is only one prosthetic center. It is also costly and due to the dire economic situation in the Strip, another direct result of the blockade, most of the wounded cannot afford it. Despite the fact that in the vast majority of the cases their injuries  were a result of unlawful  use of fire by Israel, they will not receive compensation as Israel has given itself a near complete exemption from payment of compensation to Palestinians it harms.
Israel has created this reality and only Israel can change it. It is Israel that instituted an open-fire policy that has resulted in an incomprehensible number of live-fire injuries – a policy it has refused to change despite the clear results. It is Israel that is denying the wounded passage, for just several dozen kilometers, through its territory to reach the West Bank, where they can receive the necessary treatment. And it is Israel's decade-long blockade on Gaza that has made it the major culprit in the collapse of the healthcare system there.
Israeli security forces have been following manifestly unlawful orders for a month now, using live fire against unarmed protestors located on the other side of the fence and posing no danger to anyone. State officials refuse to change these orders, even in the face of the deaths and hundreds of injuries they have caused, claiming they are legal and defending them in court. However, as Justice Benjamin Halevy ruled in the Kafr Qasem case back in the 1950s, the illegality of these orders "pains the eye and outrages the heart, if the eye be not blind and the heart be not callous or corrupt". Therefore, these orders must not be issued and must not be obeyed.
East of Rafah, 30 March 2018:
On 30 March 2018, at around 10:00 in the morning, 'Alaa a-Dali, a 20-year-old resident of Rafah and a member of the Palestinian bicycle team in Gaza, arrived at the protest area east of the city of Rafah. At around 12:30 P.M., after midday prayers, and while some of the protestors were throwing stones at the Israeli forces stationed on the other side of the fence, a live round entered a-Dali's right leg. He was taken, unconscious, to the field hospital that had been set up nearby and from there to the European Hospital south of Khan Yunis. A-Dali remained unconscious for two days, and the doctors spent two weeks trying to save his leg. In a testimony he gave to B'Tselem field researcher Muhammad Sabah on 18 April 2018, a-Dali recounted:
'Alaa a-Dali

I tried to get a payment guarantee for surgery in a Ramallah hospital. After I got it, and the surgery was scheduled, I applied to the Israeli officials for transit permits for my mother and me. Both applications were denied. After that attempt failed, the doctors decided to amputate my leg at the knee.

When I heard about the decision, I cried a lot. I thought about my bike and my dream of becoming a cycling champion, which was suddenly cut short without any advance preparation. I felt that my life was over, my whole world turned upside down, and that I would never ride a bike again. I had been training for a race in Jakarta in August 2018, and I was hoping to take part and wave the Palestinian flag, but that will never happen at any race anywhere in the world. I realized I would never walk on two legs again and that from now on, my whole life would focus on the leg that's about to get amputated because of a bullet fired by an Israeli soldier.

 I consented to the amputation because there was no choice. On 8 April 2018, my leg was amputated at the European Hospital. When I saw the amputated leg I went into shock. I cried and it was very painful. About a week ago, I was transferred to al-Quds Hospital in Gaza, and I'm still here. I'm supposed to be released today but when I get out of here, I won't be the same person I was before 30 March 2018. I'll leave with no leg, no dream, no future. My life will become difficult and lose meaning because the Israeli military made a decision and acted on it.

I'd only ridden my bike and raced inside Gaza. I couldn't race anywhere outside Gaza. I tried to get to a race in Tunisia, but I didn't make it because of the Rafah Crossing closure and because I didn't get a permit from Israel to travel through Erez Crossing. Two other cyclists who ride with me didn't get a permit either. The Israelis also wouldn't let us travel to the West Bank to participate in the Jericho Marathon, or another contest between the Gaza Strip and the West Bank. We weren't allowed to go to a race in Egypt either.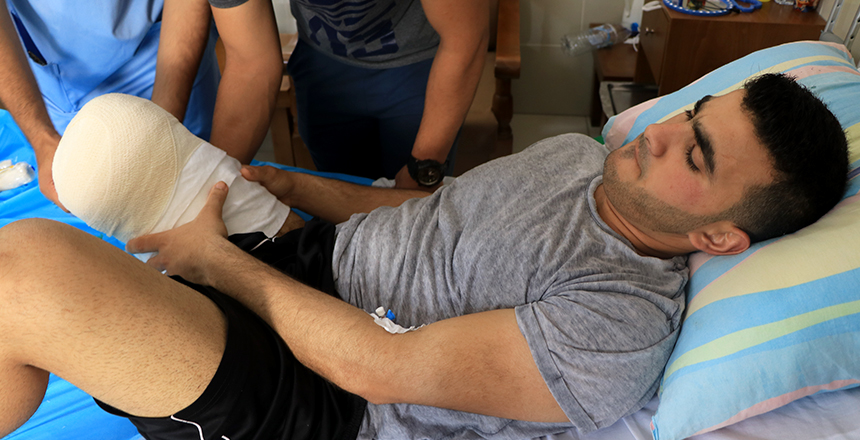 East of al-Bureij Refugee Camp, 30 March 2018
Yusef al-Kurunaz, a 19-year-old media student from al-Bureij, went to the protest area east of al-Bureij R.C. at around noon on 30 March 2018, as a volunteer photographer for the national press agency. About two hours later, live rounds were fired at both his legs, injuring him. In a testimony he gave B'Tselem field researcher Olfat al-Kurd on 16 April 2018, he described what he has been through since:
Yusef al-Kurunaz

I was taken to the ICU at Shuhada al-Aqsa Hospital in Deir al-Balah, but the doctors there couldn't treat my injury and decided to transfer me to a-Shifaa Hospital in Gaza. At a-Shifaa, I was taken into the ICU and from there to the OR, where the doctors stopped the bleeding. I was in the OR for six hours and received about 18 blood units during the surgery, but the doctors at a-Shifaa couldn't handle my injury either.

I woke up the next day at nine o'clock in the morning. The doctors told me I'd been hit in both legs. They told my father I had to get treatment abroad because the injuries were so severe. After a week at the hospital, I got a referral for treatment at a hospital in Ramallah that specializes in such cases. My leg grew blacker by the day and was in critical condition. The Israeli side refused to let me enter through Erez Crossing. My father told the doctor to do whatever he had to do.

On Sunday, 8 April 2018, the doctor told my father they had to amputate the leg, otherwise I would get gangrene and blood poisoning. Because of my leg's serious condition, he agreed. I was taken into the OR for the amputation the next day. I came out about two hours later. After the doctors told me my leg had been amputated, my mental state deteriorated severely. Even before that I couldn't look at my leg, which had blackened and looked terrible. After the surgery I felt unbearable pain, and my mental state was terrible. I stayed in hospital for about two more weeks – one at the ICU and one in orthopedics.

Now I'm home, and I need urgent care abroad for the right leg, so it doesn't get amputated too. I've tried to make arrangements to travel through Rafah five times, but have had no luck so far.
On 16 April 2018, after the High Court ruling, al-Kurunez was taken to hospital in Ramallah, where he underwent surgery on his leg and remains hospitalized for follow-up care.
East of Rafah, 31 March 2018:
On 31 March 2018, Haitham Naser, a 19-year-old blacksmith from Rafah, arrived at the protest area around noon. A live bullet entered his right leg. He was taken to a-Najjar Hospital in Rafah, and from there to the European Hospital south of Khan Yunis. He was diagnosed with a ruptured leg and a fractured knee and underwent surgery. In a testimony he gave B'Tselem field researcher Khaled al-'Azayzeh on 1 May 2018, he spoke about his hospitalization:
Haitham Naser

When I came to after the surgery, I discovered the doctors had put a brace on my right leg. Between then and yesterday I had a series of operations on the injured leg. The doctors transplanted arteries from my left leg into the right one. I suffered complications because of the drug shortage. My family cannot afford strong antibiotics, so the wound got infected and the transplanted arteries ruptured. Because of this, they tried to use a synthetic artery, but it didn't work either. Yesterday, I was taken into the OR and the doctors amputated my right leg above the knee. Now I'm lying here in bed at the European Hospital. I need many treatments that unfortunately my family cannot afford. For now, I'm given sedatives and sleeping medication most of the time.

My father works as a taxi driver and barely comes home with ILS 20 (USD 5.60) a day. It's not enough to buy drugs, or even food. We live in a rental that costs us ILS 500 (USD 140) per month. I don't know how long I'll stay here at the hospital and I'm very worried and anxious about the future. I don't know if I'll need long physical and mental rehabilitation. I've become very irritable and I've been fighting with my family members and escorts over everything. Sometimes I rip off my feeding tubes.

Before my leg got amputated, the hospital made a request to Israel to have me transferred to a hospital in Ramallah for treatment. Israel refused and my condition kept getting worse, and ultimately, they had to amputate my leg. I made a new appointment to complete treatment in Ramallah and I'm now waiting for an answer from the Israeli side.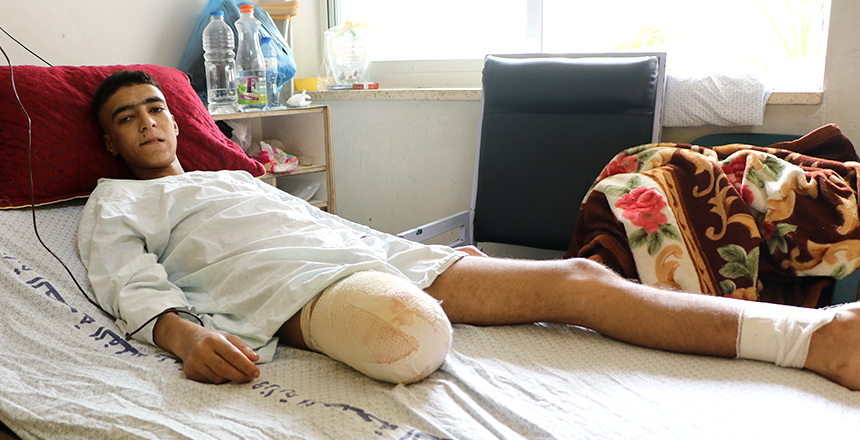 East Gaza City, 30 March 2018:
'Abdallah Darwish, a 22-year-old student from Beit Lahiya, arrived at the protest area at around 3:00 in the afternoon on 30 March 2018. About two hours later, Darwish was shot in the right leg and taken to the Indonesian Hospital located near Jabalya R.C., where he underwent leg surgery and was fitted with platinum implants. In a testimony he gave B'Tselem field researcher Olfat al-Kurd on 19 April 2018, he said:
'Abdallah Darwish

After I came out of the OR, the doctors told my father I was in very serious condition and that I needed a referral for treatment abroad. We received approval for treatment at al-Istishari Hospital in Ramallah from the Palestinian Authority. Because I had bad circulation in the leg and a blood clot in the artery, the doctors asked to expedite processing, otherwise they would have to do an angioplasty on the leg artery. Because Israel would not let me cross, the doctors performed the angioplasty on 21 April 2018. Before the surgery, to be prepared for the worst, my father signed a consent for an amputation from the knee. Thank God, the surgery was a success and circulation came back. On Saturday, 21 April 2018, they'll transfer me to a-Shifaa Hospital in Gaza for a tissue transplant in the leg. Now I need a referral for treatment abroad for orthopedic and neurological issues with the leg. I'm going to need a few more operations because there is ruptured tissue.

Even though the protests were peaceful, the soldiers, who were in no danger, used massive fire against us. My leg injury was very dangerous. My life was in danger. Despite this, the Israeli side wouldn't let me access treatment in the West Bank.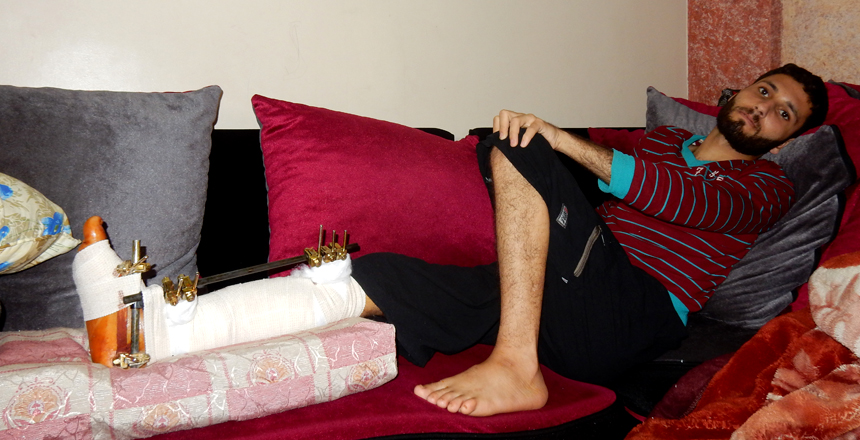 North of Khuza'ah, 13 April 2018:
On 13 April 2018, at around 1:00 P.M., Ahmad 'Afaneh, a 30-year-old married father of three from Khan Yunis, arrived at the protest area north of the town of Khuza'ah. A few hours later, at around 5:00 P.M., 'Afaneh was shot in the right leg and taken to the European Hospital south of Khan Yunis. In a testimony he gave B'Tselem field researcher Olfat al-Kurd on 30 April 2018, he said:
Ahmad 'Afaneh

The doctors told me they were taking me into the OR because my injury was severe. I heard one doctor tell another "amputation". That was the last thing I heard. Then they injected me with the anesthetic and took me into the OR. I stayed in there for about six hours. When I came to, I found myself in the surgical ward. I started saying: "My leg, my leg", because I thought I'd lost it, but it turned out they didn't end up amputating it during surgery.

An hour after the surgery, the leg started hemorrhaging and they took me back into the OR. After they stopped the bleeding, they took me to the ICU because I was in serious condition and my hemoglobin level was down.  Two days later, I was transferred from the ICU back to the surgical ward. I had more operations on my leg. They put in a platinum implant and closed a ruptured vein. After that, they cleaned the wound every day. I lost sensation in my leg. For ten days, they cleaned the wound and gave me pain killers.

On 23 April 2018, in the afternoon, I felt something warm underneath me. I lifted the blanket and saw the leg was bleeding hard. I was taken to the OR, where they found out the vein that had been closed had ruptured again, which was what caused the bleeding. They stopped it, but at that point, the doctors lost all hope and told me the leg would have to be amputated because they were worried about the impact on the rest of my body. Even though I knew from the start that amputation was a possibility, my parents and I refused to believe it and adamantly objected. But when things got really bad, I agreed, also because of the excruciating pain which didn't stop the entire time I was in the hospital.

The doctors amputated my right leg the next day. I went into the OR at ten o'clock in the morning and came out at noon. When I came out, my doctors told me my medical condition was good. My family took the amputated part of the leg for burial.

I'm still at the European Hospital. My wound gets cleaned every other day. It has to close, to heal, and then I can have plastic surgery on the leg.

I'm very frustrated and find it hard to cope with losing my leg, but that's my fate. I hope I'll recover soon, and get a prosthetic leg so I can walk again and have a normal life.