Since 30 March 2018, Gazans have been holding a series of protests along the Gaza perimeter fence, with anywhere between hundreds to tens of thousands of people participating. To date, scores of people, including at least 12 minors, have been killed by live ammunition Israel security forces fired; more than 3,600 have been wounded by live gunfire. According to figures published by the World Health Organization (WHO), as of 22 May 2018, Gaza doctors had performed 32 amputations, 27 of them of lower limbs. Testimonies collected from Palestinians injured during the protests indicate they were shot while posing no mortal danger to anyone, including some who were shot when they were hundreds of meters away from the fence. In at least some cases, Israeli security forces fired at persons who were trying to reach the wounded to help them.
This mindboggling number of casualties at protests is virtually unprecedented. It is the result of the manifestly unlawful orders given to security forces, allowing the use of live fire against unarmed protestors who pose no danger to anyone and are on the other side of the fence, inside Gaza. All relevant Israeli officials refuse to change these orders, even in the face of their predictable outcome. They continue to argue that the orders are legal and even defend them in court, where the justices of the Supreme Court have given this reality their seal of approval.
The serious injuries are merely the tip of the iceberg in this saga. Even an advanced, functioning healthcare system would have been sorely tried when faced such a large number of casualties. However, even before the protests began, Gaza's healthcare system was already on the verge of collapse. As a result, many of the wounded do not receive the care they need. According to figures released by the World Health Organization (WHO), as of 22 May 2018, 257 essential drugs and 247 types of disposable medical equipment were out of stock and needed immediately. Gaza physicians told Physicians for Human Rights – Israel that they reuse disposable equipment over and over again and that there is a shortage of antiseptics, disinfectants and anesthetics. The collapse of Gaza's health care system is largely the result of the Israel-imposed blockade on Gaza. The blockade includes restrictions on replacing broken medical equipment, importing advanced medical equipment and drugs, and travel by physicians for professional training outside Gaza. In addition, Gaza's intermittent power supply, again largely Israel's doing, also disrupts the work of hospitals.
Israel's unlawful policy has caused the injuries and its blockade keeps the wounded from receiving the medical care they need. Israel also refuses, as a general rule, to allow these individuals to travel just a few kilometers through Israeli territory in order to get to hospitals in the West Bank, where at least some of them would be able to receive the care they need.
Since the demonstrations began, B'Tselem field researchers have collected scores of testimonies from people who sustained live fire injuries and from eyewitnesses, including teenagers who were shot by Israeli security forces at various distances from the fence. In their testimonies, the boys describe how they were wounded, the difficulties they faced obtaining the medical care they desperately need and the long and costly rehabilitation facing them. We bring you the stories of three of these boys: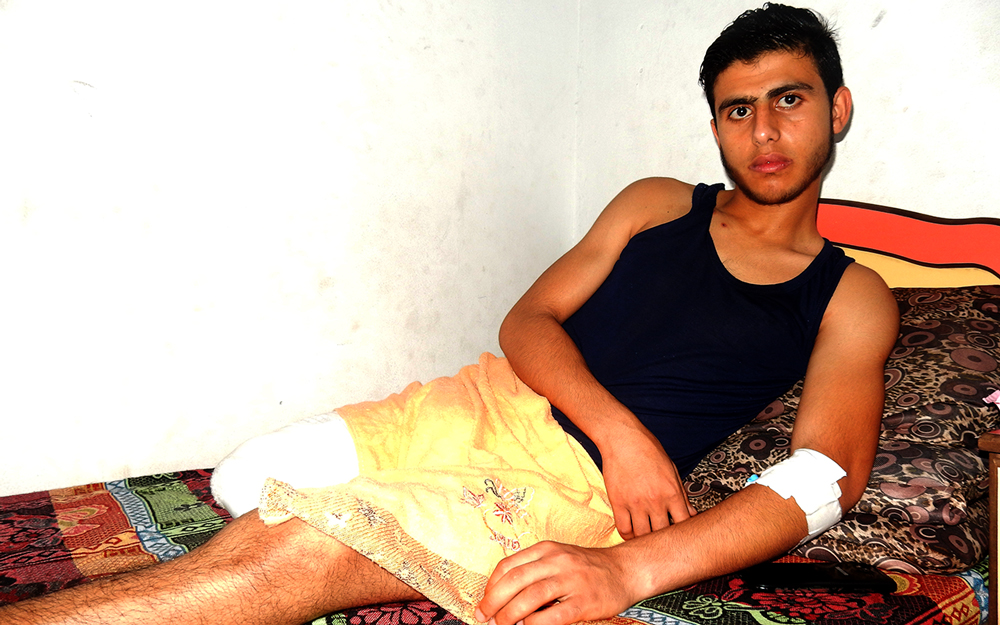 Muhammad al-'Ajuri, 16, was injured east of Jabalya Refugee Camp on 30 March 2018
Muhammad al-'Ajuri is 16 years old. An eleventh grader from Jabalya R.C., he is also a member of the Palestinian Athletics Association. On Friday, 30 March 2018, at around 11:00 A.M., al-'Ajuri arrived with several friends at the protest that was taking place near the perimeter fence, east of Jabalya R.C. They advanced to a distance of a few dozen meters from the fence, in order to hand out onions to protestors to relieve symptoms of teargas inhalation. After security forces fired a great deal of teargas at the area he was in, al-'Ajuri moved back. When he was about 300 meters away from the fence, a member of the Israeli security forces fired a live bullet at his right leg. In a testimony he gave B'Tselem field researcher Olfat al-Kurd on 17 April 2018, he described how he was injured:
I went up to a distance of about 50 meters from the fence to hand out onions to the protestors. I saw a few people who'd been injured, including an older man who'd been hit in the left leg. The bone in his leg was showing and he was bleeding badly. Most of the injuries I saw were to the legs. The soldiers were firing a barrage of tear gas canisters and I nearly choked, so I turned around and started moving away. When I was about 300 meters away from the fence, I was shot from behind and hit in the right leg. I didn't fall down. I stayed standing where I was, and my leg was bleeding. My father came to help me, and then a few young guys came and gave me first aid. They tied a strip of cloth around my leg to stop the bleeding and took me by motorcycle to an ambulance, which was about 250 meters away.
Muhammad's father, Hani al-'Ajuri, 39, also went to the demonstration. He was a volunteer providing first aid. When his son was shot, Hani al-'Ajuri was standing about 300 meters away from the fence. In a testimony he gave
B'Tselem field researcher Olfat al-Kurd on 3 May 2018, he described seeing his son being hit:
When I saw my three sons at the protest, I had them move back to the tent area, which was about 700 meters away from the perimeter fence, because I was worried they'd get hit by live fire or teargas canisters. Later, a young man I know told me Muhammad had gone very close to the fence to give first aid and hand out onions to some young guys who had passed out from the teargas. When I looked over toward the fence, I saw soldiers were firing a heavy barrage of teargas at the protestors near the fence.

I saw my son Muhammad running towards me. When he was a few meters away, a sniper stationed on a sand mound on the other side of the fence shot him. I went up to him and put my arms around him. I saw he'd been hit in the back of his right leg. It had a big hole in it and he was bleeding. His leg looked terrible, and I was afraid they'd have to amputate. I managed to bandage his leg with a strip of cloth and tied it up to stop the bleeding. After that, I couldn't take it any longer, I completely broke down. I couldn't help him any more. A few young guys arrived, put him on a motorcycle and took him to an ambulance.

I went to the Indonesian Hospital near Jabalya R.C., but I didn't find him there. I went to al-'Awda Hospital, which is in Beit Lahiya. The doctors told me he had been brought there, but because of his serious condition, he had then transferred been to a-Shifa'a Hospital in Gaza City. I went there, looking for Muhammad, but I couldn't find him. I looked for him in the operating rooms, but no one knew anything about him.

I saw a doctor coming out of an OR and asked him about my son. He said there was no one by that name, but that there was one young man that hadn't yet been identified. He was unconscious and didn't have an ID on him. The doctor had a picture of him on his phone. He showed it to me. It was Muhammad. 
At the hospital the doctors found that an artery in his leg had been hit and the leg was broken and he underwent surgery. However, the doctors determined there was a risk his leg would be lost and that in order to save it he would have to undergo further surgery at a Ramallah hospital. Israel refused to let him out of the Gaza Strip. On 8 April 2018, human rights NGOs Adalah and Al-Mezan filed a High Court petition on behalf of al-'Ajuri and another injured man. The justices dismissed the petitioners' motion for an urgent hearing. In the meantime, al-'Ajuri's condition took a turn for the worse, and on 9 April 2018, the doctors had to amputate his leg. He was discharged from hospital three days later. The other petitioner also had a leg amputated.
Hani al-'Ajuri recounted in his testimony:
When the doctors told me they would have to amputate Muhammad's leg I wouldn't consent. I was worried about him living as a disabled man for the rest of his life. I couldn't deal with it. Finally, the doctors convinced me there was no other choice because if they didn't amputate the leg, the infection would spread to the rest of his body. I became resigned to this fate and consented. I was heartbroken about the future he faced. 


It's very painful for me to see my son without a leg. Muhammad was my right hand man. He was an athlete and loved soccer. He was on the Palestinian sprinting team and won first place at school.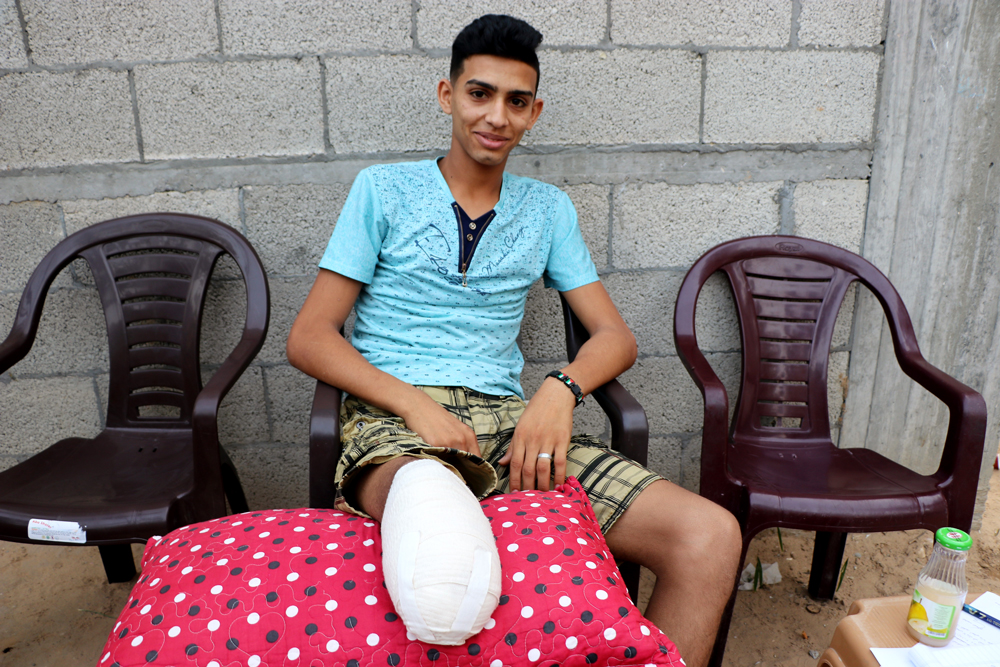 Muhammad Musbah, 17, was injured north of the town of Khuza'ah on 5 April 2018
On Thursday, 5 April 2018, at around 4:30 in the afternoon, Muhammad Musbah, 17, a twelfth-grade student, from 'Abasan al-Kabirah, and his uncle, Wasim Musbah, 22, went to the protest area north of the town of Khuza'ah. After spending a short while in the tent area, about 400 meters from the fence, Muhammad and another young man went up to an older woman who was standing near a coiled barbed-wire fence the military had laid on the ground. She was carrying a Palestinian flag. The two took the flag from her and walked toward the coiled fence, which is about ten meters away from the perimeter fence.
In a testimony he gave B'Tselem field researcher Khaled al-'Azayzeh on 2 May 2018, Muhammad Musbah related:
We went to the coiled barbed-wire fence, which was about ten meters away from the perimeter fence, and I hung the flag on the coiled fence. Suddenly, a soldier who was on a dirt mound on the other side of the fence shot me. I was hit by a bullet in the right leg and fell to the ground. The young man who was with me, whom I don't really know, sat down beside me. I lay there on my back for about twenty minutes. The young men who were standing in the back couldn't get to us, because every time they tried to, soldiers fired at them. That whole time, I felt like an electrical current was running through my body, and I was bleeding badly. It was only about twenty minutes later that some young guys managed to get to me. They put me on a tuk-tuk [a three-wheeled vehicle], which took me about 600 meters away from there, to the eastern edge of Khuza'ah, because they couldn't find an ambulance any nearer. 
Wiam Musbah, 23, from 'Abasan al-Kabirah, is volunteer paramedic who was working in the tent area of the Return March. At the time, he was standing with some other paramedics a few dozen meters away from the fence. 
In a testimony he gave B'Tselem field researcher Khaled al-'Azayzeh on 2 May 2018, he recalled:
Wiam Musbah. Photo by Khaled al-'Azayzeh, B'Tselem, 2 May 2018

At around 4:30 P.M., I saw two young guys take a Palestinian flag from an older woman who was close to the coiled fence that was on the ground. They went up to that fence, which was about ten meters away from the perimeter fence. They put the flag on the barbed wire fence, and then I heard a few shots and saw one of them fall down. The other guy lay flat on the ground beside him. A few young men tried to reach them to give them first aid but the soldiers fired live rounds and teargas canisters around them.

I advanced toward the spot with the first-aid team. The soldiers fired live rounds near us to warn us not to approach. One of the women on the emergency team put up her hands to set the soldiers minds at ease and let them know we were a medical crew, and we kept advancing, but the shooting continued near us and over our heads. The soldiers also fired teargas canisters behind us. Despite this, we managed to get to the two guys. I found that the guy who was injured is a relative of mine, Muhammad Musbah. He had been hit by a live bullet in the right leg and was lying on his back. His leg was completely torn up below the knee and he was bleeding badly. I bandaged the wound with medical gauze and Wasim Musbah, who was with us, brought the stick the Palestinian flag had been tied to, broke it in two and tied it to the injured leg as a splint for support. The entire time we were caring for him, the soldiers kept firing above us. A few young guys moved forward till they reached us, and together we lifted Muhammad and got him away from the barbed wire fence and on to a tuk-tuk, because there was no ambulance there.
Muhammad Musbah was taken from the tuk-tuk and put into a Red Crescent ambulance, which took him to the European Hospital south of Khan Yunis, where his right leg was amputated below the knee. He was discharged after being hospitalized for more than three weeks.
In his testimony he recounted:
When I came to after the surgery, I found my father beside me. He said the doctor had had to amputate my right leg below the knee because it had taken in a lot of shrapnel that severed the arteries and nerves and shattered the shin bone. I was very sad. I felt I couldn't breathe. I realized I would never play soccer again. I love playing so much. Before my injury I'd play every day. There's a special field near us, and I played defense for the neighborhood team.

I'm still getting treatment, and go back to the hospital every few days for checkups. I'm taking three different kinds of antibiotics. I'm also on painkillers because my leg still hurts. I can hardly sleep, and only with sleeping pills. The pain gets worse in the afternoon and at night. 

All the kids in my grade are getting ready for final exams, but I can hardly read because the pain is so bad. I couldn't study at the hospital either because of the injury. I don't know if I'll be able to handle the exams this year, or how long rehabilitation will take before I can go back to normal life. It never occurred to me that a day would come that I would be a disabled person. I'm still in shock over what happened to me.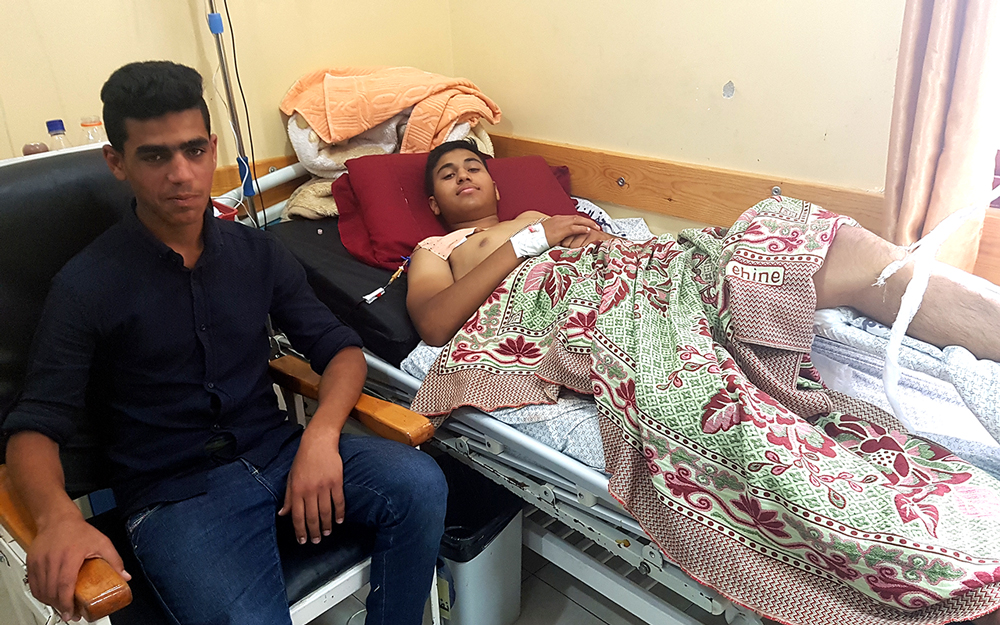 Mustafa Dhaher, 15, was injured east of Jabalya R.C. on 2 May 2018
On the afternoon of Wednesday, 2 May 2018, Mustafa Dhaher, 15, his cousin Mahmoud Dhaher, 14 and Yusef Abu Mansur, 17, all from Jabalya Refugee Camp went to the tent area east of  the camp to attend a memorial service for people who died during the "Return Protests." A short while later, the three boys advanced to a spot a few hundred meters away from the fence. Mustafa Dhaher advanced even farther, up to a few dozen meters from it. At around seven o'clock in the evening, the boys decided to go home.
In a testimony he gave on 6 May 2018 to B'Tselem field researcher Olfat al-Kurd, Mustafa Dhaher recounted:
There were soldiers on dirt mounds on the other side of the fence. The air was completely filled with teargas that had been fired from military jeeps. There was also heavy live gunfire. At around seven o'clock I called out to my friends: "Mahmoud, Yusef, we have to go home. Enough, I've had enough", and I was going to leave. As soon as I turned around, the soldiers shot my left leg, in the thigh. The bullet wen through my left leg and hit the right. I felt like there was an electric current running through my whole body, and I fell down. Yusef and Mahmoud came to me. I was bleeding heavily and I put my hands on the wounds to stop the bleeding, but it didn't help. Yusef bandaged my legs, one with a kaffiyeh and one with his shirt, and that did help.
A few minutes later, Mustafa Dhaher's friends and some young men who were in the area evacuated him on a stretcher to an ambulance which took him to the Indonesian Hospital, near Jabalya R.C. He underwent surgery on his right leg and needs another operation on his left.
In his testimony he said:
I'm still in hospital and have to have another surgery, after my hemoglobin level goes up. I'm in pain a;; day long now. I cry and scream and then they give me painkillers. It hurts especially when they change the bandages. All I did was go to a memorial service for the martyrs. I didn't do anything that threatened the lives of the Israeli soldiers. I didn't even wave a flag. I didn't throw stones. I was just watching the young guys protesting near the fence, and still the soldiers shot me.