Since 30 March 2018, Palestinians in Gaza have protested every Friday along the fence with Israel, with thousands to tens of thousands in attendance. Throughout the rest of the week, smaller protests have been held in the same locations, attended by tens to hundreds of protestors.
During the Friday protests, some of the demonstrators who went near the fence threw stones at soldiers stationed on or near dirt mounds on the other side of it. The soldiers fired live rounds, rubber coated metal bullets and teargas canisters at them. According to the military, some demonstrators threw Molotov cocktails and explosives and tried to sabotage the fence.
However, most of the demonstrators – including older adults, women and children – congregated in encampments set up specifically for the demonstrations at a distance of 400 to 600 meters from the fence. The encampments had field clinics, food vendors and various activities for children and adults, such as clown shows, poetry readings, live music shows and soccer matches. Many families gathered inside tents where they ate and talked.
Video Filmed by the Palestinian Health Ministry, Ha'aretz website: tear gas at the Red Crescent clinic in Khan Yunis, 13 April 18.
An investigation conducted by B'Tselem revealed that over the course of the demonstrations, soldiers on the other side of the fence fired teargas at the encampments, despite the distance from the fence and the peaceful nature of the protest there. According to the Palestinian Ministry of Health, more than 1,800 Palestinians were hurt by the teargas. The ministry's statistics do not mention where the persons hurt were at the time the gas was sprayed, but B'Tselem's investigation found that hundreds were hurt far from the fence. Most were treated in the field clinics, but some were more severely hurt and taken to hospital.
This use of crowd dispersal measures is unlawful and unjustified. Israel has no right to disperse demonstrations inside the Gaza Strip or to direct Gazans as to where they may and may not congregate. It is most certainly prohibited from firing teargas at demonstrators located hundreds of meters away from the border, minding their own business and posing no threat to anyone.
B'Tselem field researchers Khaled al-'Azayzeh and Olfat al-Kurd collected testimonies from Gaza residents who took part in demonstrations near the town of Khuza'ah, east of Khan Yunis.
Manal Qdeih, 43, a married mother of four from Khuza'ah, joined the demonstrations with her husband and children on two consecutive Friday afternoons – 30 March and 6 April. She described what took place in a testimony she gave B'Tselem field researcher Olfat al-Kurd on 11 April 2018:
Manal Qdeih. Photo by Olfat al-Kurd, B'Tselem, 11 April 2018

On Friday, 30 March, I went with my husband and children to the peaceful demonstration that took place east of Khan Yunis, in the town of Khuza'ah. I wanted to be there with the people, to show solidarity on Land Day and protest for the Right of Return. We set out in a group – me, my husband and children, my sister and some neighbors. When we got to the tents, I was surprised to see a mass of people. There were entire families there: children playing, women making bread and young men playing soccer. All the activities around the tents, which were hundreds of meters away from the fence, were peaceful. Some of the demonstrators who were closer to the fence shouted out slogans and waved Palestinian flags. On the other side of the fence there were soldiers on dirt mounds, bulldozers creating more dirt mounds and army jeeps. The soldiers on the dirt mounds fired at the youths who were close to the fence. Some were injured, especially around the legs, and most of them seriously.

While we were eating with the children in a tent, a teargas canister landed near the tent. I started screaming, because the children and I choked and teared up a lot. I couldn't open my eyes, I felt a burning sensation in my chest and my face swelled up. Rescue teams arrived within a few minutes and started giving us first aid. They gave us oxygen masks so we could breathe. I felt faint and the children looked pretty faint, too. When we got home, the children were completely worn out and still had trouble breathing. I was afraid for them, because they're little. The soldiers fired a teargas canister at us without any of us having done anything to put them in danger.

On Friday, 6 April, I went back to the tent area with my children and some relatives. We set out at around two o'clock in the afternoon. When we arrived, we sat down inside the tents like we did the previous time. The clashes near the fence were very violent. There was intensive fire from soldiers behind the fence, and some of the people were very badly hurt. There was also teargas, more than the first time. They fired teargas canisters at the tents with no distinction whatsoever, even though entire families, who posed no danger at all to the soldiers, were inside. The people in the tents screamed in pain and choked from the amount of gas that filled the area. Some of those hurt were treated on site with oxygen masks, but some were in bad shape and had to be taken to hospitals in Gaza. Teargas canisters hit women, children and elderly people, as well as rescue teams and journalists. Onions and perfumes were handed out to try and help. I had brought onions and perfumes from home for that purpose but they didn't help at all, because the gas had a very strong effect.
Muhannad a-Najar, 40, a married father of five from Khuza'ah, makes a living selling popsicles and went to the demonstrations to work. In a testimony he gave B'Tselem field researcher Khaled al-'Azayzeh on 9 April 2018, he described the use of teargas against the demonstrators:
Muhannad a-Najar. Photo by: Khaled al-'Azayzeh, B'Tselem, 11 April 2018

On Friday, 6 April, after the late afternoon prayer, at around four o'clock, about five teargas canisters landed in the tent area. I saw a woman, about 45 years old, fall down near my tent. I went outside to give her first aid. I gave her an onion, washed her face with a solution and gave her water until she felt better. Then I got a bucket of sand to cover every canister that landed near the tents with sand. Every time a canister fell, it started a panic, everyone started running and there was a great commotion. Many people were hurt from the gas. Sometimes, they put four people into one ambulance. Sometimes there weren't enough paramedics to treat everyone and even people without training, like me, had to give first aid. 
Ruwayda a-Najar, 42, a married mother of six from Khuza'ah, went to the demonstration area with her husband and sons. She spoke about what she went through in a testimony she gave to B'Tselem field researcher Olfat al-Kurd on 10 April 2018:
Ruwayda a-Najar. Photo by Olfat al-Kurd, B'Tselem, 10 April 2018

While I was in the tent area, the military fired teargas canisters there. My sons and I choked. We teared up badly and our noses and eyes burned. I tried to treat my sons with a solution I'd brought and washed their faces with water. Some of the people who were hurt got first aid in the tent area, but there were also very serious cases. Some demonstrators were physically hurt from the teargas canisters themselves, in the face, legs or arms, including young people, women and children. Their condition was serious and dangerous, and they were first treated in the field hospitals and then taken to the European Hospital.

On Friday, 6 April, I went again to a demonstration east of Khuza'ah with my sons and husband. I went there at around eight o'clock in the morning. There were very intense clashes that day. There were a lot of people in the tent area, entire families inside the tents. A lot of teargas was firing there and it seeped into the tents and caused many people to choke. The paramedics treated people with a solution and with oxygen masks. Some people were badly hurt and taken to hospital. We are civilians who pose no threat to the soldiers of the occupation. We have no weapons. Why are they firing teargas canisters on families inside the tents?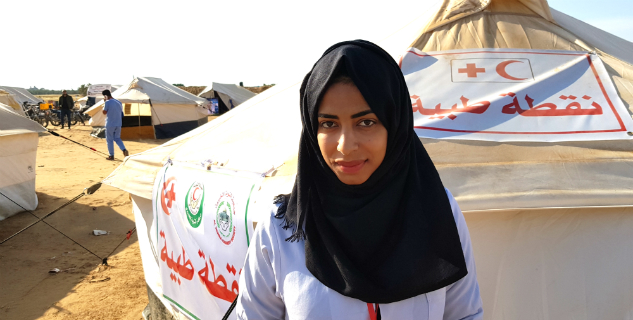 Rula a-Najar, 20, a nursing student from Khuza'ah and volunteer with a non-profit that provides medical care, spoke about the demonstrations in a testimony she gave B'Tselem field researcher Khaled al-'Azayzeh on 9 April 2018:
I've been working as a volunteer paramedic in the March of Return protest in Khuza'ah, north of the a-Najar neighborhood, in the tents set up 400 meters away from the fence, ever since the protests started. The first protest was held on Friday, 30 March 2018. The situation was very serious that day, especially after the noon prayers. There were many wounded, mostly from live fire to the lower limbs, including youths and also women and children. Live rounds were fired around the same time as teargas, mostly after Friday prayers. The teargas canisters reached the tent compound and many people who were inside the tents were hurt. People choked, convulsed and their faces turned red. We provided first aid with what we had, such as onions, alcohol, vinegar and saline solution. The clinic tent filled up with people who had been hurt and were lying on the ground. We evacuated the more serious cases to hospital.

On Friday, 6 April, the same thing happened again. Many people were hurt after the Friday prayers. The soldiers fired teargas canisters at the tent compound and the surrounding area. When the canisters landed, a huge panic started and a lot of people choked. People were running away, bumping into tent poles, falling over and getting hurt.