Faten Ahmad, from Jabalya Refugee Camp in the northern Gaza Strip, succumbed to cancer last August at the age of 26. She is survived by a husband and two children – Ahmad , 5 and Ritaj , 1. She was diagnosed with cancer about a year earlier, but the treatment she needed is not available in Gaza hospitals. Ahmad contacted al-Mutala' Hospital in East Jerusalem (also known as Augusta Victoria), and over the course of a year filed nine applications to the Israeli authorities for a permit to exit the Gaza Strip. Only one was accepted. She traveled to the hospital, where she remained for 21 days and received a single chemotherapy session.
This case is one of thousands. Every year, thousands of Palestinians from the Gaza Strip apply to the Israeli authorities for permits to enter Israel in order to receive critical medical treatment at hospitals in the West Bank (East Jerusalem included) or in Israel. Last September, 78% of the applications filed were for hospitals in the West Bank – more than half of them for hospitals in East Jerusalem – and the rest were for hospitals in Israel.
Applying for a permit is a long, exhausting bureaucratic process. The applications are reviewed according to criteria that are not divulged to the patients, who never know what their prospects for approval are. Some applications are approved, a few are denied, and many are not answered before the date of the medical appointment.
According to figures released by the World Health Organization (WHO), between January and September 2017, nearly 20,000 such applications were made by Gaza residents. About half of them were approved, and more than 40% did not receive a response before the appointment date. 
Year

Total applications

Approved

Denied   

Unanswered

2017
Up to September

19,579

10,459
53.42%

565
2.9%

8,555
43.7%

2016

26,296

16,273
61.90%    

1,741
6.6%

8,282
31.5%

2015

22,138

16,970
76.65%

1,267
5.7%

3,901
17.6%

2014

18,266

14,921
81.70%

528
2.9%

2,817
15.4%
The figures indicate that the percentage of unanswered applications has gradually risen over the years, nearly tripling from 15% in 2014 to almost 45% in 2017. Nearly 20% of the unanswered applications (a total of 1,562) were for children under the age of 18, and some 8% (725) were made by people over the age of 60. This practice not only prevents patients from receiving the care they need, but also leaves them in a state of constant uncertainty as to whether they will be able to receive the treatment that may save their lives.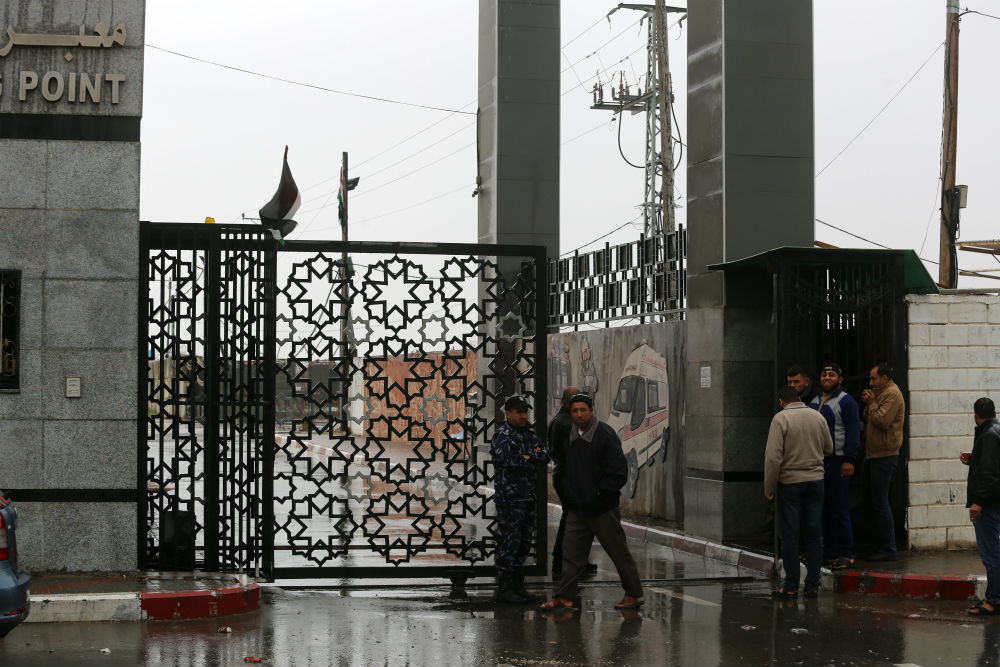 The lack of response also subjects patients to an ending cycle of red tape, as it compels them to repeat the entire process from the beginning: They must set a new appointment at the hospital, obtain a guarantee of payment from the Palestinian Authority and apply again to the Palestinian Authority Civilian Affairs Department in Gaza, which then forwards the application to Israel via the District Coordination Office (DCO). At this point, the waiting begins again, with the chance that the application will yet again not be answered in time. In these circumstances, some patients give up and simply do not file another application.
Since the beginning of 2017, 21 Gaza residents whose applications to exit Gaza for medical treatment were either denied or refused have died of serious illnesses, including two little girls aged four and five. Sixteen of these patients died of cancer. 
Adding onto Israel's stringent policy, in May 2017, the Palestinian Authority decided to tighten its own policy on the provision of vouchers guaranteeing payment for treatment to patients from Gaza. Patients who do not have these vouchers cannot apply to the Israeli authorities. According to the WHO, last September, the Palestinian Authority provided vouchers in 1,077 applications – 50% less than the monthly average in the first quarter of 2017. The Palestinian Authority has kept this policy even after the agreement with Hamas was signed. Thirteen patients passed away after the Palestinian Authority held up their vouchers. Six of them were children, including three newborns. Two of the patients had applied for a permit to enter Israel in the past, but their requests were not approved.
Rafah Crossing, which operates under Egyptian authority, stopped serving as a regular exit point for patients since the last regime change in Egypt in July of 2013, and remains shut through most of the year.  According to the WHO, up to September 2017, the crossing was opened for only 14 days throughout the year, and 1,222 patients traveled through it. The crossing did not open at all in September. In the past, more than 4,000 patients traveled through Rafah for medical treatment every month. The Palestinian Authority and Hamas have recently signed an agreement that includes transfer of control over Rafah Crossing to the Palestinian Authority. The crossing was scheduled to resume routine operations on 1 November 2017, but ultimately opened only on 18 November 2017 and for three days only.
Still, even if the Egyptian and Palestinian authorities were to allow regular travel for patients through Rafah Crossing, this would not provide a reasonable solution, as the journey from the crossing to medical institutions in Egypt is long and dangerous. For those seeking treatment in the West Bank, including East Jerusalem, or in Jordan, the route is much longer than reasonable.
The Coordinator of Government Activities in the Territories (COGAT) boasts of how Israel treats the health care system and medical patients who live in Gaza, stating that although responsibility for healthcare in the Gaza Strip was transferred to the Palestinian Authority, COGAT recognizes that "the healthcare system inside the Gaza Strip is very limited and overburdened" and works accordingly to provide Gaza residents with entry permits in order to receive medical treatments that are unavailable to them. COGAT reports that "in order to ensure that medical permits are given to civilians with real medical needs [the COGAT] Health Office works with the different security agencies to verify the legitimacy of every request."  
The attempt to pass Israel off as helpful to Gaza residents is detached from reality. The fact that so many patients require medical treatment outside the Gaza Strip is a result of policies practiced by Israel, which, since 1967 – and especially since the blockade was imposed in 2007 – has consistently hampered the development of a healthcare system in Gaza. Israel prohibits doctors from exiting Gaza to participate in professional development courses. It prohibits Gaza students from attending medical school in foreign countries. It prevents the entry of replacements for equipment that has malfunctioned, as well as medication and essential equipment for advanced medical testing. The inconsistent power supply in Gaza, also a result of Israeli policy, has a deleterious impact on hospitals, which must postpone nonurgent medical treatments.
Moreover, Israel's processing of applications made by Gaza residents in need of life-saving medical treatment hardly merits boasting. Thousands of seriously ill patients live in uncertainty, their only hope being medical treatment outside Gaza. Their illnesses can be treated and their lives can be saved, yet Israel insists on protracted bureaucratic processes. Some applications are  approved, but thousands of other applicants wait in vain for a response, until their appointment date has been and gone. 
Giving Gaza residents permits for medical treatment is not an act of grace on Israel's part. The reality these patients face was created by Israel and remains its responsibility, as Israel controls all entry and exit into the Gaza Strip except via Rafah. Israel determines what level of treatment will be available in Gaza. Israel continues to isolate almost two million people from the outside world, and denies them the opportunity to travel outside Gaza to receive medical treatment that is unavailable inside it due to Israel's policies.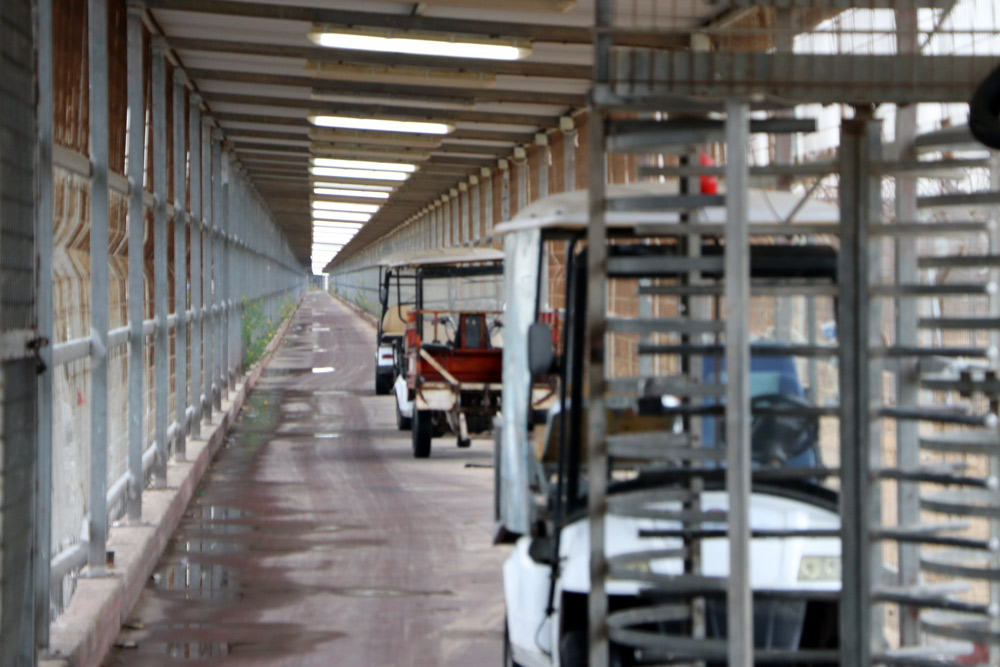 Testimonies
Jamil al-Aqra', Palestinian Police officer, married and father of six, resident of Deir al-Balah Refugee Camp
On 23 July 2017, at the age of 42, Jamil al-Aqra' succumbed to cancer at a-Rantisi Hospital in the Gaza Strip. From the end of March and to 11 May of that year, al-Aqra' had filed three applications for a permit to exit Gaza for medical treatment at al-Mutala' Hospital in East Jerusalem. None of his applications were answered. In each case, he received a telephone message the day before the appointment that his application was still under review.  Only his fourth application was approved, and on 25 May 2017, he traveled to the hospital and received treatment. After returning to Gaza, al-Aqra' filed another application to continue treatment. This time, his request was held up by the Palestinian Authority. Without a payment voucher, al-Aqra' was unable to file another application to the Israeli authorities for a permit to exit Gaza. He passed a way a short while later.
On 3 May 2017, as he waited for an answer to his third application, al-Aqra' gave his testimony to B'Tselem field-researcher Khaled al-'Azayzeh::
Right now I'm at home, taking four different kinds of drugs, including painkillers and medication that's supposed to protect the stomach from the chemotherapy and treat the lack of appetite. Even so, I'm in extreme pain and am very tired. I find it difficult to sleep and have no appetite at all. I only eat things that are very easy to digest. My voice is very weak because of the sickness, and I can hardly talk. When I need something from my wife or children, they can't hear me unless I come up close. 

The doctors in Gaza told me I need radiation therapy that isn't available anywhere here. We talked to the doctors at al-Mutala' Hospital, and they said they have the therapy and gave me some hope that I can recover. I'm currently in a very bad emotional state because of the Israeli authorities aren't allowing me go to the hospital, with no explanation. I don't understand why they don't answer, especially since I have no security problems at all. I've even had a merchant permit in the past, which allowed me to enter Israel, and I'd travel back and forth between Gaza and Israel. The permit was valid for two months, August and September of 2015. I didn't try to renew it when it expired. I don't understand why they won't let me leave Gaza and go to the hospital. 

Jamil's wife, Maryam al-Aqra', told B'Tselem field-researcher  Olfat al-Kurd on 9 August 2017:

In January 2017, Jamil started experiencing abdominal pain and losing weight. He was tested at al-Aqsa Hospital in Deir al-Balah and at a-Shifaa Hospital in Gaza City, and it turned out he had cancer in the left side of his lung. He was referred to Abd al-'Aziz a-Rantisi Hospital in Gaza, where he received chemotherapy.

The doctors referred him for radiation therapy that isn't available in Gaza at al-Mutala' Hospital in Jerusalem. From March to May, we filed three applications for a permit to exit the Strip.  We didn't get a response, but just kept being told the application was still under review. We had to cancel all the appointments we'd made. In the meantime, my husband's condition got worse, and he was hospitalized for much of the time.

The fourth time we made an appointment, for 25 May 2017, our application was approved. The approval came too late, because the cancer had already spread through all of his body. Yet I was still hopeful, and we went to al-Mutala' Hospital in Jerusalem. He got radiation therapy there for five days a week over a 19-day period. He suffered a lot.
On 22 June 2017, after we'd returned to Gaza, Jamil's condition got much worse and he was admitted into a-Rantisi Hospital again. I stayed by his side at the hospital for 31 days. My brother-in-law Majed and I spent the day with him, and our sons Muhammad, 19, and Khaled, 16, slept there at night. I was in bad shape, emotionally, because my husband was in such severe pain. 

About two weeks after that, he got a CT scan and it turned out he had another tumour in the liver and abdomen area. The doctor decided to give him a referral for continued treatment at al-Mutala' Hospital in Jerusalem. At that point, we weren't yet able to file an application to exit Gaza because we were told to wait for the voucher from the Palestinian Authority in Ramallah.

Ten days later, Jamil's condition deteriorated again. He couldn't stand on his feet anymore and stopped eating altogether. On the last day of his life, 23 July 2017, he asked me to bring the girls. I promised I'd bring them in the evening, so he could see them. In the end he didn't get to see them. At 7:00 P.M., I was next to him, with our sons and his mother and other family members. He asked me why so many relatives had come all of a sudden. I avoided answering. I told him it was a regular visit, like any other day. He took my hand. His voice was very weak because of the illness, and he whispered to me that he was going to die. I couldn't hold back and I started crying. He waved his hand, and a few moments later, he was gone. At the time he passed away, the Palestinian Authority still hadn't gotten back to us about the voucher. 
During Jamil's last hospitalization at a-Rantisi Hospital, he didn't get treated for his disease, because the type of chemotherapy he needed isn't available in Gaza. He didn't get painkillers or morphine shots either, because those were unavailable in pharmacies. I bought him whatever painkillers were available, but they weren't strong enough and couldn't relieve the pain. He suffered a great deal.    
Yara Bkhit, 4, from Khan Yunis
Yara Bkhit was four years old when she was diagnosed with chronic heart failure. She died about six months later, in July 2017. Her parents filed an application to enter Israel in order to receive treatment at al-Makassed Hospital in East Jerusalem. The permit was granted, and Yara underwent cardiac catheterization. Another application filed by her parents, for continued treatment, was not approved. They made other requests, but their daughter passed away while they waited for their fourth application to be approved. 
Yara's mother, Aishah Hasunah, 28, spoke to B'Tselem field-researcher Olfat al-Kurd on 17 July 2017about what the family went through after Yara was diagnosed:
Last January, Yara started vomiting frequently. She vomited for about a week and became dehydrated. I took her to the doctor, and she underwent a series of tests. The doctors couldn't tell us with certainty what was wrong with her, and referred us to the European Hospital in Khan Yunis. The doctors there discovered that her heart muscle was weak. When I heard that, I was in shock. I couldn't take it in, especially because Yara had been completely healthy until then. I had a hard time accepting my daughter's illness, and my mental state deteriorated by the day, especially after her condition became worse.

The doctors decided she should be transferred to al-Makassed Hospital in Jerusalem because of her serious condition. They said they didn't have the resources to treat her illness. She got a referral for the hospital in Jerusalem, but the first application we made to Israel was denied. We made another appointment for 16 February 2017, and filed another application to Israel. This time, we put down my grandmother as the person accompanying. The application was approved. She is an elderly woman, 72 years old, who suffers from high blood pressure and diabetes. My heart tore apart when I said goodbye to my daughter. I couldn't even go to Erez Crossing with her, because I was afraid she'd start crying and grab hold of me, and that would make her condition even worse.

The whole time she was in the hospital in Jerusalem, Yara wouldn't talk to me or her father on the phone, because she was sure we'd abandoned her. I felt my heart crushing from the pain and from missing her voice. My grandmother also told me on the phone that Yara was having a hard time accepting her. She didn't know her well and wasn't used to her. She refused to eat or go to the bathroom with my grandmother, which made her physical and emotional state worse. I called the nurses a few times to ask about Yara's condition.

My daughter stayed in the hospital for a few days, during which she underwent catheterization. I was very worried and fearful about this treatment, because her body was small, and I wasn't sure she could take it. I was very happy when the doctors told us she was coming back to the Strip. But when I saw her, my heart broke. She was so tiny and thin. I held her, with a broken heart, but she didn't respond, because she was still mad at me for abandoning her.

The doctor who treated her at al-Makassed told us she couldn't go back home and had to go back to the European Hospital. I had hoped so much that she would come home and hug her twin sister Lara, and go back to a normal life. When she was at the European Hospital, I asked her to smile for me. She did, despite the pain. Every time I saw her smiling, I felt hopeful that she would recover and come home.

Two weeks later, she was released from the hospital, but she didn't get better, and she went back to the hospital for a few weeks at a time, until last June. In June, the doctors decided her condition was critical and got her a new referral, again with my grandmother accompanying her, to al-Makassed Hospital. The hospital gave her an appointment for 21 June 2017. A week before the appointment, we got a message on the cell phone that the application was still under review. Other than that, there was no response. Her father and I didn't know what to do. My little girl had done nothing wrong, nothing that could justify denying her medical treatment. My mental state continued to get worse.

Yara's condition got worse by the day. One day, she had shortness of breath and started suffocating. I rushed her to the European Hospital in Khan Yunis, and they discovered her kidneys had stopped working. She stayed in hospital, and in early July, the doctors gave her a fourth referral to al-Makassed because her condition was very serious. They said she needed to be fitted with a battery that would regulate her heart rate, and that there were no batteries like that in Gaza. The appointment was a long way off, 20 July 2017, but I didn't lose hope and waited with bated breath, hoping to save Yara's life.

On Wednesday, 12 July 2017, the day before she died, Yara asked me for gummy candies. I rushed to the grocery store, got the candy and fed it to her. I was so happy to see her eating, and that I'd managed to give her something she'd asked for. The next morning, at around 6:45 A.M., Yara asked to eat by herself, but she couldn't do it, so she said: "Mama, feed me". She lifted her head, and I laid it against the pillows. As I was feeding her, she turned her head to the left, with the food still in her mouth, and suddenly stopped breathing. 

Doctors and nurses came in and took her to another room.  They hooked her up to a respirator, but she passed away. When I heard the news, I started screaming and crying and fainted. I can't describe the feeling. I said goodbye to part of my heart. Yara is gone and she'll never come back. 
Nadia Hamad, 53, married and mother of seven, from Beit Hanounן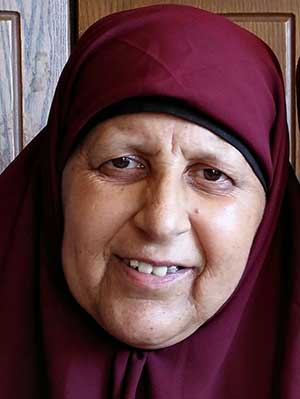 In 2017, Nadia Hamad, 53, was diagnosed with breast cancer. She underwent radiation therapy in the Gaza Strip, and until 2016, received several permits to receive treatment at al-Mutala' Hospital in East Jerusalem and hospitals in Israel. From January 2017, Hamad made six applications for a permit to exit Gaza for treatment in al-Mutala' Hospital in East Jerusalem. None were answered. She died on 25 August 2017.
Her husband, Fayez Hamad, 52, spoke to B'Tselem field-researcher Muhammad Sabah on 6 September 2017: 
My wife had suffered from breast cancer since 2010. She had a mastectomy and radiation therapy at the hospital in Gaza, and then continued treatment at al-Mutala' Hospital in East Jerusalem until 2012. In 2013, she had a pathology test done and it turned out the cancer had spread to her bones. She couldn't walk. She underwent chemotherapy and other treatments in hospitals in Gaza. In 2014, she went out once for treatment at Assuta Hospital [in Israel] and in December 2016, she had a different treatment at Beilinson Hospital [also in Israel]. 

She was still suffering from pain all the time, and was given appointments for 9 and 30 January 2017 at al-Mutala' Hospital in East Jerusalem. She was supposed to get chemotherapy and radiation therapy that aren't available in Gaza. We filed an application for a permit to leave the Strip, but didn't get a response and missed both appointments. We were told the application was still under review. I switched the accompanying person's name to my wife's brother, Mahmoud, who is 55, and asked for another appointment at al-Mutala'. The appointment was set for 27 February 2017, but we didn't get a response before that appointment, either.

From April to July, we filed three more applications, but got no answer. My wife's condition was already very bad. She couldn't walk and needed help with everything. In the meantime, she got chemotherapy at a-Shifaa Hospital every week or two.

After six applications that got no response, we decided to make an appointment in a hospital in Egypt. I had a referral prepared for Nasser Institute, and we got an appointment for 13 August 2017. We waited for Rafah Crossing to open so we could go, but it didn't. My wife's condition was very bad. The disease had spread through her body.
After two months of terrible suffering, during which we kept trying to get a permit to exit Gaza to complete the treatment she needed, she passed away on 25 August 2017. We lost my wife because her illness wasn't treated properly. Her death was a shock to me and my children. She left a huge void, especially for my daughters, Marwa, 16 and Rahma, 13, who were very attached to their mother.