At around 9:00 P.M. on Wednesday, 20 March 2019, the four members of the Ghayadah family – Maysaa, 34, her husband 'Alaa, 38, a tile-layer who held a permit to work in Israel, and their two daughters, aged 5 and 8 – were making their way home to the town of Nahhalin, west of Bethlehem, after visiting relatives in the village of Irtas. On the way, a dispute developed between 'Alaa Ghayadah and another driver on the road. When Ghayadah reached the Nashash/Efrat North Checkpoint – located to the southwest of al-Khader, and open at the time – he stopped the car at a spot about 50 meters from a staffed military watchtower and got out to confront the other driver. The other car, however, did not stop, passed him and kept going. Soldiers who were in the tower then shot 'Alaa Ghayadah, hitting him in the stomach. 
Another car reached the checkpoint at about the same time.  There were four people in the car, and they were on their way home from a wedding in Bethlehem. The passengers saw Maysaa calling for help and got out to help her and her husband. Three of the young men helped 'Alaa into their own car and drove him to al-Yamama hospital in al-Khader. Security camera footage from the hospital posted on social media shows the three arriving at the hospital and taking an injured man out of their car. The fourth passenger, 22-year-old Ahmad Manasrah, stayed behind and went into the Ghayadah car to help Maysaa and her daughters.
In a testimony taken on 21 March 2019 by B'Tselem field researcher Musa Abu Hashhash, Maysaa recounted what happened after the initial shooting: 
My husband was leaning against the car. From where I was seated inside the car, I heard him say he'd been hit. I jumped out of the car and started to shout for help. A jeep pulled up and four guys got out. Three of them helped my husband, got him quickly into their car and drove off. The fourth guy came over to our car and tried to start it so we could get the car away from that spot. Just then, live shots were fired again. The four of us – me, me two daughters and the young guy – were in the car. He tried to start the car, but the engine wouldn't start. So he got out. As soon as he got out, shots rang out again. I was confused and very frightened. My two little girls also started screaming and one of them threw up. I didn't know what to do and I couldn't understand what was going on all around me. I tried to calm my daughters down. I called my father and my brother-in-law and they arrived after 20 minutes. In the meantime, an officer arrived and asked me what I was doing there. He told me to take a deep breath and not to be afraid.

When my father arrived he took me and the girls in his car and we drove to al-Yamama Hospital, where they'd taken my husband. At the entrance to the hospital I heard someone say that someone had been killed, and I thought they were talking about my husband. But one of the male nurses reassured me, and told me that they were talking about someone else, a person at al-Hussein Hospital in Beit Jala. The nurse reassured me and tried to comfort my daughters. I waited at hospital, unable to believe what had happened. My husband had surgery that lasted about six hours. I didn't know what his condition was, and everyone tried to keep me calm. I went back to my parents' home exhausted, frightened, and worried. My family told me that the man who'd tried to start our car had fallen as a martyr. They told me his name was Ahmad Manasrah and that he was from the town of Wadi Fukin.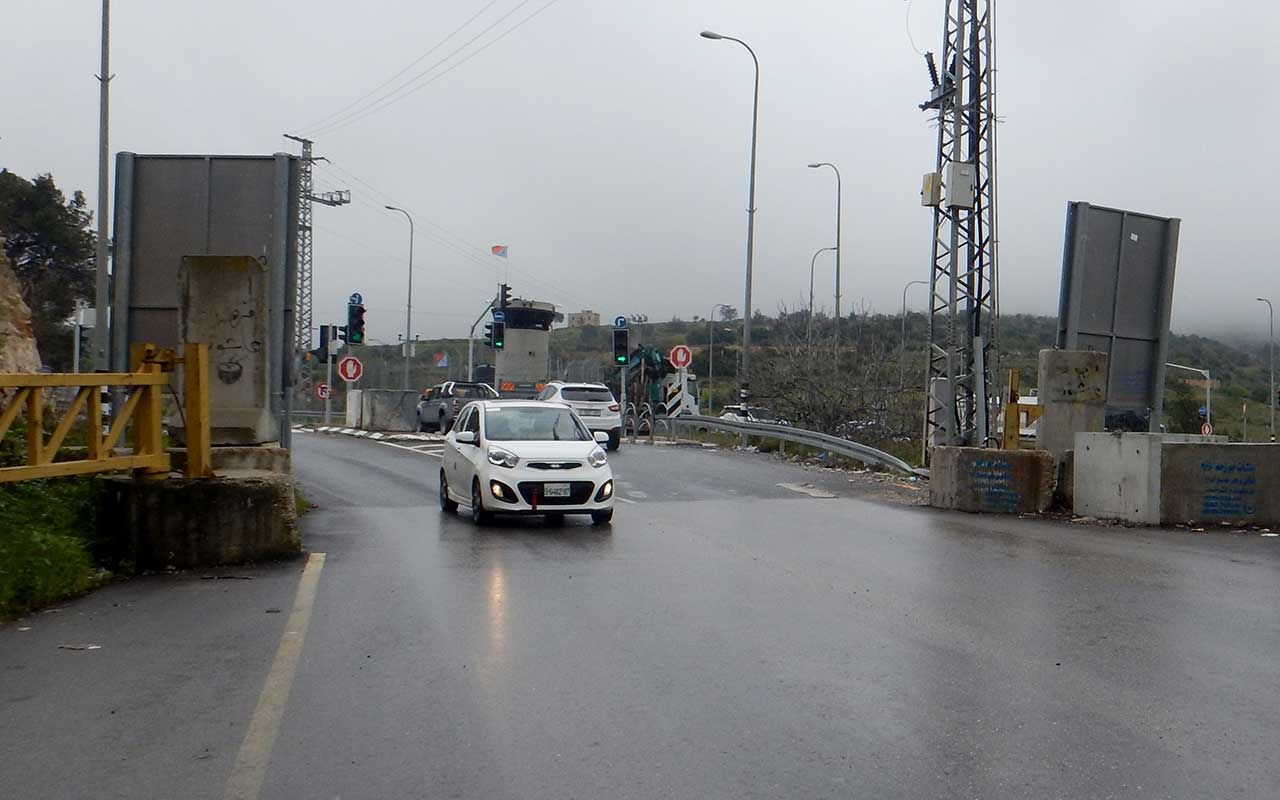 In a testimony taken on 25 March 2019 by B'Tselem field researcher Musa Abu Hashhash, 'A. one of the four young men, described what happened at the checkpoint:
We arrived at Nashash junction at about nine o'clock. W.M. was driving. I was in the back seat, and Ahmad Manasrah was sitting next to me. There was no traffic on the road. When we were about 50 meters away from the junction, I saw a woman running toward our car, screaming and crying. We didn't understand what was going on. We heard the woman say that her husband had been injured. We all jumped out of the car and ran back to a VW Golf car parked on the road. We saw a man supporting himself against the back of the car with his hand to his stomach, saying, "My daughters, my daughters." W.M. and I straight away helped him over to our car, while he leant on W.M.'s shoulder. He wasn't bleeding and we didn't know what his injuries were. I remember that after we put the injured guy in our car, we heard shooting. At first there were maybe two shots, and then a few more. I didn't realize what had happened, or who was shooting and who was being shot at. W.M. started the car and drove quickly to al-Yamama Hospital which is fairly close. The man kept repeating, "My daughters, my daughters." Part way there, his voice got weaker and he fell silent. We got him to the hospital, and then W.M. decided to go back to the scene to look for Ahmad.

Fifteen minutes later, while I was at the entrance to al-Yamama Hospital, W.M. came back to get me. He was very agitated and told me that Ahmad Manasrah had been injured and taken to al-Hussein Hospital in Beit Jala. A few minutes after we got there, the doctors pronounced Ahmad dead. I was in shock. It was then I realized that the shots I had heard had been fired at Ahmad.
M.K. arrived on the scene with his brother, who was driving the car, and another friend. They turned right after the checkpoint, heard several shots, and stopped. In a testimony taken on 27 March 2019 by B'Tselem field researcher Musa Abu Hashhash, M.K. recalled:
My brother stopped the car and I got out to find out what was going on. Just out of curiosity. I was about 10 meters from the traffic lights and the military watchtower was to my left. It was dark outside. From where I was standing, I could see a car stopped on the road, and saw there was a woman inside the car. I took out my phone and started recording. I heard more gunfire, but this time it lasted longer. I couldn't see who it was aimed or work out who they were shooting at. I couldn't see anyone on the road except for the parked car with the woman inside. I went on filming, but soldiers from the watchtower came over to me and ordered me to clear off. I managed to call an ambulance and told them there'd been an accident at Nashash Junction. Both times the shots came from the military watchtower. 
Manasrah's autopsy found three bullet entry wounds, one in the chest and one in each hand. According to media reports, "an investigation by the Military Police Investigations Unit had been launched," subsequent to the military's claim that the debriefing of the incident found that stones had been thrown at cars nearby, and the soldier in the watchtower had followed suspect apprehension procedure, which culminated in the gunfire that injured 'Alaa Ghayadah and killed Ahmad Manasrah. The wording of the statement by the military – terse, indifferent and divorced from reality – powerfully illustrates how little value Israel places on Palestinian lives. This disregard is apparent on a regular basis and is clearly evinced in this shocking incident: A passerby paid with his life for trying to help a family after soldiers had fired at their car for no reason. His death is one of four that B'Tselem has investigated since the beginning of March, in which the use of lethal gunfire was found to be clearly unjustified.
* On 21 March 2019, media reports stated that an MPIU investigation had been launched. On 19 January 2020, media reports stated that the MAG Corps was considering filing an indictment against the shooter, pending a hearing. On 23 November 2020, the HCJ  denied  a petition the Manasrah family filed on 1 September 2020 against the indictment of the shooter and the plea deal reached with him. On 9 December 2020, the media reported that the plea deal had been approved and the shooter convicted of negligent homicide and sentenced to three months of manual military labor and a suspended prison sentence of three months for a period of two years.