Several demonstrations are held on a weekly basis in villages near Bethlehem to protest the expropriation of lands and the fact that lands have been isolated on the "Israeli" side of the Separation Barrier.
Weekly demonstrations have been held in the village of al-Ma'sarah since November 2006 to protest the expropriation of vast tracts of agricultural lands belonging to residents of al-Ma'sarah and nearby villages (Um Salamuna, Wadi a-Nis and Jurat a-Sham'a) for the construction of the Separation Barrier near the settlement of Efrata. The barrier will also prevent main road access from the villages to Bethlehem, the district's main city. The demonstrations in al-Ma'sarah are known as very peaceful. Israeli security forces generally halt the procession inside the village and it disperses within a short time.
In the village of Beit Ummar, there have been regular demonstrations since March 2009. Israeli security forces at these demonstrations are nearly equal in number to the demonstrators, and the demonstrations are forcefully dispersed.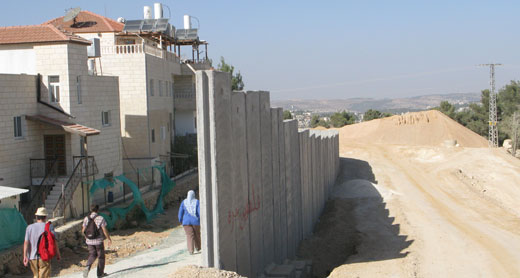 The Separation wall next to houses in the village. Photo: Eyal Hareuveni, B'Tselem, 5 November 2010.
At the village of al-Walajah, the Separation Barrier is being constructed as a cement wall that will completely enclose the village, leaving a single opening to the road that links the village with the town of Beit Jala. The route chosen for the barrier was devised to enable the establishment of a new settlement, Giv'at Yael, on village lands. These lands were annexed to Jerusalem in 1967, but the built-up area of the village remains outside Jerusalem's municipal boundaries. The Society for the Protection of Nature in Israel also opposes the proposed barrier route in this area because of unique agricultural terraces, dating back to the middle of the first millennium CE, that preserve an ancient farming practice. Opposition notwithstanding, on 22 August 2011 the Israeli High Court of Justice approved the route. Every Friday demonstrations take place in al-Walajah, protesting the construction of the Separation Barrier. The demonstrations are dispersed by border police using means for crowd control.