Spike in settler violence during pandemic: Palestinians and homes repeatedly attacked, March 2020
While millions of people in Israel and the West Bank are under lockdown, state-backed settler violence continues unabated. Israeli settlers are attacking Palestinian shepherds on pastureland, entering villages, attacking residents and destroying their property. Despite the coronavirus crisis, the rise in violent acts continued in recent weeks.
Since the beginning of January 2020, B'Tselem has documented 50 incidents of settler violence towards Palestinians across the West Bank, 21 of which occurred in March alone. In 13 cases residents' homes were attacked, eight of them in March. Other cases in March included seven physical assaults and 15 incidents in which settlers vandalized property or stole possessions.
Five of eight attacks on homes in March occurred in the presence of soldiers, who allowed the settlers to do as they pleased. The soldiers focused on removing the Palestinians who were defending their homes and families. In at least three incidents, soldiers fired tear-gas canisters; in others, they arrested several residents.
In three incidents, the soldiers accompanied the marauding settlers or initially joined in the assault. In two other incidents, village residents alerted the Israeli DCO to ask for protection from the settlers. In one of them, the soldiers only arrived after a few hours and even then, limited themselves to watching from afar. In the other, no security forces arrived at all.
The villages of 'Urif, Huwarah, 'Einabus, Burin, Madama and 'Asirah al-Qibliyah in Nablus District, near which the settlements of Yitzhar, Har Bracha, and Itamar were established, are at the epicenter of settler violence. Throughout 2018-2019, B'Tselem documented 40 incidents in which settlers attacked homes, residents, and property in these villages. Since then, in the first quarter of 2020, B'Tselem documented 11 attacks in these communities, seven of them throughout March.
Two of the March attacks were carried out in the adjacent villages of Burin and Madama on 7 March 2020, within the space of an hour. Residents of these villages are exposed to repeated attacks. In January 2020, B'Tselem reported attacks on homes in Madama: on 15 January 2020, five settlers attacked residents, including a pregnant woman, sitting in their courtyard. On 31 January 2020, 20 settlers attacked a neighborhing house while its occupants, including small children, were inside. The settlers received a military escort. When village residents came out to defend their homes, soldiers fired tear-gas canisters and rubber-coated metal bullets at them. Several days after the attacks in Madama, settlers attacked a house under construction in Burin.
As before, the soldiers provided the settlers protection and fired tear-gas canisters at Palestinians trying to protect the house. B'Tselem documented attacks on these villages in previous years. These include assaulting harvesters, riots and attacks on the road near Burin, attempts to invade the village and attack residents, rolling of burning tires at village homes, shooting near a school in Burin, and setting fire to a field.
These attacks exemplify the policy Israel has implemented in the Occupied Territories for many years, allowing settlers to attack Palestinians and damage their property virtually unimpeded. Soldiers protect settlers who assault Palestinians and sometimes actively participate in the violence. The police, meanwhile, take care not to enforce the law on those responsible for harming Palestinians. This policy is part of Israel's strategy to encourage the dispossession of Palestinians from more and more areas throughout the West Bank, which enables Israel to take over more territory and resources. The fact that this situation is not only continuing but worsening during an unprecedented global pandemic adds another layer of brutality to Israel's policy. Coronavirus or not, lockdown or not, the settler attacks continue and the state-backed violence does not stop.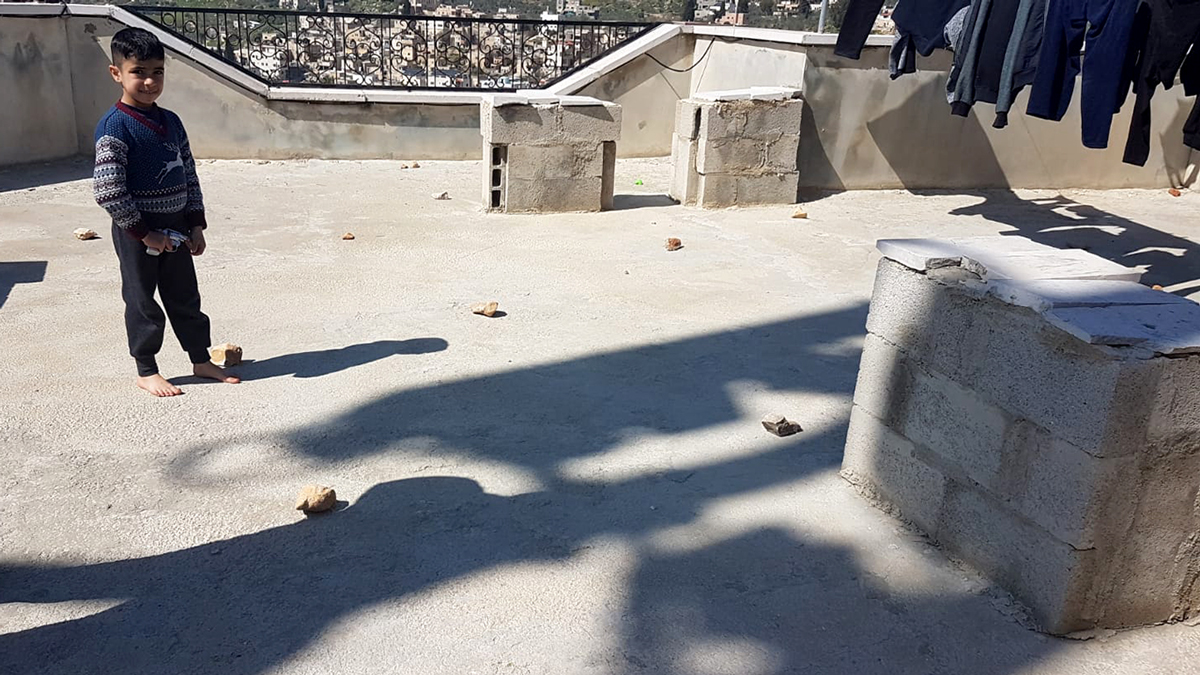 Madama, 7 March 2020: Settlers attack home, soldiers fire live rounds in air and tear-gas canisters at residents, detain B'Tselem volunteers
On the afternoon of 7 March 2020, around 3:30 P.M., about 15 settlers, including the armed chief of security for the Yitzhar settlement, entered the village of Madama and started hurling stones at houses. Residents who heard a commotion outside left their homes to see what was happening. As in other cases, about 15 soldiers who were called there began firing live rounds in the air and tear-gas canisters at residents who had gathered to defend their homes. In the verbal exchange that ensued, the soldiers detained a B'Tselem volunteer who was documenting the incident, and confiscated his and another volunteer's cameras. They gave them to Yitzhar's chief of security, who then erased some footage of the incident.
Mu'awiyah Nassar (28), another B'Tselem volunteer from Madama who also filmed the attack, described how he was detained and how soldiers and the settlement security chief tried to stop him filming, in a testimony he gave on 10 March 2020 to B'Tselem field researcher Salma a-Deb'i:
On Saturday, 7 March 2020, around 3:30 P.M., I was at home when I heard shooting and a commotion outside. I looked out and saw about seven settlers in an area called a-Rasem, which lies east of town. I also saw the car of Yitzhar's chief of security at the end of the road leading to the village land. There were about 10 or 12 village residents there, and I understood that a clash was about to begin. I grabbed my camera and rushed there to document what was going on. I called Ahmad Ziyadah from Burin, another B'Tselem volunteer, and asked him to come and bring B'Tselem's camera, so he could also capture the incident.

I got to the spot on the edge of the village, near the southernmost houses. Ahmad got there after me. There were about 15 soldiers, spread out in groups of twos and threes. Yitzhar's chief of security was also there. The settlers had already reached the outskirts of the village; there were about 15 of them. Two soldiers were standing next to the chief of security.

I started filming. The soldiers fired live rounds in the air and tear-gas canisters at youths who went there to defend the village. Ahmad and I were standing a few hundred meters away from the youths and the soldiers. We took care not to come within range of the shooting or the stones. One of the soldiers and the chief of security started running towards us when they saw we were filming. The soldier hurled a tear-gas canister at us, even though Ahmad was wearing a blue vest with "PRESS" written on it. I had a gas mask on protecting me, but Ahmad didn't. He inhaled the gas and started to choke. I tried to give him my mask, but he said it wouldn't help at that point because his lungs were full of gas.

I took his camera and tried to help him get away from the gas-filled area. I switched to filming on B'Tselem's camera. One of the soldiers reached us and started filming Ahmad with his mobile phone. The soldier ordered us in Hebrew to go away. I didn't understand, but Ahmad knows some Hebrew. I tried to tell him I'm a B'Tselem volunteer, but he pushed us and called over some other soldiers. I think one of them was named Erez.

More soldiers arrived. One of them grabbed me by the shoulder, led me a few meters away and ordered me to sit on the ground. A soldier stood there to watch over me. Meanwhile, the first soldier kept trying to distance Ahmad from the area. Then he snatched both of the cameras out of my hands and gave them to Yitzhar's chief of security, who was also standing next to me. The soldier ordered me to give him my mobile phone and my I.D. card, and I did. By that time, there were four soldiers and the chief of security gathered around me.

I saw the chief of security go from one group of soldiers to another and debrief them, as if he was their commander. He showed them how to take up shooting positions several times. He hid behind his jeep, but the soldiers did whatever he asked without any objection. For instance, when he asked the soldiers for my camera, they gave it to him and he erased footage from it. After the soldiers released me, I found out he had erased the footage from both cameras.

The chief of security told me in a mix of Arabic and English to stop filming. Then the soldiers ran towards the youths and only one stayed with me. Every time I asked him why they were detaining me, he told me to be quiet.

Another soldier arrived and asked me why I was filming, and then he ordered me to get up and walk to a military jeep about 150 meters away from us, near the chief of security's car. The soldiers sat me down next to the jeep, and I saw two of them leading a guy from the village blindfolded and handcuffed. The chief of security put him in his car, and I heard the guy ask for water. The chief of security asked him: "You thirsty? Want a beer?" The guy said it was forbidden. The chief of security insisted: "Why is it forbidden? Here, drink it." He and the soldiers looked at me and laughed.

After about two hours, one of the soldiers gave me back the cameras, my mobile phone and my I.D card. Then, an officer came up and asked me how old I am and where I live. I told him, and then he said it's forbidden to film and ordered me to go back to the village. The sun was setting and the clash was over. The soldiers started to leave. When I reached the outskirts of the village, I met Ahmad and we both checked our cameras. The soldiers had deleted all the footage from both cameras. I restored the footage with some software.
Ahmad Ziyadah, 29, from Burin, also related what happened that day in a testimony he gave B'Tselem field researcher Salma a-Deb'i on 10 March 2020:
The soldiers fired live rounds in the air and tear-gas canisters at the youths from the village, to scare them. I saw the settlement chief of security aim his weapon at the youths. When I tried to get closer to film him, he went and hid behind his car. I heard a soldier ask who I was, and the chief of security said "B'Tselem", even though I hadn't said anything. I must have recognized me from previous incidents. I heard him ask the soldiers to fire tear gas at me, and they fired several canisters in my direction. I tried to get away but the smell stayed powerful. Mu'awiyah, who was with me, had a gas mask but I didn't. I felt like I was suffocated and about to fall over. Mu'awiyah took my camera and wanted to give me his mask, but I told him it was too late because I'd already inhaled the gas. He told me to lean on him.

Meanwhile, the soldiers came over to us. One of them grabbed Mu'awiyah by the shoulder, led him a few meters away and sat him down on the ground. Another soldier tried to grab me, but I quietly moved away. I saw the soldiers take the cameras from Mu'awiyah. One of them hung them around his neck.

I started filming what was going on and livestreaming it on my mobile phone. Whenever someone called me, the stream was cut off. I asked everyone not to phone me.

Throughout the clash, the soldiers fired more than 40 tear-gas canisters, five or six at a time. With every round, the youths ran away from the gas and then came back. It was a tough day and the whole thing lasted until sunset. Then the guys moved off and the soldiers left.
Burin, later that day: Settlers attack home on edge of village, soldiers open live fire at inhabitants
At around 4:30 P.M., about an hour after the settlers entered Madama, settlers also arrived at the house of the 'Eid family, on the eastern outskirts of Burin. 'Ali 'Eid, 16, and his brother Ousamah 'Eid, 20, were at home when suddenly, about eight settlers began throwing stones at the house, breaking two windows and a security camera. The family home is a target for settlers as it lies on the edge of the village. About a kilometer away, the settlement of Har Bracha and the outpost of Givat Sneh Ya'akov were established. The settlement of Yitzhar was built about two kilometers away.
When the settlers started withdrawing, 'Ali opened a window to see what was going on outside. In response, a soldier threw a stun grenade at him. As village residents had gathered around the house to check on them, the two brothers went up to the roof to reassure them and show they were safe and sound. As soon the soldiers noticed them, they started shooting live rounds in their direction. The soldiers also fired tear-gas canisters and threw stun grenades at the residents gathered below. The two brothers went back inside, fortunately unharmed.
'Ali called the Palestinian DCO to report the incident and was asked to send in photographs of the damage.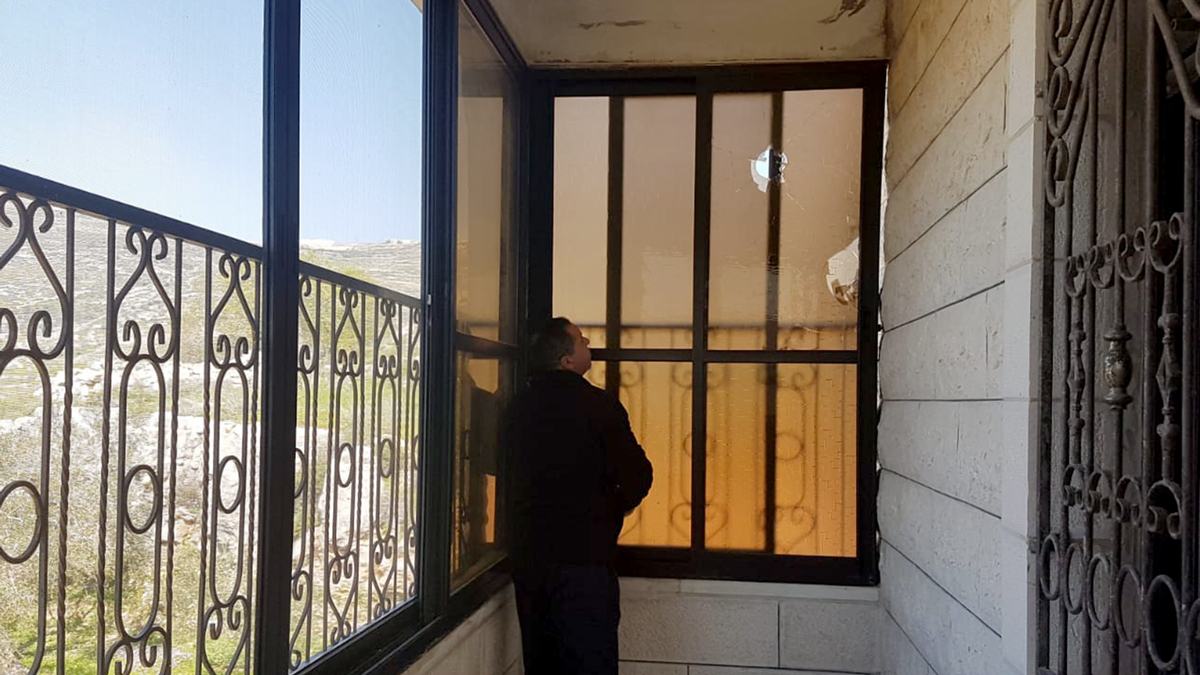 In a testimony he gave B'Tselem field researcher Salma a-Deb'i on 8 March 2020, 'Ali related:
On Saturday afternoon, 7 March 2020, at around 4:30 P.M., I was studying in my room when I heard noises coming from outside. The voices got closer and suddenly I heard stones hitting the walls of our house. I called my brother Ousamah, who was home with me, and told him settlers had come. I went over to the recording device for the security cameras we have installed around the house. It's the last house on the eastern side of the village and we had the cameras put in so we can know what's going on outside when the settlers and soldiers come. I looked at the screen and saw about eight settlers throwing stones at our house. Then I heard glass shattering in the area of the balcony and stones hitting other parts of the house. We didn't know what to do. We stayed inside. I was afraid they'd hurt us if we went outside.
Widyan 'Omran, 38, a B'Tselem volunteer from the village, was at her parents' house, about 100 meters away home. When she heard the commotion, she went up to the roof to see what was going on. She saw eight settlers, some of them masked, throwing stones at the 'Eid home. 'Omran started filming what she saw. Meanwhile, about 15 village residents arrived and tried to drive the settlers away from the house by throwing stones at them. A few minutes later, soldiers arrived and stood with the settlers, firing rubber-coated metal bullets and tear-gas canisters at the residents. One of the canisters fell in the 'Omrans' yard and the gas seeped into the house. Several family members inhaled it and started to suffocate.
In a testimony she gave B'Tselem field researcher Salma a-Deb'i on 8 March 2020, Widyan 'Omran recounted:
The soldiers didn't stop the settlers. On the contrary: they fired live rounds in the air and fired tear gas and "rubber" bullets at residents of the village. One of the settlers, a tall, stocky man who looked about 30 years old and was wearing white, noticed that I was filming and tried to cover his face. Then a soldier fired a tear-gas canister at our house. It fell in the yard. My sister Shahd, 22, and my sister-in-law Sundus, 26, went out to pour water on it and stop the gas from spreading. But it was too late and they almost suffocated. I heard them screaming and smelled the gas, which started to affect me, too. I got down from the roof as fast as I could and took the two of them into the house, along with my nephews, Nadim, 1.5, and Ahmad, 3, who had followed them into the yard. The whole house was full of tear gas. We went into the living room because it has a window facing in the opposite direction, and I went to get some onion, hoping it would help them breath. Meanwhile, I was already coughing and choking on the gas. My skin was itching terribly, especially around my eyes and nose, and felt like it was burning. I was very worried about my elderly parents, who were also in the house and were suffering very much from the gas.

When the settlers withdrew, about five soldiers remained and continued to fire tear-gas canisters at the village residents and at the 'Eid home. Brothers 'Ali and Ousamah 'Eid went up to their roof to show the residents who had gathered around the house that they were alright, at which point the soldiers opened live fire at them and shot tear gas and threw stun grenades at the gathered neighbors. The two brothers went back inside and the soldiers left.
In his testimony, 'Ali continued:
I couldn't get back to my studies that day. I was afraid the settlers would come back and something would happen. I opened the book but couldn't focus on my homework or gather my thoughts. I kept having horrible thoughts and remembering the sight of the settlers throwing stones and the soldiers firing at us. At night, my younger brothers were afraid to be alone in their room and came to sleep with us. Muhammad, 4, woke me up at night to take him to the bathroom, because he's afraid of the settlers.
Location:
More on State-Backed Settler Violence