Feb. 2018: Ten settler attacks in Nablus District after fatal stabbing by Palestinian near settlement of Ariel
On the afternoon of 5 February 2018, near the settlement of Ariel, a Palestinian stabbed and killed Rabbi Itamar Ben Gal, 29, from the settlement of Har Bracha. Both settlements are in Nablus District. The incident sparked a series of retaliations by settlers throughout the West Bank and especially in the area of Nablus. Until the end of February, B'Tselem documented ten incidents in which settlers assaulted Palestinians in six locations south of Nablus. In two of the incidents, settlers injured Palestinians: on 5 February, a resident of Balata Refugee Camp was injured by a stone that settlers threw at his car on Route 60; on 21 February, settlers beat a shepherd on 'Einabus village land.
Assaults of this kind are commonplace in the West Bank, where Palestinians' daily lives are governed by a violent occupation. In many cases, Israeli security forces know of the attacks and even witness them from up close, yet stand by the perpetrators and do nothing to stop the assault or prevent it. In some instances, soldiers have even joined in the attack. After the fact, Israeli authorities seldom investigate the incidents; when the rare investigation is launched, it almost invariably ends with no further action taken against the perpetrators. This policy leaves Palestinians defenseless in the face of these assaults. The state's tacit consent allows for dispossession of Palestinians from many parts of the West Bank, as they cannot approach their land for fear of assault. As a result, the state is able to take over the land and its resources.
Following are the details of the incidents documented in February 2018. The testimonies were given to B'Tselem field researcher Salma a-Deb'i. Several of the incidents were also captured on video by B'Tselem volunteers.  
Huwara
On 5 February 2018, immediately after the killing of Rabbi Ben Gal, the military posted soldiers at checkpoints near Huwara and Za'atara, south of the city of Nablus, which are usually unstaffed. Dozens of settlers came to the area. They fanned out along the section of Route 60 that runs between Huwara and Za'atara and the Huwara-Jit road, and threw stones at Palestinian cars. Isma'il Abu 'Alfah, a 30-year-old resident of Balata Refugee Camp, was injured in the eye by a stone thrown at the car he and two friends were driving by in. Soldiers called for an ambulance that took him to Beilinson Hospital in Israel. He was discharged the next day with instructions for further treatment. Several cars were damaged by stones thrown by the settlers as they drove by.
In a testimony he gave on 14 February 2018, Isma'il Abu Alfah related:
Isma'il Abu 'Alfah. Photo by Salma a-Deb'i

On Monday, 5 February 2018, I was on my way home from Ramallah with two friends, Hassan Rashoud and Ahmad Saruji. We were in Hassan's car. At around 8:30 P.M. we were nearing the Huwara roundabout, south of Nablus, and were surprised to see dozens of soldiers and settlers near the checkpoint. The soldiers motioned us to stop about fifty meters from the roundabout. One of them said in Arabic: "Get out of here, there's trouble". Hassan turned around to head back, but then some settlers by the side of the road started throwing stones at us. A stone hit me in the left eye. I cried out in pain and started bleeding a lot. Hassan kept going until we got to the Yitzhar roundabout, where some soldiers stopped him. He told them what had happened. The soldiers looked at me through the windows, and then took me out of the car and had me lie on the ground. One of them bandaged my eye and told me to apply pressure to stop the bleeding. After a while, Red Crescent paramedics came and wanted to put me in their ambulance, but the soldiers said I would be taken to hospital in Israel. About half an hour later, a military ambulance drove up with four soldiers and they took me to Beilinson Hospital.
Burin
On 5 February 2018, at around 5:00 P.M., settlers from Har Bracha threw stones at the Ziban family's home in the nearby village of Burin, south of Nablus, and propelled burning tires at the house. Members of the family quickly ran out of the house and put out the flames. The incident was captured on a security camera that the family had installed after being subjected to repeated attacks by settlers.
Settlers entered Burin land three more times that month – on 9, 10 and 24 February – sometimes masked and at other times wielding iron bars, with soldiers accompanying them. Each time, the Palestinian residents tried to keep the settlers from entering the village. A confrontation then ensued in which soldiers used live fire and crowd control measures against the Palestinians; in one instance, on 24 February, causing a mild arm injury to a youth.
'Urif
On 9 February 2018, about fifteen settlers came to the lands of the village of 'Urif accompanied by soldiers. Some of the settlers were carrying metal bars, others threw stones at villagers. When the Palestinians tried to get them to leave, soldiers fired live ammunition and rubber-coated metal bullets at them, and threw teargas canisters at them.
'Asirah al-Qibliyah
On 14 February 2018, at around 5:00 A.M., Jawad and Huwaydah Shehadeh and their children were awakened by stones hitting their home on the southern outskirts of the village. One of the settlement outposts branching out from the settlement of Yitzhar was established nearby, and is separated from the village by a permanently-staffed military watchtower. After suffering repeated attacks by settlers, the family had the windows facing the settlement reinforced, but not the other windows in the house. Realizing they were under attack, the parents gathered their four children – the eldest is ten and the youngest seven months old – in the hallway and called neighbors and relatives for help. The settlers threw stones and smashed all the windows in the house, except those on the side that face south and are reinforced. The stones the settlers threw also pierced holes in the solar water tank on the roof.
Huwaydah Saleh-Shehadeh, 32, related what she and her family went through in a testimony she gave on 15 February 2018:
Two of the family's children, after the assault

Once we got the kids into the hallway, my husband asked me to call our relatives in the village, but my cellphone was in the bedroom and I was afraid to go back there. 'Adan, my four-year-old daughter, wanted me to stay with her. She was trembling and clinging to me. I called my brother Muaiad and my mother on the landline, because I know their numbers off by heart. Broken glass from the windows was crashing down all around us and the noise was so terrible, I thought the house was about to collapse on top of us.

After the assault, the children were afraid and wouldn't go to school. 'Adan wouldn't sleep in her room with her brothers and insisted on sleeping with us. Several times, I heard her talking in her sleep about soldiers and settlers. In the morning, she told me she'd dreamt that soldiers were pushing her and that she was scared. She refuses to be alone anywhere in the house now, even on the toilet, and clings to me.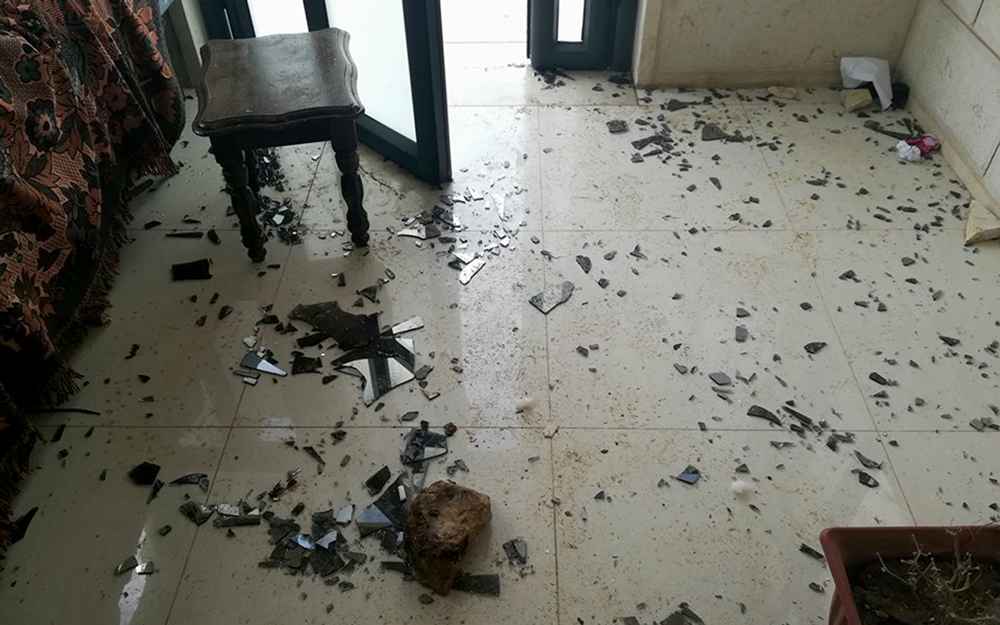 Za'atara
On 14 February 2018, at approximately 8:30 P.M., about eight settlers threw stones at Palestinian cars as they drove by Tapuach Checkpoint near the village of Za'atara, south of Nablus. There were women soldiers right beside them. 'Aead Zein a-Din, 53, a married taxi driver from the village of Majdal Bani Fadel, drove past with a friend on their way to Huwara.
In a testimony he gave on 20 February,'Aead Zein a-Din related:
We got to Tapuach Checkpoint near Za'atara and drove by the settlers' hitchhiking station to the right of the road. There were about eight settlers and several women soldiers there. One of the settlers threw a stone at us, which shattered the front windshield. The broken bits of glass went flying, scattering all over us. Luckily, we weren't injured. We were on our way to eat out at a restaurant and decided to keep going, because we were hungry and didn't want to go back home. Behind us was another car and its windshield was also broken, but I don't know whose it was. On the way home there were still settlers there, but they didn't do anything to us. The next morning, I went to have the damage assessed and found it would cost 550 shekels (~157 USD) to repair. I didn't have the money to fix it so now I'm out of work, because I can't drive the taxi.

I didn't file a complaint because it won't do any good. The attack was condoned by the army and there were soldiers there who did nothing to stop it. If the settlers had been afraid of the soldiers, they wouldn't have done it. If it was the other way around and I had been the one throwing stones, the soldiers would have shot me.
Yatma
On Thursday morning, 15 February 2018, three residents of the village of Yatma discovered that hate graffiti such as "Death to Arabs" and "Revenge" had been spray painted on their cars and the tires slashed.
Hisham Snobar, 48, a married father of eleven, related in a testimony he gave on 20 February 2018:
On Thursday morning, I was about to drive my son and his uncle to work collecting scrap metal in the village center. We went to the car and found graffiti in Hebrew sprayed on it and two of the tires slashed. I went and bought new tires for 650 shekels (~185 USD) a piece, went home and changed them.

At 11:00 A.M., people from the Israel police and COGAT [Coordination of Government Activities in the Territories] arrived along with a military jeep. They questioned me and also Walid, another resident who car was vandalized. 'Abdallah, the third resident whose car was vandalized, had already gone out of the village. They also watched the footage from a security camera installed on one of the houses, but it only shows the settlers' car, with an Israeli license plate, drive into the village at 3:30 A.M. and leave about 20 minutes later.

Thank God they only damaged cars and spray-paint graffiti and didn't burn us alive, like they did to the Dawabsheh family.
'Einabus
On 21 February 2018, at around 2:30 P.M., about 15 settlers approached 'Einabus village-land that is about four kilometers away from the settlement of Yitzhar. Zafer Rayan, 27, a village resident, was there, herding his flock of 110 sheep. Some of the settlers assaulted Rayan with stones and iron bars. Several settlers chased the sheep and stabbed them with knives. Rayan, who was alone at the time, ran towards the village to get help. He then returned and saw settlers killing several of his sheep. He and three village residents who came to his aid confronted the settlers, who eventually returned to Yitzhar. The village residents notified the Palestinian DCO of the attack. Soldiers then came to the scene amd questioned Rayan about the incident; a forensic team searched the spot for the items the settlers used in the assault.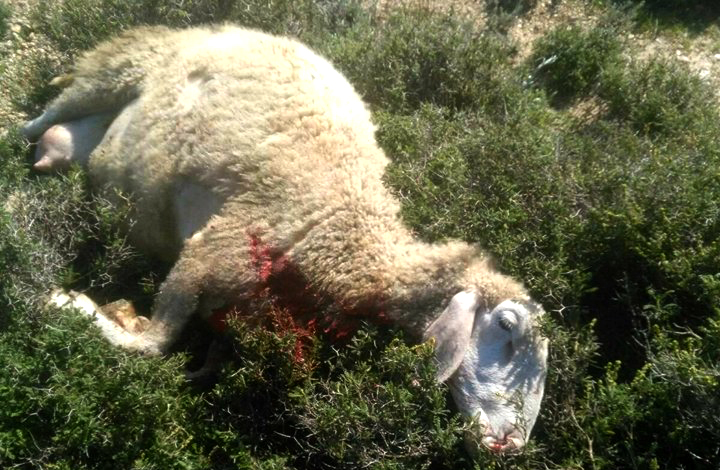 Rayan suffered pain in the head, neck, left wrist and right shoulder as a result of the beating by the settlers. He was taken to Rafidiyah Hospital in Nablus, where he was given first aid and examined. The settlers killed seven of his sheep and injured another seven, two of them so badly that village residents had to put them down. The others were treated by a vet. Other sheep fled during the attack towards the settlement of Yitzhar. Searches for them yielded nothing and Rayan suspects they were taken into the settlement.
In a testimony he gave on 21 February 2018 in Rafidiyah Hospital, Rayan related:
Zafer Rayan. Photo by Salma a-Deb'i

At around 2:30 P.M. I got a phone call from my friend Jawad al-Jabar, whose house overlooks the area where I was grazing my flock, warning me that there were settlers nearby. I looked towards the settlement and saw at least 15 settlers about 180 meters away from me. They were masked. Before I had time to gather my sheep and get out of there, one of them ran over to me very fast and hit me on the head with an iron pipe. Then he hit me a few more times. I ran towards the village to get a relative of mine, Yazan Hamad, to come and help me protect the sheep. I ran right back to the sheep and was shocked to see the settlers slaughtering them with knives. I lost it! The sheep were pregnant, very far along. I started shouting. Four or five settlers started throwing stones at me and tried to hit me with sticks. Meanwhile, Yazan showed up and started calling for help. The settlers moved back towards the settlement. I looked around and saw that many sheep were missing. I followed the settlers and saw that a lot of sheep had run towards the settlement. I think the settlers stole them.

Ya'akov, the settlement guard, who is known in these parts, drove up in a private jeep. There were several settlers with him. One of them said he was also a guard at the settlement. We got into an argument and in the end he said: "I'll shoot you unless you step back". I said: "Kill me now, I don't care. I want my sheep back and I won't leave without them. They stole my sheep after killing some of them." He ordered me to move back again, and when I refused he threatened again to shoot me.

Meanwhile, about 15 soldiers came from the direction of the settlement, as well as some residents from the village and police cars. The police officers took my testimony and looked at the slaughtered sheep. At that point, I began to feel dizzy and weak all over and then I lost consciousness. One of the residents drove me here, to Rafidiyah Hospital in Nablus. I was treated and they ran some tests, and I've been told I'll be discharged in several hours.

I'm still in shock. Sheep are very gentle creatures. Apart from the fact that they're my livelihood, I also love them very much and am attached to them. I'm very sad that they killed them so brutally, together with the unborn lambs.
Video filmed by B'Tselem's Camera Project volunteers
Location:
More on State-Backed Settler Violence