13 December 2018: Settlers supported by the military riot on West Bank roads and attack Palestinians
"The settlers have the army, the state and the law on their side to protect them. We don't have anyone. We're guilty even if we did nothing. We're always the guilty ones. It's really hard to feel that your life is in danger and your property is being destroyed in front of your eyes."

From the testimony of Hani Shurab, a resident of 'Awarta, 17 Dec. 2018
On the morning of December 13 2018, a Palestinian opened fire at a hitchhiking stop near the entrance to the settlement of Givat Assaf, east of Ramallah. He killed two soldiers and seriously injured another soldier and a woman.
Following the incident, large numbers of settlers set out to attack Palestinians, particularly in the Hebron and Nablus Districts. The attacks continued until the evening, with settlers throwing stones at moving cars. In one case, settlers beat a driver who got out of his car and attempted to escape. In another, settlers threw stones at an ambulance taking a patient home. B'Tselem investigated 10 incidents in which four people required medical treatment. 
These attacks were predictable, yet the security forces did nothing to prevent them. In half the incidents B'Tselem investigated, soldiers were present on the scene, but in most cases, they did nothing to prevent the settlers from attacking Palestinians and did not arrest any of them.
This behavior by the security forces was also predictable. Settler attacks on Palestinians, in the presence and under the protection of the security forces, have long since become routine throughout the West Bank. It is clear to Palestinians today that no-one will protect them and their property and that no-one will be held to account when they are attacked.
We present below descriptions of five of the incidents, together with the testimonies of Palestinians who were among those attacked:
Jordan Valley
Attack on the Az'ar family close to the village of Fasayil in the northern Jordan Valley
At about 8:30 P.M., fiIve members of the Az'ar family were traveling from Jericho to their home in the village of Qabalan in the Nablus District. Ibrahim Az'ar was driving the car, his wife Shiraz was sitting next to him, and in the back seat were their daughter Rital, 2, Ibrahim's sister Iman, who was two months pregnant, and her daughter Sima, aged 18 months. Ibrahim Az'ar had picked up the other passengers, who had just returned from a family visit in Jordan.
The family chose to take the Jordan Valley road (Route 4375) in the hope of avoiding the settler attacks. As they approached the village of Fasayil, a few meters from a military watchtower that is usually staffed and is equipped with security cameras, several settlers attacked the car with stones, shattering the front windshield and one of the rear windows. Fragments of glass penetrated Shiraz's eyes and she was treated at the clinic in Qabalan after they returned to the village.
In a testimony taken on 18 December 2018 by B'Tselem field researcher Salma a-Deb'i, Shiraz Az'ar, 32, married and mother of four, stated:
Shiraz Az'ar and her daughter Rital. Photo by Salma a-Deb'i, B'Tselem

At first, I thought that the people standing by the road were Palestinians who work in the settlements. As we got closer, I noticed that they were masked, and then they started to throw stones at us. One of the stones shattered the front windshield and I hollered in fear. I told my husband to drive quickly. I heard the stones hitting the car and felt that we were about to die, especially when the settlers chased after us after we'd passed them. Iman asked me to recite verses from the Quran and to trust in God. I was shaking with fear and cold, because the window had been broken and it was very windy. Small fragments of glass got in my eye and I felt stinging and a strong pain. I couldn't open my eye and lots of tears were coming out. When we got home, I left Rital with my sister and went to see the doctor at the village clinic. He cleaned my eye and gave me some liquid to rinse it with. I got home at about eleven o'clock and I couldn't sleep because I was so scared. I couldn't get the images of the attack out of my mind. It's like they found live prey to attack. I still panic when I think about it. On Saturday my husband went to Nablus to replace the front windshield. It cost us 700 shekels. The body of the car also need to be repaired, and that will cost us more money and take time.
Iman Az'ar, 25, married and mother of one, stated in her testimony:
Iman Az'ar. Photo by Salma a-Deb'i, B'Tselem, 18 Dec. 2018

I really didn't think that the people standing by the road were settlers. As we got closer, they ran toward us, throwing stones at us. I can't forget one of them. He was blond, tall and stout, and wore a blue jacket. He threw a big stone at us. I immediately put the two little girls sitting next to me down on the floor of the car. My sister-in-law shouted, "Ibrahim, hurry up, they're killing us"! I was too shocked to even speak. I just recited verses from the Quran and told Shiraz to do the same. My brother Ibrahim called out to me from the front a few times. After I calmed down, I told him, "Don't worry, we're okay". The settlers ran after us for a while after we passed them. I'm pregnant and I was scared that something might happen to the baby. I didn't think I'd get home in one piece. I still can't believe we're still alive. Bits of glass got in Shiraz's eye and she was crying in pain the whole time, but that's nothing compared to what would have happened if a stone had hit us directly. testimony:
Nablus District
Qassam Nazzal attacked on the Huwarah-Jit road (view video above):
The same morning, Qassam Nazzal, 21, a truck driver and resident of Qabatiya in the Nablus District, was driving from Ramallah to Tulkarm for his work at a poultry company in Ramallah. At about 11:00 A.M., Nazzal arrived at Huwarah Checkpoint and discovered that the military had closed the checkpoint to vehicles. He turned around and headed for the Huwarah intersection, where he took the road leading to the village of Jit, which passes close to the settlement of Yitzhar. As he neared the entrance to the settlement, Nazzal noticed about 20 settlers by the side of the road. A few soldiers and a military jeep were standing next to them. Some of the settlers began to throw stones at the truck. Nazzal filmed the attack on his cell phone, which he placed on the dashboard.
In a testimony taken on 17 December 2018 by B'Tselem field researcher Abdulkarim Sadi, Nazzal stated:
Qassam Nazzal. Photo by Abdulkarim Sadi, B'Tselem, 17 Dec. 2018

They threw more than 10 stones at me, breaking the front windshield and two windows on either side. Two stones entered the truck and one of them hit me on my left arm. I was lucky I wasn't hurt worse than that. I managed to stay calm and control the truck. The settlers attacked me in front of the soldiers, who stood there and didn't stop them throwing stones. One of the soldiers gestured to me to keep on driving and that was all.

I kept on driving until I got to my workplace in Ramallah. My managers suggested I go to hospital to get checked. At a-Zakat Hospital they x-rayed me and saw that nothing had been broken. I just had bruises. Those were some terrifying moments. It was really hard.
 
Hani Shurab attacked near the village of 'Awarta
At about 6:00 P.M., Hani Shurab was traveling with four workmates from a carpentry shop in Nablus to his home in the village of 'Awarta. When the five men arrived at a checkpoint at the entrance to 'Awarta, they found that the military had closed the gate. Four soldiers were standing at the gate, and two of them approached the car and ordered Shurab to turn off the engine and give them the keys. The soldiers ordered Shurab and his friends to get out of the car and wait by the side. Several minutes later, around 25-30 settlers appeared from among the olive trees by the road. Shurab's friends ran off, but he stayed because he was afraid to leave his car. The settlers threw stones at the car and at Shurab, hitting him in the head. The soldiers did nothing to protect him, jut throwing the car keys over to him several minute into the attack. Shurab managed to get in his car and flee the scene. He was later taken for treatment at Rafidia Hospital in Nablus, where the physicians stitched the wound in his head.
In a testimony taken on 17 December 2018 by B'Tselem field researcher Salma a-Deb'i, Shurab, 29, stated:
Hani Shurab in the hospital. Photo courtesy of the witness

When we saw the settlers, everyone ran off except for me. I stayed stuck there like a nail, because I was scared that the settlers would break the windows in my car or burn it. The settlers threw stones at me and my car. One of the stones hit me in the head, but I still stayed standing there. I just shouted out for help, hoping that the soldiers would take pity on me and get the settlers away. Only after 10 minutes or so the soldiers threw the car keys over to me from a distance of four or five meters. They didn't do anything to the settlers. I took the keys quickly, started the engine and drove away. The settlers chased me for a while, throwing stones at the car. After I drove a bit further, I found the guys who'd been in the car with me. My face was covered in blood by then from my injuries and all the windows in the car were broken. I stopped about a kilometer from the checkpoint and the guys got someone to give me a lift to Rafidia Hospital in Nablus. One of my friends drove my car to his house. They stitched my head and took x-rays. At eleven o'clock, one of my friends came and drove me home. By then it was quiet on the roads – the settlers had stopped rioting.

Last Saturday I went back to Nablus to replace the windows in my car. It cost me 4,000 shekels. It's hard for me to think about everything that happened – it was so cruel. I felt helpless to defend myself or my car. If I'd picked a stone off the ground the soldiers would've shot me. The settlers have the army, the state and the law on their side to protect them. We don't have anyone. We're guilty even if we did nothing. We're always the guilty ones. It's really hard to feel that your life is in danger and your property is being destroyed in front of your eyes. I'm paying for my car in installments and I'll have to keep paying for four years. It really hurt to see them destroying it in front of my eyes and not to be able to do anything about it. I haven't been able to sleep at night or work properly since the incident. The sight of the settlers running toward me, throwing stones at my car and at me, and the sound of the windows shattering are still stuck in my mind. I can't describe this feeling – whatever I say there aren't words to describe it.
 
Hebron District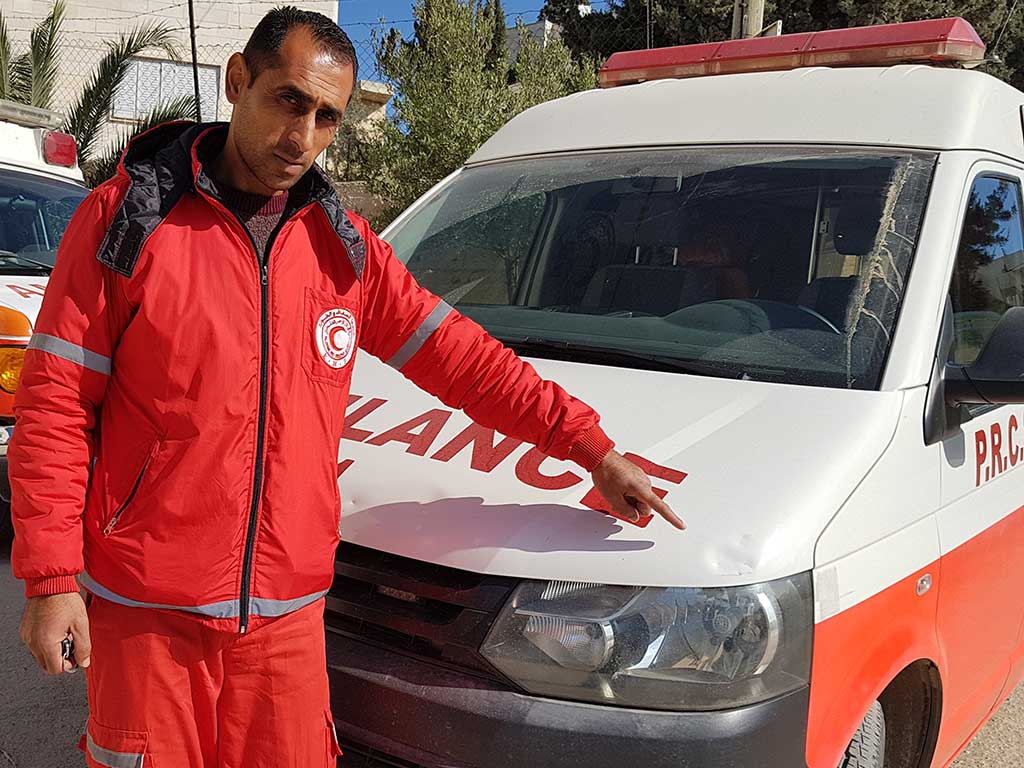 Ambulance carrying a patient attacked near Beit 'Einun:
At about 5:00 P.M., dozens of settlers threw stones at cars passing by the village of Beit 'Einun (the "Bypass Intersection"). A Red Crescent ambulance that drove through the area was hit by six stones. In the ambulance, along with the driver and another paramedic, were Ahmad Abu Khadrah, 37, a resident of Bani Na'im, and his wife and brother. The ambulance was taking Abu Khadrah home after a checkup at Nahariya Hospital, where he had undergone surgery a month earlier. 
Iyad Manasreh, 48, married and father of seven, a paramedic at the Red Crescent station in Bani Na'im, was driving the ambulance.
In a testimony taken on 18 December 2018 by B'Tselem field researcher Musa Abu Hashhash, Iyad Manasreh stated:
Ambulance driver Iyad Manasreh. Photo by Musa Abu Hashhash, B'Tselem, 18 Dec. 2018

At 5:20 P.M., we arrived at the intersection of Routes 60 and 35. I was surprised to see a group of around seven to nine settlers blocking the road, preventing Palestinian vehicles from crossing. They were throwing stones at the cars. Some of the cars in front of us stopped, while others turned around and tried to escape. The patient in my ambulance was groaning because of the pain in his leg.

I turned on the ambulance siren, stopped, and got out. I was sure that there must be soldiers there because of the riots and I wanted to speak with them. I was surprised to see that there weren't any soldiers in the area. I decided to get back in the ambulance. The settlers saw me and began to throw stones in my direction. Even after I got in the ambulance, they went on throwing stones at the vehicle. Some of the stones hit the body of the vehicle. Dozens more settlers arrived from the roadside. I saw Palestinians getting out of their cars and throwing stones toward the settlers to get them to back off, and they didn't come near the cars. I drove for a few dozen meters and then stopped. I waited for 15 minutes, hoping that soldiers would come and let us through, but it didn't happen. I decided to turn around and head back, particularly after the paramedic Bahaa told me that the patient's pain was getting worse. I took an alternative route along the road from Sa'ir to Bani Na'im. It was after seven o'clock by the time we reached the patient's home. Thank God nothing worse happened. Bahaa and I got home exhausted.
 
Ahmad Abu Khadrah also described the attack in a testimony taken on 18 December 2018 by B'Tselem field researcher Musa Abu Hashhash:
Ahmad Abu Khadrah. Photo by Musa Abu Hashhash, B'Tselem, 18 Dec. 2018

I was lying on a stretcher in the ambulance and I couldn't see what was going on outside. Suddenly, the ambulance stopped and I realized that the driver had gotten out. A bit later he came back and started backing up. I heard stones hitting the ambulance and I realized that the settlers were attacking us. It was a dangerous situation and I was tired, because we'd been traveling since the morning. My wife was really scared and was shaking with anxiety. I was afraid that the stones would come inside the ambulance and hit us. Those were terrifying moments. My leg was hurting by then and I was on edge, but I tried to calm my wife down because she was so scared. Then we took the alternative route through Sa'ir. There were lots of riots there, too, and I got even more stressed. We got home after seven o'clock. I was completely wiped out, but I was glad that we'd all got home safely.
Ayman Salhab attacked while driving on Route 60 with his workmate and his son, 18
At about 4:30 P.M., Ayman Salhab, a carpenter from Hebron who works in the Bethlehem area, was driving back to his home in the south of Hebron together with his son Muhammad, 18, and his workmate Faiz. The three men drove along Route 60 toward the "Bypass Intersection" near the village of Beit 'Einun. Other drivers warned them that the settlers were attacking cars at the intersection, but Salhab did not manage to turn around and escape because a truck was blocking the road about 150 meters from the intersection. He saw dozens of settlers along the road.
In a testimony taken on December 16 2018 by B'Tselem field researcher Musa Abu Hashhash, Salhab, 46, married and father of seven, explained why he did not manage to escape and how he was beaten by the settlers:
Ayman Salhab in the hospital. Photo by Manal al-Ja'bri, B'Tselem, 13 December 2018

There was an atmosphere of fear on the road. A lot of cars had stopped and begun to turn around and head north again. Unfortunately, there was a big truck in front of me that was blocking the road, so I couldn't turn around quickly. Before I managed to make a U turn, I saw in my mirror a group of settlers running toward my car. Some of them threw stones at the car, breaking the front and rear windshields. I panicked, got confused and tried to open the doors to get out of the car, but I didn't manage to, I guess because I was so stressed. The settlers had already reached the car and I had to get out quickly. My son and Faiz managed to get out and move away from the car. Eventually, I jumped out through the window on the left side, which was open, while stones were hitting the car. Before I managed to get away, five settlers came up to me and attacked me. They pushed me down on the road, hitting and kicking me. I stood up and fell down several times. Some more settlers came and attacked me too. Then soldiers came and shouted at the settlers, who backed away from me.

I seized the opportunity and ran to my car. The settlers began to run after me. I heard the soldiers shouting at them again. I got in the car quickly, and my son Muhammad and Faiz also came. We drove off and the settlers chased us, throwing stones at the car. They broke the two rear windows. In the mirror I could see that I was bleeding from several places on my face and I began to feel strong pain in my chest. All I wanted was to get to the nearest hospital. I drove against traffic, with my flashers on and honking my horn to signal the drivers that this was an emergency. I felt I was in bad shape. There was a lot of traffic along the way, because lots of drivers had fled and were panicking. After three kilometers, close to the a-Nabi Yunis Checkpoint, near Sa'ir and Halhul, I began to feel safer. I drove to al-Ahali Hospital in Hebron where they checked and x-rayed me. I had bruises on my upper back. I was released from the hospital the next day but I'm still fatigued and in pain.  I haven't gone back to work yet. I feel that I need to take a few days to rest. If the soldiers hadn't arrived, the settlers could have killed me.

 

Ayman Salhab in the hospital. Photo by Manal al-Ja'bri, B'Tselem, 13 December 2018
Location:
Related Media:
More on State-Backed Settler Violence