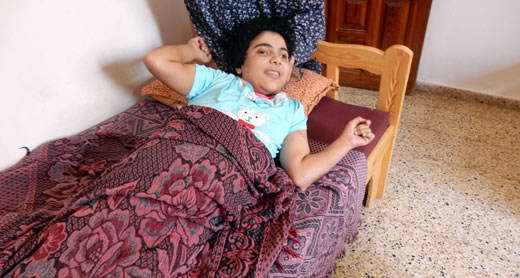 May Hamadah in her room at the hostel's new residence. Photo: Muhammad Sa'id, B'Tselem, 1 July 2015
I am a quadriplegic and have lived in a hostel for people with disabilities since childhood. I also have an ulcer. Last summer, our hostel was bombed. Two of my friends were killed in the bombing, 'Ula Washahi and Suha Abu Sa'dah. I was particularly close to 'Ula, who had cerebral palsy, because she could talk and not everyone here can.
I was injured in the attack and so were two of my friends, Sally Saker and Ahmad al-'Awour, and one of the care givers. I spent a few days in hospital with burns all over my body.
When I got better, my family took me home. I stayed with them for a few days. It was hard for them because of the regular care I need, in addition to the burn care. I also need special food because of the ulcer. The food I ate at home made me vomit blood and I had to go back to the hospital for a few more days because of it.
After the war, the charity that runs the hostel rented a warehouse in Gaza City and we were transferred there. Ahmad, who had injuries and burns all over his body, came back after he got better. Sally hasn't returned yet. I'm still waiting for her, but the care giver said that she was in bad shape and had been sent for treatment outside the Gaza Strip.
The warehouse was very small. There were no separate rooms and no kitchen. We stayed there for a month and then they moved us to a bigger house in Beit Lahiya. It has rooms and a kitchen. The charity gave us new beds, instead of the ones that were destroyed in the bombing. They divided us into rooms. My roommate now is Samira Mustafa, who has been paralyzed ever since she was wounded in the war in 2008.
The charity is trying to provide for all our needs in the new space. I loved our old building. It was larger and had a big garden with trees and flowers. They would take us out every day to sit in the garden. I also miss my friends 'Ula and Suha who were killed, and Sally. We lived together for many years and I was used to seeing them every day. I don't know why we deserved all that, and what my friends did that they deserved to die.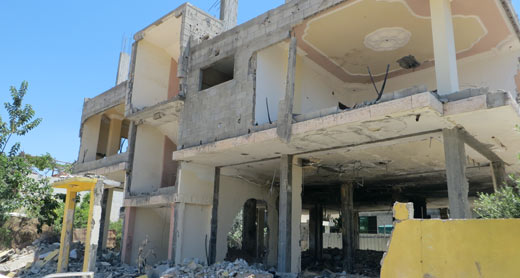 The hostel's ruins. Photo: Muhammad Sa'id, B'Tselem, 22 June 2015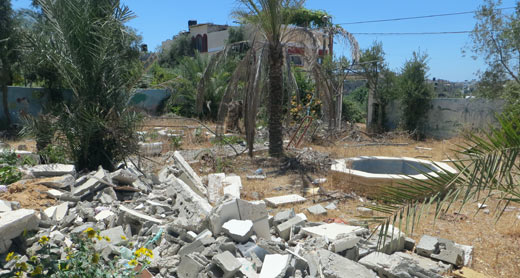 The hostel's garden. Photo: Muhammad Sa'id, B'Tselem, 22 June 2015
May Nahed Muhammad Hamadah, 32, lives in a special needs hostel. She gave her testimony to Muhammad Sa'id, with the aid of a care giver, in the hostel's current location in Beit Lahiya on 1 July 2015.