I retired from my position with the Palestinian Authority Ministry of Education in 2005. I live with my family in a three-room house in Beit Lahiya. We've lived here since 1964. We had a 0.5 hectare plot of land behind the house planted with orange, lemon and olive trees, and a few palm trees. Ever since I retired from the Ministry of Education, the crops have been our only source of income besides a small stipend. I worked the land every day, tending the trees, watering, picking the fruit and selling it. I spent most of my time taking care of the land – even more than I took care of my children. The crops brought in about 10,000 Jordanian dinars a year.
Last summer, the Israeli air force bombed the farmland in the area, including the plot behind our house, even before the war started. On the first day of the fighting, 8 July 2014, they bombed our plot again and many of the trees were destroyed. Our house was damaged too: cracks in the walls and broken windows and furniture.
My wife fled with my son and the grandchildren to her relatives in the a-Sheikh Radwan neighborhood in Gaza City. I stayed home with two of my children. We didn't feel comfortable moving into other people's homes and we were afraid that our belongings and our farming equipment, like the watering pumps, would get stolen. We also felt that there were no areas or houses that were safe and that it was better to stay home and die there and rather than anywhere else. At one point, we were forced to leave our home, but we came home two days later.
We were constantly on edge, waiting to die at any moment. There were bombings everywhere, on farmland and on houses, and they lasted for a long time. We heard about many people who were killed inside their homes when the homes collapsed on them. We recited prayers from the Quran all the time.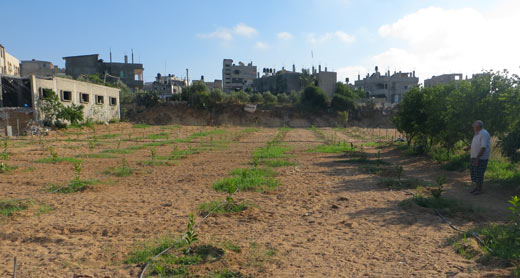 Muhammad Abu Halub in his newly planted orchard. Photo: Muhammad Sabah, B'Tselem, 26 June 2015
I looked out the window at my land and my trees that were destroyed and I felt pain and sorrow. If I plant new trees, it will take ten years until they get back to what they were before the bombing. Who knows if I'll still be alive then? What happened to my land and my trees is still very painful for me. I feel like they took some of my life away and I can no longer do what I loved doing. I preferred being around the trees than being with people. I loved the sweet fragrance of the trees, and their beauty. Taking care of them helped me pass the time. Emotionally, things have been hard for me since the war. I don't have the energy to go anywhere. When I worked the land, I worked hard. I went from tree to tree, and I had energy.
Nevertheless, even though it was hard for me, about two weeks ago I started planting a few citrus trees, and some olive trees and date palms. I went back to caring for the land, hoping the trees will grow. But it'll be many years before they bear fruit. It takes a lot of time and patience. I lost a lot of money, and I've been left without a source of livelihood. I look to the future with uncertainty and fear, fearing another war. I hope we'll be able to have stable, secure lives and that I'll get to pick fruit from my land, sell it and make a living from it again.
Muhammad 'Arafah Salem Ahmad Abu Halub, 79, lives in Beit Lahiya, the northern Gaza Strip. the He is married and has three children. His testimony was collected at his home by Muhammad Sabah on 28 June 2015.