My name is May Hamadah. I was born in the a-Tufah neighborhood in Gaza, but since 1994 I've lived in a hostel for people with disabilities run by the "Mabrat Falastin" organization in Beit Lahiya. I am a quadriplegic. The hostel is my only home.
The hostel is on the ground floor of a two-story building. The second floor is empty. The hostel has seven rooms and a big hall. Outside the building there is a garden with olive and palm trees. On Saturday, 12 July 2014, we woke up early, like we do every day during Ramadan. We ate the suhoor meal together, which marks the beginning of fasting for the day. There were five of us there that morning, because on weekends some of the hostel residents visit their families. Our caregiver, Salwa Abu al-Qumsan, was with us too.
We heard the Muazzin call out and prepared for prayer. It was about 4:30 A.M. Suddenly, there was a loud explosion. Everything shook and the walls collapsed. The hostel filled with dust and smoke.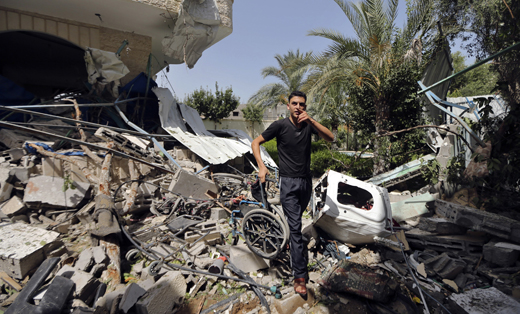 Palestinian carries a damaged wheelchair as he walks amidst the debris of a hostel for people with disabilities, bombed on 12 July 2014. Photo: Muhammad Salef, Reuters
It took me a few minutes to come around and understand what had happened. The dust and smoke dispersed a bit, and I could see. The hostel was completely destroyed. There were broken things everywhere. I checked myself and discovered I was wounded in my head, abdomen and legs . I saw my friends 'Ula and Suha lying on the floor next to me. They weren't moving. They looked terrible. I knew right away that they'd been killed. The missile hit the roof and entered the hostel from the top floor.
After a few minutes, an ambulance came and took me to hospital. As they were taking me away, I saw that two other residents had been injured and Salwa, our caregiver, was suffering from burns. In hospital, people who came to visit told me that about seven minutes before the hostel was bombed, neighbors heard warning missiles. We heard nothing inside the hostel. Even if we had heard the warning, we wouldn't have been able to do anything, because we're all severely handicapped and none of us can move without help. Salwa wouldn't have been able to get us out of there by herself.
Besides, we never imagined they would bomb a hostel for the disabled. Didn't they know what was in there? I can't understand why they bombed us and killed my two friends. Even so, I think we were lucky. It could have been much worse. Luckily, the bombing happened on a Saturday, when many of the residents go to their families, so only five of us were there instead of nineteen. I don't want to imagine what would have happened if we were all there. I'm still in hospital, along with two friends from the hostel and our caregiver.
May Nahed Muhammad Hamadah, 31, lives in a special needs hostel in Beit Lahiya, in the northern Gaza Strip. She gave her testimony by phone to Musa Abu Hashhash, B'Tselem's field researcher in Hebron, on 16 July 2014.
Two hostel residents were killed in the bombing: Ula Washahi, 30, who suffered from cerebral palsy, and Suha Abu Sa'dah, 47, who suffered from an intellectual disability. Three residents and a care giver were injured: Sally Saker , 19, Ahmad al-Aawar , 25, May Hamadah, 31, and Salwa Abu al-Qumsan, 55.
Concerning testimonies about the "Protective Edge" campaign:
With the current military campaign ongoing, B'Tselem is taking testimony from Gaza residents, mainly by telephone. B'Tselem verifies, to the best of its ability, the reliability and precision of the information reported; nevertheless, in these circumstances, reports may be incomplete or contain errors. Given the urgency of informing the public about events in Gaza, B'Tselem has decided to publish the information now available. When the military campaign ends, B'Tselem will supplement these reports as needed.