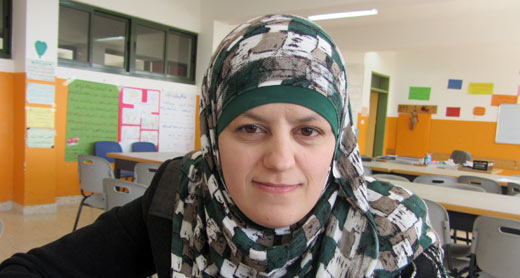 Faten Nawabit in her classroom. Photo: Iyad Hadad, B'Tselem, 1 April 2014
My family is from the village of Rantis. I was born in Kuwait because my father worked there, but we moved back to Rantis in 1996. After high school I went to study geography at Birzeit University. I finished my BA in geography in Birzeit in 2006 and went straight into teacher's college. I received my teaching diploma in 2008. I did a Master's degree in geography in Birzeit and finished in 2010. Between 2006 and 2010, I worked for the Palestinian Central Bureau of Statistics census. Then I worked at the a-Rantisi high school for girls. In 2012, I married Saleh Nawabit from Burqah. As is our custom, I went to live with my husband in his village, though I didn't like being far from my family. It is usually quite complicated for teachers to transfer to a different school, and it sometimes takes the Ministry of Education two years to approve an application. Luckily, my sister was teaching in Burqah, so we traded jobs. She agreed to the trade mostly because she was single and had no commitments.
The move to Burqah was difficult for me. I felt estranged because I was far from my family in Rantis. The distance between Burqah and Rantis is about 60 kilometers, and to go to Rantis, I have to switch buses. The trip to Ramallah, which takes you through seven villages, takes about an hour and costs 6 shekels (approx. 1.5 US dollars). If there are checkpoints on the way, it takes longer. From Ramallah, I take a bus to Rantis, and that also takes an hour. The bus is sometimes detained at the 'Atara checkpoint. It's a difficult trip, so I visit my parents only once a month. It's harder for them to come to me, so they only come here once every three months. I miss them and talk to them on the phone or online almost every day. It helps, but it obviously doesn't make up for the need to see them and hug them.
I don't really make an effort to have a social life in the village. I prefer to spend my time with my 6-month-old baby, Nuran and with my husband. We visit my in-laws, who live below us, once a day. When I go to work, I leave the baby with them. My mother-in-law takes good care of my daughter and I don't think she finds it a burden. On the contrary, I think she's happy because she's her first granddaughter. Luckily, our house is close to the school, so I come home every day at 1:30 PM. I've weaned my baby, so I make her a bottle before I leave the house. When I get home from work, I start on the housework – cleaning, cooking, laundry. I feel that my work at the school is a big load on top of the work I do at home. I also bring my students' tests and papers home to mark. I feel guilty because I can't give my baby the care she deserves. My husband is compassionate. He understands me and helps me. Though I have a lot of responsibilities, I'm better off than other mothers who have three or five children. I think in the future, when we have three more children, it'll be harder. No one knows what the future holds, especially because our life isn't politically, socially or financially stable.
My husband doesn't have a permanent job. He works in the Statistics Department. When there are projects, he works. When there aren't any, he sits at home. He makes 1,700 NIS a month (approx. 450 US dollars) and I make 2,800 NIS (approx. 740 US dollars), because I have a Master's degree. For now, the pay is enough for our needs and expenses, but we can hardly put any money aside to buy a car, or build our own house. After we save enough money, I want to buy a car so I can go visit my parents in Rantis without having to suffer public transportation.
Even if we save money to buy our own house, like any other family, we won't be able to build. My husband's family does own 8 hectares of land, but it's inside or near the Kochav Ya'akov settlement and we are not allowed to go there. My husband's parents have their deeds to the land. Because of the land shortage, Burqah is very crowded. All you see is houses and buildings, because the master plan doesn't allow for expansion. People build and live one on top of the other. There are no public spaces, parks or sports fields. The roads in the village are narrow, and some aren't wide enough for two cars. Land is very expensive in the village, up to 70,000 or 80,000 Jordanian dinars (about 112,000 US dollars) per 0.1 hectare. In my family's village, Rantis, the price is much lower, about 10,000-12,000 (almost 17,000 US dollars) dinars per 0.1 hectare.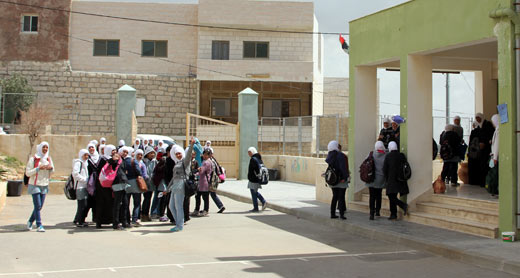 Students at Burqah's girls high school. Photo: B'Tselem, 30 March 2014
I teach sociology 20 hours a week at the Burqah high school for girls. The school has 300 students and 13 full-time teachers. It's a large school and it has facilities and sports fields. Parents in the village don't encourage girls to continue their education after high school, and the girls themselves aren't really interested. Most of them learn how to sew, or already work in sewing with their mothers. They mostly make dresses. Some girls just want to finish high school and get married, and some are willing to get married even before they graduate, even if it harms their future. They don't think it worth it to go to university and work. Some of the boys in the village also get married at a young age, around twenty. All this is happening even though the quality of education at this school is high compared to other schools in the area. The number of graduates with a high-school certificate in our school is particularly high, both in sciences and in humanities. Girls who specialize in science study in the boys' school, because it's not offered at our school.
I feel that the fear from the settlers has a huge impact on the students. They're afraid of being attacked at night, and they're scared to go on short trips during the day as well, because settlers have often attacked village residents and damaged their crops and property. They also torched the mosque and cars, and sprayed "price tag" graffiti on walls. Yesterday we found out that settlers attacked a shepherd named Ashraf Nawabit. He was badly injured in the head and hands. The girls don't feel secure because the settlers can attack at any given moment, and there is no one to protect the residents. The police station is also far away – in Ramallah. I've noticed that the occupation and the settlers are the main topic of concern in every activity and event that my students are involved in. When they write poetry, it's always about the occupation. Their drawings show settlers killing Palestinians or soldiers arresting and killing Palestinians.
The settlements surround the village from all sides and the settlers constantly harass the residents. Because of the settlers, the army closed the old Burqah road that connected the village to Ramallah. It only took five minutes to get to Ramallah back then. Everyone here hopes for a future where they can use the old road again, get their land back and have security and stability again.
Many of the young people talk about immigrating, especially to the USA, because people from the village have immigrated there. They can't find work here, pay is low, and it's frustrating and depressing. Although my financial situation is good compared to others, I also sometimes think about emigrating from here, and hope I get a chance to move to the Gulf States. I want to live like other people, build a home, or buy a car or some land, so I can at least go for walks. I go on excursions with the school on rare occasions. In February, we went on a trip to Jericho and Ramallah. My wish is to see the Mediterranean Sea. I've never seen it, or the Dead Sea. I haven't gone to Ramallah just for fun ever since I got married. When I visit my parents, I don't have time to go into the city, because it takes a long time to get to Rantis. My friends warned me that when I have more children, I won't be able to visit my parents at all anymore.
Faten Abd al-Hadi Yusef Nawabit, 31, a married mother of one, is a high school teacher and a resident of Burqah in the Ramallah District. She gave her testimony to Iyad Hadad on 1 April 2014 in Burqah.