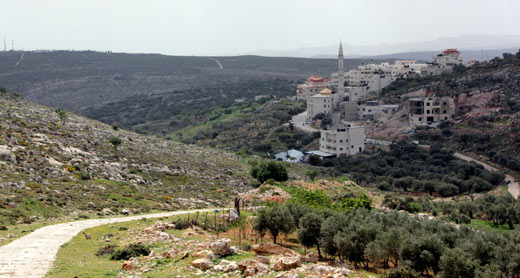 View of the village of Burqah. Photo: B'Tselem
I was born in Burqah in 1914. If memory serves, I was born here and lived here under Turkish, British, Jordanian, Israeli and Palestinian rules. Throughout my life I traveled to Jordan, Syria and Lebanon and I lived in Europe and the United States for many years. For the past 12 years I've been living as a retiree in the village, and after having traveled the world, I can now hardly go to the Mosque or a neighbor's house. Sometimes I visit my sons in the States, just for a change of scenery, and then I come back. My most recent visit was four months ago. I went to New Jersey and spend seventy days there.
Our story with the occupation is nothing new. We've been under occupation since the days of Turkish rule. I don't remember those days, but I'd heard from the old people that the Turkish ruled very brutally, no less than the British and the Israelis. In those days, people made their living as shepherds and farmers. My father had lots of land. I don't know exactly how much, but many hectares. When I grew up, I worked with him in the fields. My father wasn't a shepherd, but we had sheep, mostly for food, and donkeys for riding.
I got married when I was twenty. My wife and I had four children. They've all passed away except for one daughter who lives in the village. About ten years after I married my first wife, I left her and married another woman, for family reasons. My second wife and I had seven sons and one daughter.
Our life was simple and we made do with little. Our land gave us enough for our needs, and then some. In the 1950s, after the British left and Jordan started ruling, our lives changed. Needs grew, and the working the land didn't yield enough to help our children build a future and a family, so I got into the olive oil business. I used to go to Jordan, Syria and Lebanon. I remember days when I left the house before dawn, and reached Beirut at dusk. In those days, a lot of people from the village traded with people from Beirut. We made a good living. I used to collect our oil, and I'd also buy oil from other people, load it all on a truck and take it to Beirut. We felt safe in those days. People weren't afraid of anything, even if they slept out on the street. No one asked you where you were going or what you were doing. People worked together, took care of each other. People helped each other out more. People in the village didn't feel like strangers, they'd greet one another on the street.
After Israel took control of the West Bank in 1967, the roads were closed. If you wanted to go to Amman you had to apply for a permit. The occupation made our world smaller. Trade suffered, and we ended up being pushed aside, marginalized. I had no choice, so I followed by brother Ibrahim to the States. I'd heard there were jobs opportunities there, and that life was comfortable. Ibrahim helped me prepare the immigration papers and I joined him in the early 1970s. I started working with him in restaurants, and we made a good living. We worked around the clock because we were paid by the hour, and I started sending money to my family every month.
Later on, I decided to bring my family over. I prepared immigration papers for everyone and they left, got married, and got into business. They're doing very well now, and make a good living.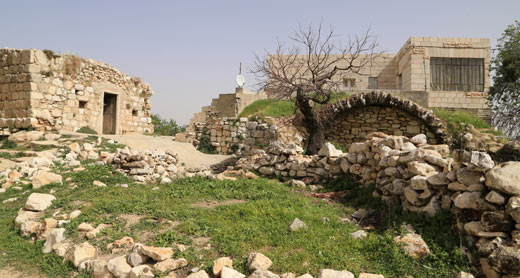 Remains of Ottoman-era homes in the center of the village, Al-'Alali Group. Photo: Sharon Azran, B'Tselem, 6 March 2014.
Even though I immigrated to the States, I didn't forget my land. I couldn't leave the States my first ten years there, because there was a delay with my American citizenship. In those years, I either leased the land, or hired farmhands from the village to work there. I'd also come back once every two years and tend to the land myself, so Israel wouldn't take it over, claiming it was abandoned. The village is now surrounded by settlements from all sides. To the east, there's Migron and Route 60. To the west, Psagot. To the North Givat Asaf, Beit El and the bypass road, and to the south, Kochav Ya'akov. The village has nowhere to grow, not for farming, not for herding, not even for building.
My land took a serious hit.
I have more than two hectares of uncultivated land west of the Migron outpost. Over the last ten years, I can go there only during the plowing season and the olive harvest, with coordination with the DCO. But because this land isn't suitable for farming, we don't go there. If the land was accessible, we might try to turn it into arable land, or at least, go for walks there. It's enough to see the land to feel good.
I own another half hectare or so south of Migron and that plot is completely isolated. The settlers don't let anyone come near that area, and if anyone does, they hurt them, or their trees and crops. I used to grow wheat and barley there and there was a good yield, but we had to abandon this land, and it's now ruined, full of weeds and wild animals.
Another plot, about one hectare in size, is located between our village and Kochav Ya'akov, right by the settlement's fence. I haven't gone there in twenty years, because the settlers drive us away whenever we go there. Once, when I went to plow that land, a settler attacked my mule, throwing a stone at it. The mule was startled and almost ran off. I called out to the man: "Why are you doing this? What have I done to you? We're minding our own business. Leave us alone". He answered, in broken Arabic: "So that you leave this land, so you don't farm it, so it goes to ruin. This is not your land. It's our land". There was someone there, probably the settlement's security guard, who came and got him away from us, otherwise he would have attacked us. We haven't been back to that plot since and haven't cultivated it. I don't know what's come of it.
There's a fourth plot, about a third of a hectare, in the Ibn Barec bloc, on the old road to the village. Ever since the Givat Asaf outpost was built, our access to this land has grown more and more restricted. The land is about 200 meters away from the outpost and about one kilometer away from the village. We had a fenced-in olive grove there, but the settlers drove us out, chopped down our trees, ripped out the barbed wire and destroyed the fences. They also harmed nearby farming plots, like Nizam Ma'tan's plot. They've been trying to put up more pre-fab homes near my land, to expand the outpost and even though the police evacuates them, they come back.
During last year's olive harvest, in October, settlers assaulted olive grove owners who had come to harvest olives after coordinating their arrival with the Israeli military. There was a farmhand with them who was working for me because I was in the States. The settlers attacked them. They tried to beat them and steal the olives, but the Israeli military and police stepped in and intervened. Now that land is in ruins because we don't tend to it and the trees are drying up. The trees need tending year-round: pruning, fertilizing, weeding, cleaning, but we can't do it. I'm afraid I'm going to lose that land.
A fifth plot, just over a hectare, is located across from the Givat Asaf junction. I made this land arable a long time ago and grew wheat and barley there. It used to produce ten to twenty sacs of grain every season, but we can't get there anymore because of the outpost and the bypass road between us and Beit El.
Frankly, Israel left us with nothing, and it keeps taking the land away little by little, preventing us from reaching it, or attacking us when we do. We can only get to our beds. Where can we go? Life is pointless in this place. I swear to God I'm sorry I ever came back from the States. Life here is miserable, exhausting and hard, and it's not just because of the settlers. The military closed the road that connected our community to the rest of the world, and we became caged in. The only way out is closed. If we want to go to Ramallah to run some errands, or get treatment, we'd have to drive through seven or eight villages.
Our community has become a ghost town, with no traffic, trade or tourists, because the roads were closured. There are no jobs in the village, and you see old people like me and young unemployed people sitting at home or running around outside.
We only have one medical clinic, with one doctor who works twice a week. There's no pharmacy, so if the doctor prescribes medication, we have to go to the village of Deir Dobwan or to Ramallah to get it.
Life is easy in the States, but I come here because I love my land, and I miss it. When I'm there, I miss the village and the people. In the States, everyone is busy with their own things, but here, you sit, you visit people, and you enjoy the good that's still left. I wish Israel and the settlers would make things easier for us.
Salem Mahmoud 'Afaneh Ma'tan, 100, married and father of 12, is a resident of the village of Burqah, Ramallah District. Testimony taken by Iyad Hadad on 21 January 2014 in Burqah.