I live in Burqah. We are a family of ten: my parents, three sons and five daughters. My father is an educated man. He has a Master's degree in engineering and he values education, so he made a real effort to enable us to study. I have two sisters who went to university in Abu Dis and Birzeit. They've graduated and gotten married. At present, one of my brothers and I are at a-Najah University. My other two brothers are also students: one is studying in Lybia and the other in Egypt.
I'm a third-year student at the Commerce and Economics Department. I wanted to study nursing, but my grades weren't good enough so I wasn't accepted.
I had a hard time at first getting used to studying in Nablus. The teaching style is very different from high school, there are more demands and the courses are given in English. It's also hard for me to get to university and the distance from the family is hard too. To get to university, I first have to go to Ramallah and from there to Nablus. The trip from the village to Ramallah is tiring and expensive. You have to go through several villages, like Deir Dobwan, Beitin, 'Ein Yabrud, Dura al-Qar', al-Jalazun, al-Birah and Ramallah. It's a winding road that takes about 45 minutes and costs NIS 6 to 8 [approx. USD 2.3]. The old road to Ramallah was 5 kilometers long and the trip was very quick. Now it costs NIS 6-8 [approx. USD 2.3] just to get to Ramallah.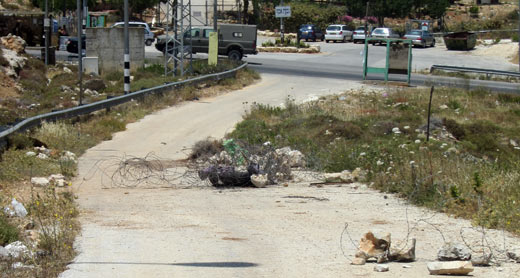 Exit from Burqah to Route 60, by Giv'at Asaf outpost. Road built to reach village lands, but exit blocked since 2001. Photo: 8 June 2014, Naama Baumgarten-Sharon, B'Tselem 
And then there's the road from Ramallah to Nablus, which is 55 kilometers long and costs NIS 17 [approx. USD 14.7]. So, if I had to travel from home to university every day it would take me at least two hours each way and cost about NIS 50 a day, not to mention other expenses. I'd have to leave very early and come home late. As a woman, it's very hard and I can't do it.
So, I decided to take up my father's offer of going to live near the university. It raises the overall cost of education, adding payments for dorms, living expenses, food and drink. It all comes to about NIS 1,500 [approx. USD 470] a month, on top of the NIS 5,000 [approx. USD 1,470] tuition for a four-month semester. These are major expenses given our general standard of living, especially considering that my father is paying for four students in different universities. It costs him about NIS 14,000 NIS [approx. USD 4,100] a month. That's a huge financial burden. We get scholarships and loans from the universities, and my father makes a relatively good living. Because of the distance, I go home only once a week. I feel cut off and I constantly worry about my family and I miss them, even though we keep in touch all the time. When my brother, Shifa', who is 19, came here to study at the university, it made things much easier for me, even though he lives in the male dorm and I live in the female dorm. When I go back to university from home, I'm often late for class because of the checkpoints on the way, like the Za'tara checkpoint, the Huwarah checkpoint near Nablus, and also flying checkpoints that are put up on the way from the village and Ramallah, near the entrance to Beitin. I often have to use other people's notes to catch up on my studies. Sometimes, the military completely blocks some of the roads, and then you have to take other roads, which are even longer and more tiring, and they have parts that are physically difficult to get across. Sometimes settlers block the roads and throw stones. When I hear that there's stone throwing like that on the road, I prefer to put off going.
Settlers attack inside the village too. Last year they torched the big mosque and spray-painted offensive slogans. My own family has not been spared these attacks. In September 2011, when I was in my first year at university, settlers torched two cars belonging to my father and spray-painted "death to the Arabs" on our house. Settlers have also chopped down olive trees and other crops that belong to neighbors and relatives. During last year's olive harvest, while I was working in the grove with my father, settlers tried to attack him and some other farmers. They kicked us off our land. They were armed and masked. The olive harvest is a special time for us. The whole family, including the little children, works together and it give us great pleasure so that it's something we really look forward to. But the fear from settler attacks spoils things. It's a constant threat, especially in the areas close to the settlements.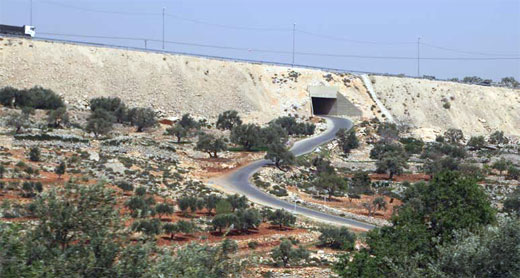 Top: Route 60 cuts across olive grove in Burqah. Bottom: Alternate route Burqah residents must take. Photo: Sharon Azran, B'Tselem, 6 March 2014.
Our family has olive groves on a 1.7 hectare-plot of land near [the settlement outpost of] Givat Assaf and we can't reach them. To get there, we need to get security coordination because settlers are there all the time and they attack anyone who comes close. When the course for Route 60 was altered in 1996, the military seized a hectare of our land, where there were groves of mature olive trees.
I'm very worried about my future after I finish my studies. Things are unstable here, and our village is particularly bad. I have no opportunities both compared to other female students my age in other areas, and also compared to male students here. I'm afraid I won't find work and I'll just sit at home. Our village is isolated and there's no economic or commercial activity here. Ever since the old road has been closed down, the village is far from the urban center in Ramallah. People in the village are unemployed and there are no job opportunities. It's frustrating and discouraging, especially because of all the effort that goes into studying, and the cost. In the harsh reality of our lives here in Burqah, it is all in vain.
The village has next to no resources and there aren't even any social activities. There are no facilities for youth and there's no way to just let your hair down for a bit. There are no areas for public parks, playgrounds or facilities and clubs. There is only a very limited area designated for construction. We're completely surrounded by settlements.
Most of the land in the village is considered Area C, so we can't build on it because it's under Israeli control. We don't even have anywhere to go for walks, to just get a breath of fresh air. There are no possibilities for going on vacation. It doesn't really matter since I can't even think about that when I'm so busy with school, and with the stress of the occupation. Every weekend I go home to rest a little and see my family. People here in the village, including me and other young women, are always stressed and tense.
Because the village is isolated, people have grown tired of one another and don't get together often. People just barely get by and they're all busy trying to make a living. We don't have the freedom to do as we please like other people do. There's no financial, social or even medical security. People here devote their whole lives to providing for their families and avoiding reliance on the kindness of others. I'm very lucky that my father can pay for my education. Most of the girls in my grade in high school now sit at home, or else they've already gotten married and didn't get a chance to study like me.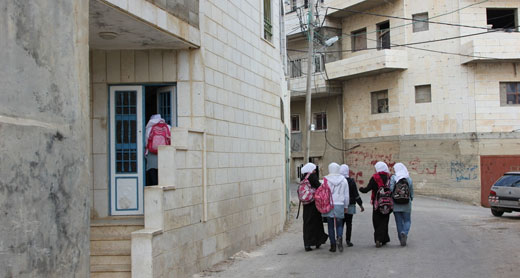 Burqah high school students. Photo: Osnat Skoblinski, B'Tselem, 30 March 2014. 
But even girls who do study end up sitting at home or getting married. Only a few manage to get jobs – usually the only option is teaching. There's no work in other professions like engineering, commerce and industry, or any other area, and girls have even less opportunities than boys. Our culture doesn't allow girls to work in these professions, especially in professions like law and medicine. Some girls finished their studies and now they sit at home and sew and embroider traditional clothes. This is a very common and accepted practice in the village. It helps by adding a bit of income, but it's not a real, suitable alternative to working in their area of expertise, or in an area they'd like to work in. It doesn't pay much either. It takes months, sometimes a year, to embroider a dress, and in the end you get just NIS 2,000 to 3,000 [approx. USD 590-880].
We feel like the occupation follows us wherever we go. My father bought a plot of land in Jericho. He put up a fence around it and built a small house, so we could go there for vacations. Last year, the military demolished the house and the fence, saying they had been built in Area C without a permit. They took away our only get away. We think a thousand times before we build, go on vacation, study, work, trade, or grow crops. It's not because of laziness, or inability. It's because of concerns about the obstacles, about harassment and attacks by the Israeli military or by settlers. It's as if we live in a big prison as a result of the restrictions imposed on us, except it doesn't have walls or barbed wire fences to hold us in. It's a prison, with invisible walls.
Lana Kan'an, 21, is a student at a-Najah University in Nablus. She is a resident of Burqah, Ramallah District. Her testimony was taken by Iyad Hadad on 21 March 2014 in Burqah.