On the morning of Thursday, 7 April 2016, Civil Administration (CA) and military forces began extensive demolitions in six Palestinian communities across the West Bank. Five of these communities lie within the jurisdiction of the Ma'ale Adumim settlement, northeast of Jerusalem. The sixth, Khirbet Tana, is located in the Jordan Valley, not far from Beit Furik. Authorities demolished nearly all structures in that community. All told, authorities demolished 34 structures, including 19 dwellings, 12 livestock pens, and three entrances to cave dwellings, leaving 112 people homeless, including 55 minors.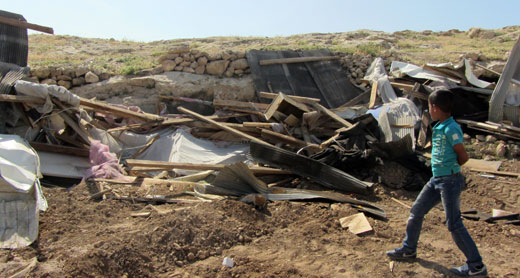 Ruins of structure demolished by authorities, Bir al-Maskub. Photo by Mus'ab 'Abbas, B'Tselem, 7 April 2016
In the Ma'ale Adumim area, authorities carried out demolitions in the following communities: Khan al-Ahmar School, Abu Falah, al-Mehtiwish, Bir al-Maskub A and Bir al-Maskub B. The CA and the military demolished a total of seven dwellings and a livestock pen in these communities, leaving 53 people homeless, including 30 minors. Later, authorities moved on to the village of a-Za'ayem, where they demolished two livestock pens.
In the Jordan Valley, authorities returned once more to the community of Khirbet Tana, demolishing almost all structures there: Twelve dwellings that were home to 59 people, including 25 minors, as well as 11 livestock pens and three entrances to caves used as dwellings. The forces also confiscated three water cisterns and two vehicles. This is the fourth time since February 2016 that authorities have demolished structures in this community, which lies within an area that the military declared a firing zone in the 1970s. 
These latest actions are part of a demolition campaign Israeli authorities launched early this year. Since January 2016, authorities have demolished 147 dwellings and 150 structures of other kinds in Palestinian communities facing expulsion in Area C, leaving 563 persons homeless, including 305 minors.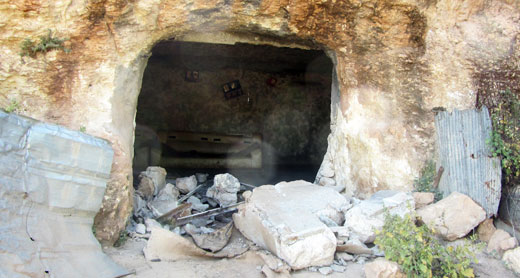 Demolished entrance to cave dwelling in Khirbet Tana, Jordan Valley. Photo by Abdulkarim Sadi, B'Tselem, 7 April 2016