On Monday, 5 July 2021, at around 10:30 P.M., sisters Rima and Iman a-Talhami were on their way home from the dentist. Rima (41), a mother of five, is a resident of East Jerusalem, and Iman (43), a mother of six, lives in the a-Salaimeh neighborhood in central Hebron. The two women were driving in Rima's car, which has Israeli license plates, to Iman's house. When they reached Checkpoint 160, which the military erected about 200 meters from Iman's house, two Border Police officers stationed there refused to open the gate and let them through, without offering any explanation.
The two women called Iman's son Muhammad (22), to come and translate for the police officer. Yet even then, the officers refused to let them through, tried to forcibly snatch the car keys from them and hit Muhammad. Two settlers who came to the checkpoint attacked Iman, who was later taken to hospital. The officers did nothing to prevent the settlers from harming her.
This incident is no exception. Hebron is laden with military checkpoints, which Palestinians depend on the goodwill of soldiers and police to cross. This violent routine is all too familiar to Palestinians in Hebron and throughout the West Bank.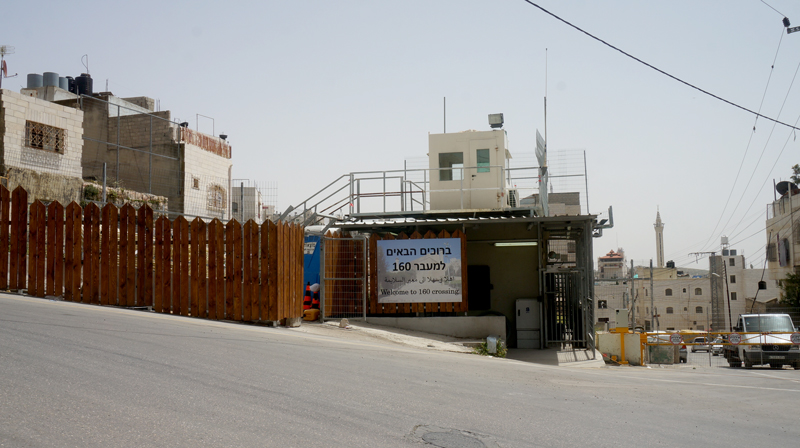 In a testimony she gave B'Tselem field researcher Manal al-Ja'bari on 8 July 2021, Rima a-Talhami recounted what happened that day:
On 5 July 2021, at around 10:30 P.M., my sister Iman and I arrived at Checkpoint 160. We were on the way back to her house after going to the dentist in town. When we got to the checkpoint, I stopped at the gate and waited for them to open the gate for vehicles. Two Border Police officers were standing next to it, and one of them was talking to two Israeli girls who looked about 18. I asked the officer to open the gate so I could drive through. I showed him my Israeli ID card. He refused to open the gate. I told him that I always cross the checkpoint with my car, and he answered in Arabic mixed with Hebrew that he didn't feel like letting me through this time. I replied that I wouldn't move until he opened the gate. I called my nephew Muhammad and asked him to come to the checkpoint and talk to the officers because he knows Hebrew.

Muhammad arrived within a few minutes and spoke with the Border Police officer, but he still wouldn't let me through with the car. After we waited there for about half an hour, another car with a young Palestinian driver arrived and he offered to drive my car through the checkpoint. I gave him the keys and he got in the car, parked it by the roadside [on the other side of the checkpoint] and handed me the keys. The officer immediately tried to snatch the keys from my hand. I put them in my pocket and he tried to take them out, but I wouldn't let him. I told him that if he wanted to search me, he had to get a female officer. Muhammad explained it to him in Hebrew, and then the officers attacked him.

During the argument over the keys, two settlers came to the checkpoint and started filming us on a cellphone. One of them mocked me. When my sister Iman asked them not to film us, one of them attacked her and she fell down. Meanwhile, the Border Police officers detained Muhammad. The settler who attacked Iman also tried to attack Muhammad, but the officers wouldn't let him. They led him to his car and asked both settlers to leave the area.
In a testimony he gave B'Tselem field researcher Manal al-Ja'bari, Muhammad Nidal a-Talhami (22) described how he and his mother were attacked:
Muhammad a-Talhami

After about half an hour of arguing with the soldiers, more cars drove up to the checkpoint. A young Palestinian got out of one and suggested to my mother and aunt that they get out of the car and he drive it through the checkpoint. He said the Border Police officers would let him. They agreed and got out, and he got into the car. My mother and aunt stood by the checkpoint. Meanwhile, two settlers arrived, one of them a huge man wearing shorts, and they started filming my mother and aunt on a cellphone.

The young man drove the car through the checkpoint, parked it by the roadside and handed the keys to my aunt. One of the Border Police officers ran over to them and tried to snatch the keys from her hand, but she put them in her pocket. The officer tried to take the keys out of her pocket, but we objected to him touching her and ask him to call a female officer. The officers got angry, jumped me and tried to handcuff me. At that moment, I saw the huge settler push my mother, and she fell down and screamed in pain. I tried to free myself from the Border Police officers, but they overpowered me after slamming me against the checkpoint fence, kicking me and hitting me. While the officers were holding me, the settler tried to attack me. I saw one of the officers talking to him, and then the settler got in his car and drove away. My mother was still on the ground and looked unconscious.

After a few minutes, an ambulance arrived and took my mother and aunt to hospital. Then the officers let me go and I went home. At around 3:00 A.M., I went to get my mother and aunt from the hospital in my aunt's car and brought them back to our house.

I later learned that the officer had demanded that my family not file a complaint against the settler in exchange for my release. I had bruises on the right side of my head, on my right arm and on other parts of my body from the beating I took from the officers while they were trying to control me.