In its prison facilities, Israel also holds Palestinians from the Gaza Strip. Some of the detainees and prisoners (hereafter: inmates) have been in custody since before Israel's 2005 withdrawal from Gaza, known as the "disengagement". According to figures provided by the Israel Prison Service (IPS), in November 2017 Israel was holding 358 prisoners and detainees from the Gaza Strip within its sovereign territory. Of these, 320 were incarcerated "on security grounds" and the other 38 "for criminal offenses", including 12 who allegedly entered Israel without a permit – one of them a boy under the age of 18.
Keeping residents of the Occupied Territories incarcerated within Israel forces their relatives to obtain permits in order to visit them. Over the years, Israel has imposed overwhelming obstacles on the families of inmates from Gaza. For example, after Hamas took control of the Gaza Strip in 2007, Israel banned all visits (with the backing of the High Court of Justice), reinstating them only five years later, in July 2012, and even then only partially:
At first, only visits by parents and spouses were reinstated. According to the Red Cross, these visits take place once every two months. In May 2013, Israel also began allowing children under the age of eight to visit incarcerated fathers, and has since gradually raised the age cutoff. According to the Red Cross, Israel now allows visits by children up to the age of 16. There is a blanket ban on visits from other relatives, including grandparents and siblings. The only exception is inmates whose parents have passed away and are unmarried, in which case siblings are allowed to visit, but only twice a year.
Palestinian inmates from the West Bank – regardless of whether they are being held on "security" or "criminal" charges – are subject to different terms. They are allowed to receive visits every two weeks, and may receive visits from any relative, including grandparents, siblings and children of any age.
Gazan inmates receive visits on Mondays, based on a rotation system between the prisons. Most of them are held in one of three prisons: Nafha, Eshel (Dekel) and Ramon, and inmates held in other prisons are brought to one of the three for visits. The visitors from Gaza have to set out before dawn, and they get home after sunset. Every inmate is allowed up to three visitors at a time. They are allowed to give the inmate certain articles of clothing, subject to applying for and receiving approval from the prison authorities, and three photographs. They are also allowed to deposit money in the inmate's canteen account, used for purchasing goods there. The visits are short, lasting 45 to 60 minutes. A glass partition separates the inmate from his visitors, and they communicate by phone. Children under the age of ten are allowed to hug their father. Since July 2017, pursuant to the last inmates' strike, Israel has permitted relatives to file a request to have their photograph taken with the prisoner.
The bulk of Gazans incarcerated in Israel are labeled as "security prisoners," a designation which means they are not allowed communicate with their families by phone. Given the stringent restrictions on visits, this makes life very difficult for their children, who grow up without their fathers; on their wives, who are left to raise the children alone; on their parents, whose children are far away; and on the siblings, who are not even allowed to visit.
In July 2017, Israel instituted another measure, denying 100 inmates who belong to Hamas any visits at all. This is a declared attempt to pressure the organization into freeing Israeli citizens Avera Mengistu and Hisham a-Sayed, and to give back the bodies of the soldiers Oron Shaul and Hadar Goldin.
Maintaining family ties is a fundamental human right, and prison inmates are no exception. Family visits are a right of detainees and prisoners, and visiting their relatives is a family's right. As Israel chose to incarcerate residents of Gaza in its sovereign territory, in breach of international law, it must allow their relatives to visit them without imposing arbitrary restrictions.
In the following testimonies, given to B'Tselem field researchers in Gaza, relatives of Gazans held in custody in Israel describe how the harsh restrictions on visiting their loved ones affect their lives.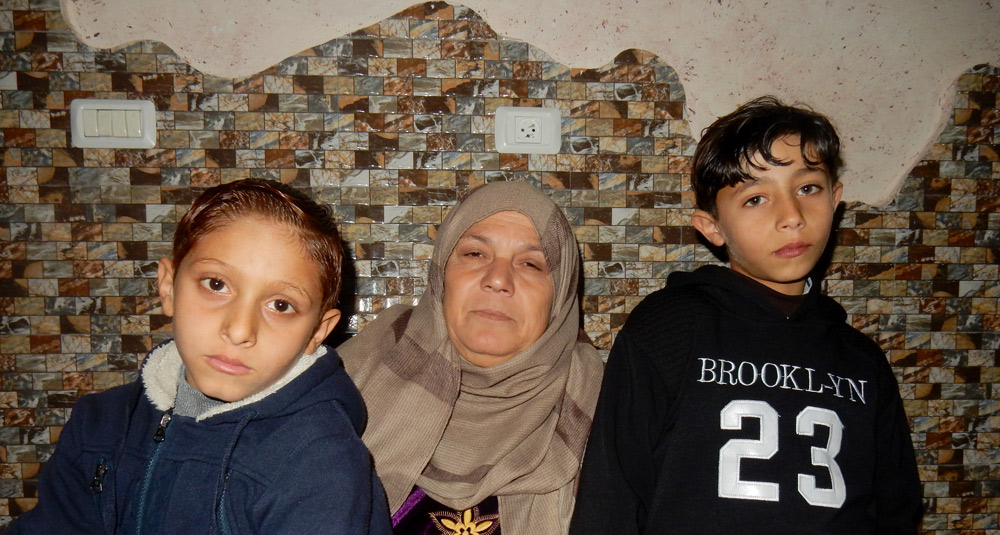 Najah Shmali, 60, a homemaker and widowed mother of seven from Gaza City, described in a testimony she gave B'Tselem field researcher Olfat al-Kurd on 5 December 2017 how difficult it is to visit her son: 
My son, Ahmad Shmali, was arrested in 2008. I learned of his arrest from the Red Cross. It's hard to describe how I felt when I got the news. I was very sad and so heartsick it hurt. After he was arrested, I got diabetes and started suffering from high blood pressure.

The court proceedings in Ahmad's case lasted two years. In 2010, the Israeli court sentenced him to 18 years in prison. It pained me so. I cried day and night. I felt worst for his little children – 'Obaydah, who is now 12, and 'Ali, who is now 9. He was sentenced to such a long time in prison.

In the first two years, until 2012, I couldn't see Ahmad at all because of Israel's policy after Hamas came to power in Gaza. I kept in touch with him via letters I would send through the Red Cross. Sometimes, we would send the prisoners messages on the TV program "Falastin", and also through several local radio stations that would come to cover the solidarity vigils we held in front of the Red Cross headquarters.

In 2012, after the 42-day strike by the prisoners in the Israeli prisons, Israel agreed to their demand for family visits. We also declared a hunger strike, in solidarity with our incarcerated sons.

When the Red Cross informed me that Israel had given us permission to visit my son for the first time, I couldn't sleep a wink all night, I was so excited and looked forward so much to seeing him. I couldn't believe I was about to see my son for the first time in four years. At the first visit, the IPS did not permit Ahmad's wife and kids come along and didn't allow us to bring him anything – not even food or clothes.

The journey to the prison begins at around 5:00 A.M. We all gather by the Red Cross headquarters and get on buses that take us to Erez Crossing. That's where the ordeal begins. At the checkpoint, they frisk us, sometimes including a full-body search in the nude. It's so embarrassing and unpleasant. Then we travel for two hours from Erez Crossing to Nafha Prison. The whole way, I can't wait to get there and see my son.

During the visit, I so much want to touch Ahmad and hold him, but I can't because there's a glass partition between us. Only once, when the prison warden allowed us to have our photo taken together inside the prison, I managed to give him a hug. When I hugged Ahmad, I just went to pieces. I couldn't control myself and I just cried and cried. It had been four years since I had hugged him. I can't describe how that felt – a mixture of sadness and joy. Ahmad couldn't hold back, either. He was so happy and cried a lot. I so much wanted that moment to go on and on, but it lasted only five minutes. I was happy that I got the chance to take a photo with my son and that I got to kiss and hug him.

I also suffer because we're allowed to visit him only once every two or three months. That's a very long time. I'd like to visit him once every two weeks, or once a month, and to be able to stay with him for more than an hour, so we have a bit more time together. I'd also like to be able to talk to him face to face without a sheet of glass between us.

After the first visit, Israel began allowing Ahmad's wife and kids to come along. My grandchildren are always asking about their father. They don't really know him. His little boy 'Ali was four months old when he was arrested, and the elder, 'Obaydah, was two. At first, 'Ali wouldn't go near Ahmad. He said, "That's not my father." I burst out crying, because my heart ached for my son and his children.

On some visits in the past, the prison authorities allowed my grandchildren to hug and kiss their father. Now they only allow them to talk to him via the speaker. Only three visitors are allowed at a time, so we can only take one of Ahmad's children with us on every visit. Still, I've been very glad lately because I can get to see my son. That is worth the horrible things I have to undergo at Erez Crossing, in the prison and during the visit, and even the long time between visits. Now I can't wait for the next visit and I miss Ahmad terribly. It could happen in January.

Every time I visit Ahmad, I deposit 3,000 shekels (approximately USD 875) in his canteen account. It's a huge expense for me, especially since I'm the sole provider for his wife and kids.

Winter is coming and it's very cold in the prison, but the authorities there don't allow us to bring Ahmad warm clothes and blankets.

Update: On 9 January 2018, Najah Shmali informed B'Tselem field researcher Olfat al-Kurd that she did not receive permission to join the visit that took place a day earlier, so her daughter-in-law and grandson went without her. According to Shamli, she was not told why her request had been denied.
Badi'a 'Anbar, 57, a widow and mother of eight from Deir al-Balah, described in a testimony she gave B'Tselem field researcher Khaled al-'Azayzeh on 21 December 2017 how hard it is to keep in touch with her son:
Badi'a 'Anbar with a picture of her son

On 31 May 2002 the Israeli army arrested my son Rami, who is now 38, at the Abu Huli checkpoint between the towns of Khan Yunis and Deir al-Balah. He was sentenced to 18 years in prison. Rami is married to Fidaa, who is now 36. She was pregnant when he was arrested and their daughter, Rim, was born in 2003. She's now 14 years old.

After Rami was arrested, I used to visit him in Ashkelon Prison. At first I went alone, because his wife was not listed on his ID card. Sometimes I took his daughter along. At the time, we were allowed to visit him once every two weeks. On the day of the visit I would wait for the Red Cross bus to drive us to Erez Crossing. At the checkpoint we'd be thoroughly searched and then driven to Ashkelon Prison, where we were searched again. Then they would take us into a large room to meet the prisoners. I was separated from my son by wire netting, and the visit would last about 45 minutes. They let us bring him a bit of food, like mulukhiyah, lemon, za'atar, garlic and mint, and also allowed us to bring him clothes in any color.  

Later on, they also allowed his wife to visit him. Sometimes I'd take along one of my other sons, Tareq and Haytham, who were still young, because siblings were allowed in back then. 

Things continued like that until 2007, and then Israel banned all visits to prisoners. For almost six years, they didn't let us see him. It was a very rough time. I had no idea how Rami was doing. We weren't even allowed to send him things, such as clothes, canteen money or food. 

Throughout that period, I took part in every possible activity for the prisoners, such as the Monday rallies outside the Red Cross headquarters in Gaza. I also applied to human rights organizations, to the Office of the UN High Commissioner for Human Rights (OHCHR) in Gaza and to all the organizations that promote prisoner affairs and asked them to do something, to pressure Israel into reinstating visits to the prisoners. 

In 2012 Israel reinstated the visits, but with new rules. Visits were allowed only once every two months, and the only ones allowed in were the prisoner's parents, his wife, and children under the age of eight. The prisoner's siblings and children over the age of eight were not allowed.  

The first time I was allowed to visit Rami after all those years the ban was in place, I went alone to Nafha Prison, where he was being held at the time. Rim was already more than eight years old, so she couldn't come. When I got there, I discovered that there was now a sheet of glass separating me from Rami – instead of the wire netting – and we had to talk through the phone. It was a very difficult reunion, because I saw that Rami had changed a lot in the years we hadn't been able to visit him. When I saw him, I burst out crying. They wouldn't let us bring him anything. The visits continued that way, once every two months. 

In late 2016 I was barred from visiting Rami. I checked with the Red Cross and was told that I wasn't allowed to visit him for security reasons. I cried and felt that it was a huge injustice, because I hadn't done anything to justify the refusal. 

Since then, I've filed request after request at the Red Cross headquarters in Gaza to visit him, but every time they tell me I've been refused on security grounds. Rami's wife and daughter visit him, because now older children are allowed to visit, while I stay home, waiting for them to come back. The minute they step through the door, I pepper them with questions about Rami. 

I haven't turned to any human rights organizations because during the long period in which we weren't allowed to visit, I went to them many times and they didn't help at all. 

We're now allowed to send Rami thin clothes in muted colors, such as brown, black and white. But we're not allowed to send him heavier or colorful clothes. A month ago, Rami was transferred from Nafha Prison to Ramon Prison. It's winter now, and it's cold there. No food is allowed in there, either. We're only allowed to send him money for the canteen – sometimes 1,200 shekels (approx. 350 USD), and sometimes more. They also let us buy him cigarettes inside the prison – about 60 packs. The cigarettes and clothes cost much more in the prison than they do in Gaza. I think they forbid us to send clothes and cigarettes to force the prisoners to buy these items at a higher price in the canteen. 
Sometimes we send Rami family photos, because he always asks after his brothers and sisters. We can only get him several photos at a time, which his wife brings on her visits. Rami rarely sends us photos of himself, because he needs permission from the prison authorities. 
Randa al-Masri, 22, from Gaza City, described her 13-year separation from her brother in a testimony she gave to B'Tselem field researcher Olfat al-Kurd on 14 December 2017:
Randa al-Masri with a picture of her brother 

My brother, Nabil al-Masri, who is now 35, was arrested at Abu Huli checkpoint in the Gaza Strip in 2004 and sentenced to 14 years in prison. The Red Cross notified us at the time that my brother had been arrested and was being held at Ketziot Prison in Israel. 

When my brother was arrested, I was about nine years old and he was 22. When we heard the news, we cried a lot. My parents took it very hard. Nabil was everything to me. He always played with me, took me shopping and spoiled me. Since he was arrested, I've only visited him twice – in 2005, when I was 10 years old. Since then, for 13 years, I haven't seen him. My parents are the only ones allowed to visit him in prison. I get updates about how he's doing only through their visits. 

From 2007 to 2012, the Israeli authorities banned all family visits and we had no idea how Nabil was doing. Those were five years of crying, heartache and longing. I've forgotten what he looks like. I see him only in photos. I've never stopped thinking about him and missing him. I'm jealous that my mom and dad do get to see him.

My parents say that the visits are too short to talk about everything and give Nabil all the regards we send and tell him how much we miss him. The prison guards don't let them take photos with him or hug him. 
I hope the Israeli authorities start allowing brothers and sisters to visit the prisoners held in Israel. It's very painful for me that I can't visit Nabil, and I cry over it often. I so much want to see him and very much hope I can come along on the next visit, in January. 
.
Madlen al-Haluli, 27, from Gaza City, described in a testimony she gave B'Tselem field researcher Olfat al-Kurd on 12 December 2017 how her brother's arrest and being cut off from him has affected her family: 
Madlen al-Haluli with a  picture of her  brother

My brother, Muaiad al-Haluli, who is now 30, was arrested on 9 September 2013 and sentenced to five years and eight months in prison for trying to enter Israel without a permit. He is currently being held in solitary confinement at Megiddo Prison. Muaiad has suffered from mental health issues since he was severely injured by a rocket in 2003. He underwent four operations in his abdomen and head and since then has been behaving oddly and saying things that are out of touch with reality. Our parents took him to psychologists, who examined him and said that he has mental and behavioral problems. 

In 2013, Muaiad disappeared. We searched for him for two weeks, and then the Red Cross informed us that he'd been arrested and interrogated at Ashkelon Prison (Shikma). My parents and I were shocked when we learned that he'd been arrested, especially because of the mental state he's been in since the injury.

We hired a Palestinian-Israeli lawyer and also consulted with a lawyer from the Al-Mezan Center for Human Rights, in the hope that they Muaiad would be released on the ground that he isn't responsible for his actions due to post-traumatic stress disorder. We were asked for the medical reports on his mental health and for his medication prescriptions. The Israeli court decided that he would be examined by a medical committee at Rimon Prison. The committee decided that Muaiad is responsible for his actions and words and is mentally competent. It was a terrible blow. 

After the arrest, our parents couldn't visit Muaiad. My father was refused because he'd been imprisoned in Israel in the past, and my mother suffered a stroke after the arrest and remained paralyzed down the left side of her body. Our only contact with Muaiad was through the lawyer, who updated us about his condition. We understood that he'd undergone intestinal surgery in prison due to a complication of the 2003 injury, which made us worry even more. Three months after Muaiad's arrest, my mother's condition deteriorated and she passed away. That year was terrible for us. 

In January 2015, the Red Cross notified us that my father was allowed to visit Muaiad, almost a year and a half after the arrest. We were thrilled, we'd missed him so much. I was on pins and needles, waiting for my father to come home, so I could hear how my brother was doing and stop worrying so much. 

In his first visit, my father told Muaiad that mom had died. My father said that the meeting was sad and that they cried a lot over her death. 
The Israeli authorities don't allow brothers and sisters to visit prisoners, so I can't see Muaiad. That's very hard. I haven't seen him for more than four years. On some of the times my father went to visit Muaiad, the prison management wouldn't let him see him. We have no idea why. 

About two and a half years ago, Muaiad assaulted some prison guards. Since then he's been held in isolation. That makes me very sad. We applied to the prison authorities via our lawyer to have him removed from solitary confinement, but they denied our request. 

I'm especially sad these days, because my father says that when he goes to visit, Muaiad's hands and legs are in chains and it's difficult for him to even hold the phone to talk to my father. My father says that it's very hard to see Muaiad tied up like that, for the 75 minutes of the visit, and that he can't hug him or even touch him. 

I hope I get to at least visit my brother Muaiad. I hope even more that they release him due to his mental condition. I hope the Israeli authorities allow my brother to have his photo taken together with my father on a visit, so I can see his face, which I'm starting to forget.