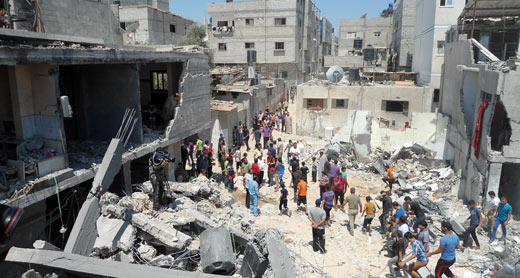 The ruins of the al-Haj family home. Photo by Muhammad Sa'id, B'Tselem, 10 July 2014.
On the night of 10 July 2014, shortly after 1:00 AM, an aircraft fired a missile at the al-Haj home in Khan Yunis R.C. The building collapsed and eight members of the family were killed – the parents, Mahmoud and Basemah al-Haj, and six of their children. Only two members of the family, in their twenties, survived, as they were not in the house during the attack: Yasser al-Haj, 25, and Fidaa, 27, who lives in her husband's home. In the explosion, some neighbors were also injured and nearby homes damaged, rendering some no longer habitable.
Muhammad Shahin, 44, a neighbor of the al-Haj family, described what happened next:
A little after 1:00 A.M., my family was already asleep. I was lying in bed watching the soccer World Cup semi-final between Argentina and Holland. Things were quiet outside. I didn't hear any airplanes in the sky. I was enjoying the game and waiting for suhoor – the last meal before each fast day of Ramadan.

Suddenly I heard a very loud blast. I felt my bed move and I almost flew out of it. It felt like the explosion had been in our house, or right next door. The windows flew out of their frames. The window by my head was simply torn out of place along with its frame, and fell in the middle of the room. I thank God it didn't hit my daughter, who was sleeping in the room. Thick smoke filled the house. The power didn't get cut off so there was light, but I could hardly see through the smoke. There was a feeling of dread throughout the house. I heard screaming from my neighbors' homes.

I made sure all my kids were okay and gathered them up to leave the house. I didn't yet understand which house had been bombed. We went outside and so did my brothers and other relatives who live nearby. We tried to figure out which house had been bombed and realized it wasn't any of our family's homes. It was the al-Haj family home, which is very close to ours.

We reached the house that had been bombed. I know it well. There was hardly anything left. It was totally destroyed. Bits of bodies were scattered on the road. The house next door to the al-Hajs belonged to the Shakshak family. It was also destroyed, but it wasn't a direct hit and they got out alive. Read full testimony 

* He gave his  testimony to Iyad Hadad on 11 July 2014, over the telephone.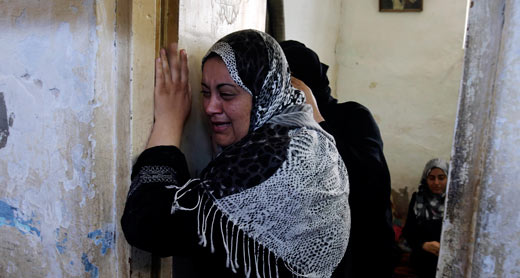 Woman mourns killing of al-Haj family, her relatives. Photo: Ibrahim Abu Mustafa, Reuters, 10 July 2014
Ahmad al-'Atamneh, 24, another neighbor of the Al-Haj family, also described the incident:
On Thursday, after 1:00 A.M., I was out on the first-floor porch of our house. The porch overlooks the house of our neighbors, the Al-Hajs. My wife and my baby boy Muhammad, who is a year old, were asleep in the bedroom, which is adjacent to the porch. I heard drones in the area and suddenly saw a red light everywhere. Then I heard a blast that forced me to the ground, and I lost consciousness for a little while. When I came to, I saw people all around me, shouting and calling for ambulances. My back was extremely painful. I heard some neighbors saying that one of the nearby houses had been bombed and that people had been wounded and killed. I asked for my wife and son, and a neighbor told me they were all right.

A few minutes later, several ambulances reached the scene and took me to Naser Hospital, south of the town of Khan Yunis. When I asked about my family, I was told that also my father, Muhammad Ahmad 'Abd al-Qader al-'Atmaneh, 51, had been wounded while he was sleeping by shards in his hands and feet, and that he was also in hospital. At around 8:00A.M. we were discharged.

When I got home I was surprised by the devastation of the whole area. The home of our neighbor Mahmoud had been completely demolished, and civil defense personnel and medics were searching the wreckage for a member of the family. A narrow street, about two meters wide, is all that separates my house from the one bombed. Our house was badly damaged and part of it was destroyed. Other neighbors' houses were also damaged because the houses are close together. Mere meters separate one house from another. It's a miracle we survived.

* He gave his  testimony to  Muhammad Sa'id on 30 August 2014.
The people killed in the incident:
The parents: Mahmoud Lutfi Mahmoud al-Haj, 51
Basemah 'Abd al-Qader Muhammad al-Haj, 51
Their children:
Najlaa Mahmoud Lutfi al-Haj, 29
Asmaa Mahmoud Lutfi al-Haj, 22
'Omar Mahmoud Lutfi al-Haj, 20
Tareq Mahmoud Lutfi al-Haj, 18
Sa'ed Mahmoud Lutfi al-Haj, 16
Fatmeh Mahmoud Lutfi al-Haj, 14