Muhammad Shahin, police officer 
On Thursday, 10 July 2014, A little after 1:00 A.M., my family was already asleep. I was lying in bed watching the soccer World Cup semi-final between Argentina and Holland. Things were quiet outside. I didn't hear any airplanes in the sky. I was enjoying the game and waiting for suhoor – the last meal before each fast day of Ramadan.
Suddenly I heard a very loud blast. I felt my bed move and I almost flew out of it. It felt like the explosion had been in our house, or right next door. The windows flew out of their frames. The window by my head was simply torn out of place along with its frame, and fell in the middle of the room. I thank God it didn't hit my daughter, who was sleeping in the room. Thick smoke filled the house. The power didn't get cut off so there was light, but I could hardly see through the smoke. There was a feeling of dread throughout the house. I heard screaming from my neighbors' homes.
I made sure all my kids were okay and gathered them up to leave the house. I didn't yet understand which house had been bombed. We went outside and so did my brothers and other relatives who live nearby. We tried to figure out which house had been bombed and realized it wasn't any of our family's homes. It was the al-Haj family home, which is very close to ours.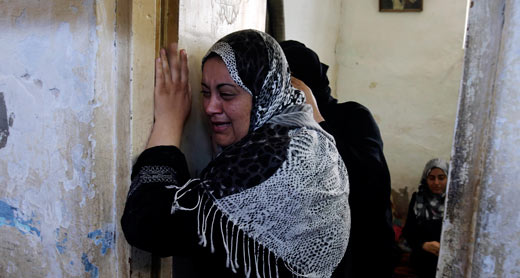 Woman mourns killing of al-Haj family, her relatives. Photo: Ibrahim Abu Mustafa, Reuters, 10 July 2014
We reached the house that had been bombed. I know it well. There was hardly anything left. It was totally destroyed. Bits of bodies were scattered on the road. The house next door to the al-Hajs belonged to the Shakshak family. It was also destroyed, but wasn't directly hit. The family was covered with debris, but they managed to get out alive. We started looking for survivors in the al-Haj family home. It was a terrible sight. I didn't think we could rescue anyone from under the debris. All we got out was body parts, people cut in half, torn limbs. Hands, feet, heads. Only one body was taken out almost whole – Basemah al-Haj, the mother, was only missing a leg.
We stopped searching after about two hours. We realized there was no more hope of finding survivors. At around 6:30 A.M., the search and collection of body parts resumed and lasted until evening.
Eight people from that family killed. Only one son survived – Yasser, who wasn't home at the time. The houses close to the al-Haj home were also damaged by the bombing. I'm standing talking to you now from the spot where the bomb landed, and the ruins are right in front of me. The bombing demolished two houses – the al-Haj and Shakshak family homes – and damaged seven other houses. Several neighbors were injured, including one woman who was seriously injured. Many of the children, the women and the elderly who live close by are in a state of shock. My kids haven't slept for two nights and are very anxious.
I don't understand why the al-Haj home was bombed. I know the family and especially Mahmud, the father. He's an older man who used to work as a laborer in Israel and is now unemployed. The whole neighborhood is shocked by the bombing and the criminal obliteration of that family.
Muhammad Hassan Muhammad Shahin, 44, married with seven children, lives in Khan Yunis Refugee Camp, the Gaza Strip. He works as a police officer in the Palestinian Police. His testimony was taken on 11 July 2014 by telephone by Iyad Hadad, B'Tselem's field-researcher in Ramallah.
Concerning testimonies about the "Protective Edge" campaign:
With the current military campaign ongoing, B'Tselem is taking testimony from Gaza residents, mainly by telephone. B'Tselem verifies, to the best of its ability, the reliability and precision of the information reported; nevertheless, in these circumstances, reports may be incomplete or contain errors. Given the urgency of informing the public about events in Gaza, B'Tselem has decided to publish the information now available. When the military campaign ends, B'Tselem will supplement these reports as needed.