On Wednesday, 5 December 2018, in the early morning hours, without notice, the Israeli military closed the iron gate on the old Deir Ibzi' road (Road 450), also known as al-'Einab Road. The military had installed the gate in the beginning of the second intifada. Road 450 reaches Road 463 and links villages northwest of Ramallah to the city. An IDF Spokesperson release stated that the road had been closed for "security reasons,  as part of efforts to address repeated violent robberies and a string of terror incidents at the site."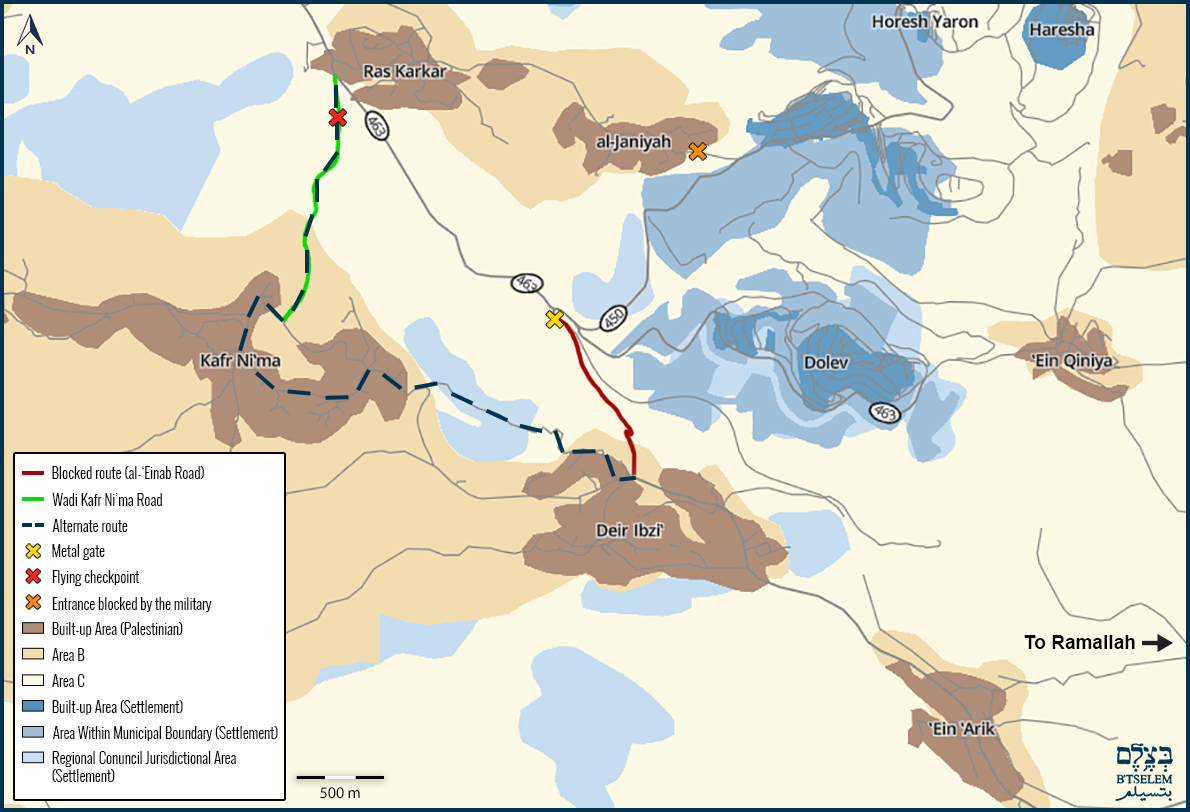 The gate remained closed for over a month. The military reopened it on the morning of 14 January 2019. The following day, 15 January, at around 7:30 P.M., the military closed the gate again for several hours. The road closure impacted tens of thousands of people who live in villages northwest of Ramallah. These include, among others, 'Ein 'Arik, Deir Ibzi', Kafr Ni'ma, Ras Karkar and al-Janiyah, whose southeastern exit the military closed off with concrete cubes years ago. The blockage also affected thousands of Palestinian laborers who have permits to work in Israel, hundreds of businesspeople who travel to Israel daily via the Ni'lin checkpoint, and the passage of trucks between Israel and the West Bank through the checkpoint. Locals were forced to use an alternate route that runs through Kafr Ni'ma in order to reach Road 463 (Wadi Kafr Ni'ma).
This made travel slower and more difficult, as the road is two kilometers longer, is narrow, treacherous and steep, and has no traffic signs or lighting. Although it is a two-way road, trucks and other large vehicles take up both lanes. Also, the road cannot be used on rainy days as the valley gets flooded. Travel on this road is at least half an hour longer and costs more.
In addition to all this, once or twice a week, the military set up a flying checkpoint at the entry point into this road, usually during the morning rush hour or evening commute.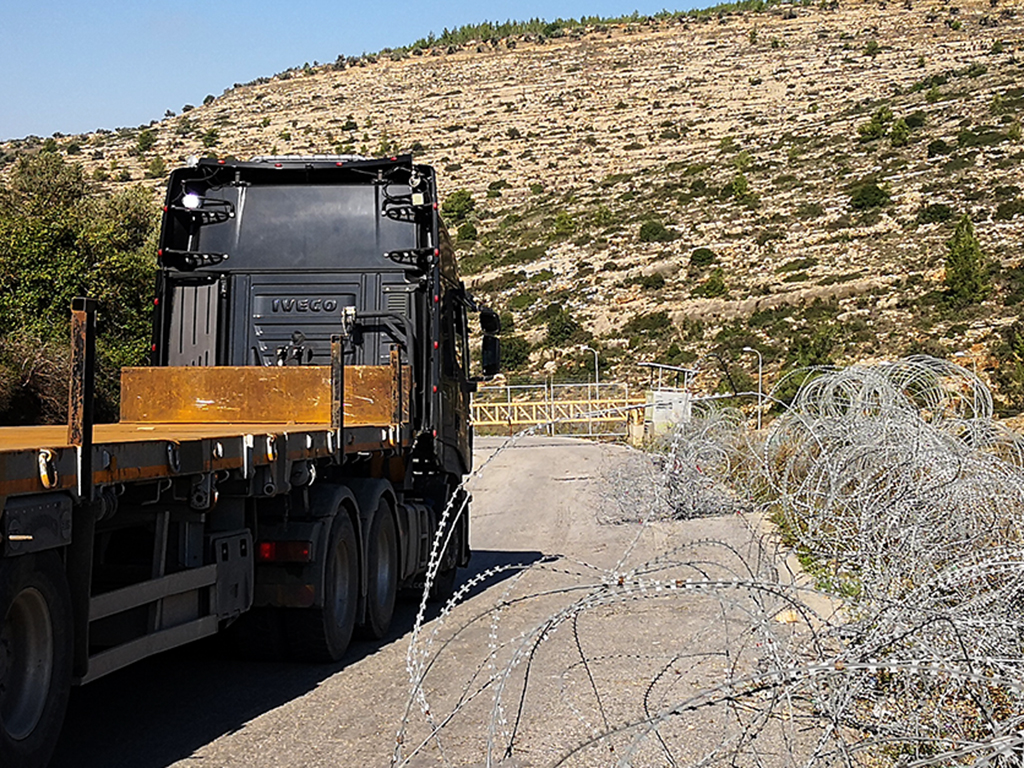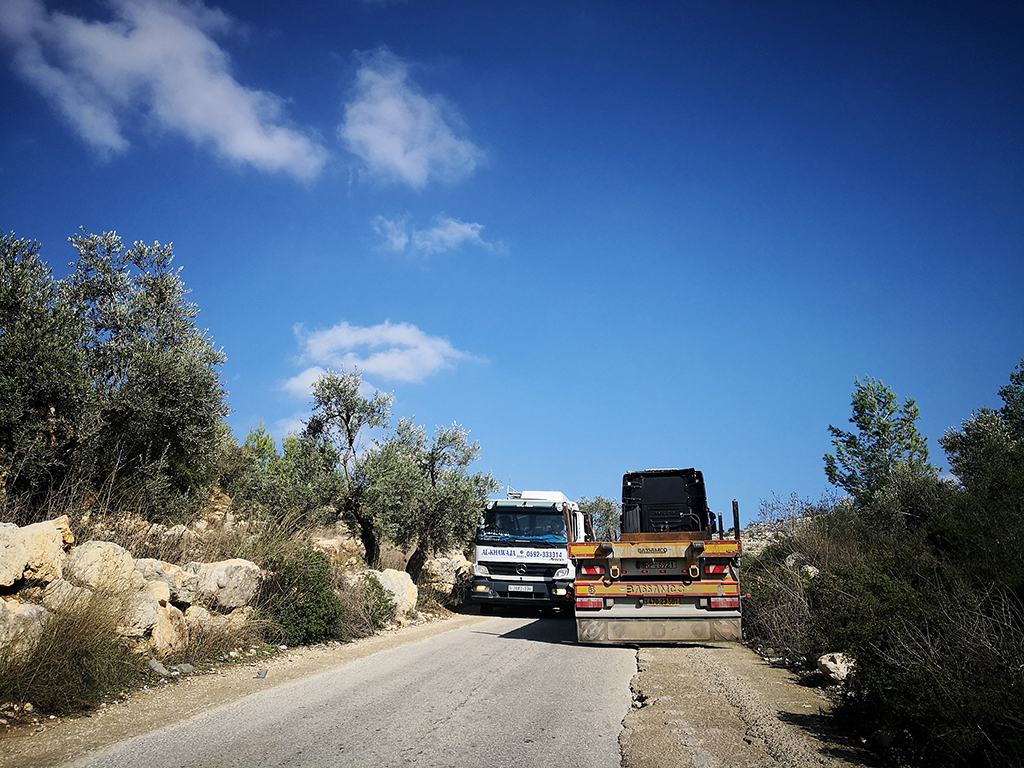 Blatantly overlooking the difficulties created by the road closure, the IDF Spokesperson flatly stated: "The village has other access roads that the residents use."Residents of the affected villages said the road closure also impacted family and social life. Many family gatherings were postponed and friends and relatives avoided visiting one another as the trip, which normally takes minutes, had been extended to anywhere between half an hour and an hour. Some 25 teachers who work in Ras Karkar and live in neighboring villages were late for work every day during the closure. This forced some classes to be held after regular working hours.
Restricting the movement of Palestinians in the West Bank is one of the main tools that Israel uses to enforce the occupation and control the Palestinian population. Of the many sweeping and arbitrary measures Israel employs, road closures have a particularly broad impact, severely disrupting the lives of many Palestinians. The closure  of Road 450  was unlawful and constituted deliberate collective punishment of residents whose only "crime" was living nearby. It deprived thousands of Palestinians of their freedom of movement and constituted abuse of military force.
In testimonies given to B'Tselem field researcher Iyad Hadad over the course of December 2018, residents described how the roadblock affected their lives:
On 11 December 2018, 'Ayed Mazlum, 54, a married father of six from al-Janiyah who is a maintenance worker with the Palestinian Water Authority, related:
'Ayed Mazlum. Photo courtesy of the witness

I usually use public transport to get to work in Ramallah every day. I travel through Ras Karkar and on to Deir Ibzi', 'Ein 'Arik, Bitunya and finally, Ramallah. It usually takes twenty minutes and costs about six shekels each way.

On Wednesday, 5 December 2018, the Israeli military closed the iron gate on the old Deir Ibzi' road, which we call al-'Einab Road. Ever since then, we've had to take an alternate route through Wadi Kafr Ni'ma. We go from al-Janiyah to Ras Karkar, then to Kafr Ni'ma and from there to Deir Ibzi', 'Ein 'Arik, Bitunya and then Ramallah. This road was made for farmers and is very narrow, only about five meters wide. It's not meant to be used by large, heavy vehicles. There are terrible traffic jams and sometimes accidents, too. Yesterday, at about 3:30 P.M., a truck collided with a car and everyone on the road was held up for more than two hours.

The road is also very dangerous. The shoulders aren't safe and cars slip on them. When it rains, the valley gets flooded and you have to wait for the water level to go down to get through in a car. There are no road signs and no lighting.

Sometimes the soldiers put up a flying checkpoint on this road, near the military watchtower across from Ras Karkar. That delays traffic even more and disrupts people's lives. There are no set times and we can't know when they'll suddenly put up the checkpoint.

It stays for an hour or two at a time and creates a traffic jam that lasts for hours, even after they take it down. They tend to do it during rush hour, between seven-thirty and eight in the morning, when people are on their way to work, and in the afternoon, when people are on their way home.

I work from eight in the morning until two in the afternoon. I'd hardly ever been late for work before they closed the road. Today, I got a formal reprimand from my manager with a warning about a salary deduction, because ever since the road was closed, I've been coming in half an hour or an hour late. This means my pay will be docked 200 to 300 shekels.

The damage isn't just financial. We suffer from using this road. It's very stressful because of the way the cars slide and the accidents.

There's no justification for closing the road. It's just harassment and collective punishment aimed at disrupting our lives and shaking us up.
On 10 December 2018, Sujud Muhammad, 24, a  teacher who lives with her husband in Yabrud and works at the girls' high school in Ras Karkar, related:
The distance from my village to the school is about 32 kilometers. There is no direct public transportat, so I have to go from Yabrud to Ramallah first, which costs 9.5 shekels and then from Ramallah to Ras Karkar, which costs 6 shekels.

It takes an hour each way even on ordinary days, and I have to get up early to make it to work on time. It's gotten worse since the road was blocked. It's a very unpleasant journey and it costs more, too. 

Ever since the closure, I've been at least half an hour late for work every day.  I have to give extra lessons on my own time to make up the material we skipped.

At the end of the work day, at one-forty, I wait fifteen to thirty minutes for the bus to Ramallah. It now takes half an hour to an hour to get there. In Ramallah, I wait for another bus to take me to my village. I get home at about four thirty or five in the evening, when it's already dark.

By the time I get home, I have no energy left to do anything – to cook or check my students' notebooks and essays. It's been very difficult. Only God knows what we're going through. I'm waiting for the term to end and hope we get through it okay.
On 9 December 2018, A.A., 23, an electrician from al-Janiyah, related:
I recently got a project near the a-Rihan neighborhood, about four kilometers north of Ramallah.  Normally, to get there I go through Ras Karkar, Deir Ibzi', Bitunya, Ramallah and from there to a-Rihan. I pick up laborers from al-Janiyah and Bir Zeit on the way. It takes half an hour at most. 

On Wednesday, 5 December 2018, we were surprised to find the iron gate on al-'Einab road, which connects Ras Karkar directly to Deir Ibzi', closed. We don't know why they closed it. We have no choice but to go through Kafr Ni'ma and from there to Deir Ibzi' and on to Bitunya and finally Ramallah and a-Rihan neighborhood. The difference between the two routes is only two or three kilometers, but it's a narrow, difficult road. There are a lot of traffic jams there, especially during rush hour when people are on their way to work and back. 

Driving on that section of Wadi Kafr Ni'ma takes at least thirty to forty-five minutes. If there is a traffic jam and big trucks go through, the delay can last hours. The road is also unsafe. There have been lots of accidents there.

Because of all these delays, a job I usually finish in a day now takes a day and a half or two. That makes it hard to meet schedules and causes losses. I'd say I'm losing about 300 shekels day. The laborers working with me are also losing money.

This situation is affecting me mentally. I'm constantly stressed, and it carries over into my relationships at work and with my family. I can't focus and I'm tense all the time.

I worry about coming across a truck on the Wadi Kafr Ni'ma road, because it could mean a delay of hours. This road closure is causing us a lot of grief.
On 10 December 2018, Arij As'id, 42, a married mother of four from Ramallah who is a school principal in Ras Karkar, said:
Arij As'id. Photo by Iyad Hadad, B'Tselem, 10 December 2018

I live in the al-Masyun neighborhood of Ramallah and I'm the principal of the school at Ras Karkar, which has 98 male students and 367 female students. The school has a staff of 28 teachers and office workers. Twelve of the teachers come from Ramallah or other places outside Ras Karkar.

On Wednesday, 5 December 2018, on my way to school on public transport with my youngest daughter, Talin, 7, who attends my school, I was surprised to see al-'Einab road closed off with the iron gate. The driver had to turn around and go through Kafr Ni'ma and from there to Ras Karkar. That takes half an hour to an hour instead of ten to fifteen minutes. 

It's a dangerous way, too. It doesn't meet minimum safety standards.Sometimes, the driver decides to charge more - for instance, if there's a particularly long delay on the way. The closure has disrupted our daily lives. Most of the teachers who live outside the village are held up and arrive late. Sometimes by fifteen minutes, sometimes by an hour. It disrupts the students' daily schedule and they miss some of the curriculum. On top of that, we all have to wake up earlier so as not to be late, which affects our children. Ever since the road was blocked, my daughter Talin has been getting up at 5:30 A.M. every day - an hour earlier than usual - to make it to school on time. We still get there fifteen to thirty minutes late.