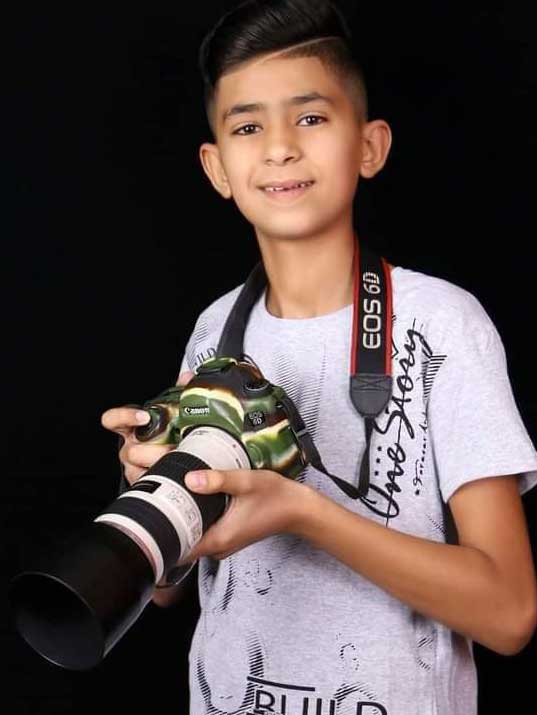 On Friday, 5 November 2021, at around 2:00 P.M., four teens from Askar Refugee Camp east of Nablus, including 15-year-old Muhammad Da'adas, set out towards the eastern outskirts of the village of Deir al-Hatab. They went to an area near the girls' school in the village, several kilometers east of the camp, where young Palestinians have been clashing with soldiers in recent weeks. When they arrived, there were some 25 soldiers spread out among the olive trees and about 30 Palestinian teens and young men throwing stones at them.
According to eyewitnesses, about 10 minutes after the four teens arrived, one of the soldiers was hit in the face by a stone, to which the stone-throwers responded with laughter and ridicule. Immediately afterwards, the witnesses related, the same soldier fired a single bullet that hit Muhammad Da'adas in the abdomen. He was taken to hospital in Nablus, where he was pronounced dead a short while later.
According to the eyewitnesses, the soldier's fatal shooting of 15-year old Muhammad Da'adas was not a response to mortal danger posed to any of the soldiers by the stone-throwers. Rather, it was a response to the stone that hit him, to being mocked, or both. As such, the shooting is yet another outcome of the open-fire policy employed by Israeli security forces in the West Bank. This policy views lethal gunfire at Palestinians as an almost routine act that does not require exceptional circumstances – such as immediate danger to life that cannot be otherwise averted.
According to media reports, the military has launched an MPIU investigation. Yet experience shows that this investigation— like hundreds of others launched by the military — will not achieve justice for Da'adas and his family, nor will it deter other soldiers. Its sole purpose is to whitewash the killing and enable the security forces to continue using lethal violence against Palestinians.
Below are testimonies that two of Da'adas' friends gave to B'Tselem field researcher Salma a-Deb'i two days after the incident:
Testimony of Hani Shalabi (14):
Hani Shalabi. Photo by Salma a-Deb'i, B'Tselem, 15 Nov. 2021

When we got to the school, I made my way towards the stone throwers. Muhammad and Jihad stayed back and stood watching what was happening from a distance. One of the teens threw a stone that hit one of two soldiers who were standing about 50 meters away from us in the face. I didn't see him bleeding, but he put his hand on his forehead. It must have hurt him. At that moment, everyone started laughing, and then the soldier fired a single bullet. I heard Muhammad groan in pain. I looked at him and saw him lying on the ground, bleeding from the stomach. Jihad shouted and called for help. One guy came, followed by another, and together they picked Muhammad up, carried him several dozen meters away and laid down him on the ground. We called an ambulance, but a woman who lives nearby heard us shouting, came out of the house and drove Muhammad to hospital.

I cried and said, "Hamuda (Muhammad's nickname) is gone." I had a feeling he would die. A kid from our camp came over and said to me, "Don't be scared. He'll pull through." We got in a taxi and went to the hospital. When we got there, Muhammad was in the operating room. I kept crying the whole time, especially when Muhamad's mother arrived, because he was her only son. He has two younger sisters. When we were told Muhammad was dead, I fainted. They put me in the ER to recover. When they let us see Muhammad to say goodbye, I kept on crying. I wanted to stay with him longer, but the room was full of his relatives and people from the camp who had come to the hospital.
Testimony of Jihad a-Sharqawi (14):
Jihad a-Sharqawi. Photo by Salma a-Deb'i, B'Tselem, 24 Nov. 2021

There were about 25 soldiers spread out behind the trees not far from us. We were about 35 young men and teens, mostly from the refugee camp and a few others from Deir al-Hatab. Some of the teens were throwing stones. About 50 meters away from us were two soldiers who weren't hiding. At one point, a stone hit one of them in the face. We all laughed and mocked him when it happened, and told him he was a coward.

In response, he immediately fired a single live bullet. I heard Muhammad groan in pain and asked him if he was joking. When I looked at him, I saw he'd put his hand on his stomach. He looked at me and raised his hand, and it was full of blood. I shouted and called for the guys to come help.

An older guy, maybe 20 years old, came and picked Muhammad up. Muhammad said, "I want my mother. Get my mother here." The guy said, "I'll bring her here," and then he ran with Muhammad in his arms. Another guy helped him.

I didn't know what to do. I was confused. I ran after them, shouting my head off, until we reached a road about 50 meters away. They laid Muhammad down on the road and I called an ambulance. I screamed over the phone and begged them to send an ambulance quickly.

Then I walked back to the refugee camp and from there, my cousin drove me to the hospital. When we got there, Muhammad was already in the operating room. In the evening, they announced he'd been killed. I cried a lot, hugged him and said goodbye to him. We've been friends for five years. I never expected something like this to happen. I thought he'd be treated and recover. It never occurred to me that he would leave us like that. That night, I couldn't sleep or eat. I felt my heart trembling.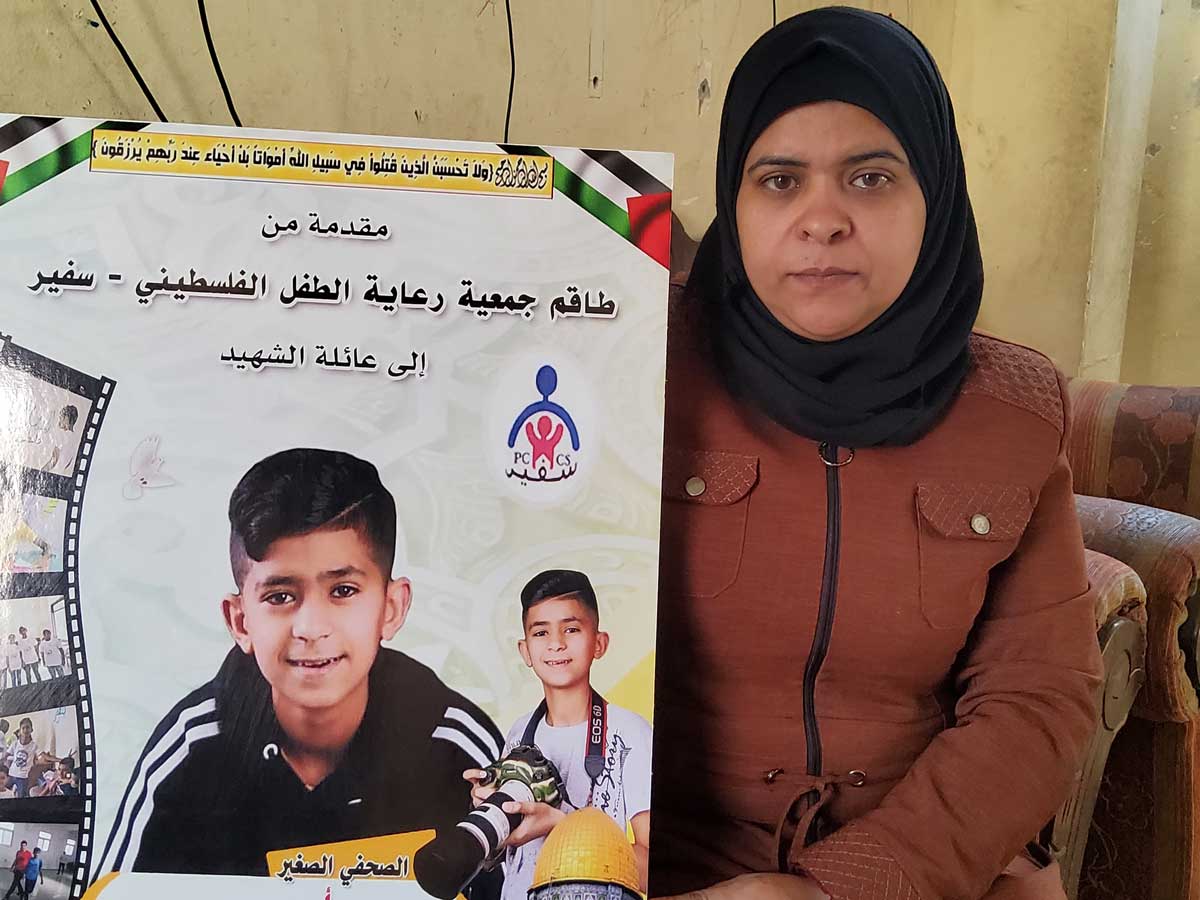 Muhammad's mother, Najlaa Da'adas (36), was notified by a relative that Muhammad had been injured and rushed to hospital with her husband. In a testimony she gave B'Tselem field researcher Salma a-Deb'i on 15 November 2021, she recounted what happened next:
When I got to Rafidya Hospital, my mother and Muhammad's paternal aunt were already there. The hospital was full of people from the camp. I didn't understand anything except that my son was injured and was in the operating room. I thought he was lightly injured and would recover. A relative of mine who lost his son in a work accident about a month ago came over to me, grabbed my hands and said, "You're a woman of faith. You have to draw courage and think of Muhammad as a martyr." I pulled my hands away and said, "No, don't say that." Then I fainted.

When I woke up, everyone was trying to calm me down and console me. I told them I was calm, but that I wanted to see my son now. They took me to the refrigerator in the morgue, and that's there I saw Muhammad. I cried and couldn't believe my eyes. He looked like a sleeping angel. I kissed him and touched his hair. My family said they wanted to leave.

When we got home, our relatives and friends were there. I understood he was injured in the village of Deir al-Hatab, near the school, and that it wasn't the first time he'd been there. His father and I knew nothing about it. He went without telling us, because he was afraid we wouldn't allow him to go. The next morning, I asked to see Muhammad again. In the morgue, I recited verses from the Quran, kissed him and left. I came home alone, without my son, my beloved, my friend.

Nothing can express how I feel. Muhammad wasn't only a son, he was a friend and a beautiful dream. Ever since he was a little boy, he was smart and ambitious, with a good heart, and he loved people. He wanted to be a journalist. Just recently, he took a photography course and asked me to buy him a camera. I promised to buy him one when our financial situation improved, because it cost more than NIS 2,400 (~774 USD). He told me it was on sale, but a week ago he texted me that it had fallen through. At home, I asked him what had fallen through and he said, "The camera, the sale is over, I missed my chance to get it." He was sad. I told him that when things were better I'd buy him a camera, and said he knew I make 600 NIS (~194 USD) a month as a store salesperson in the camp. Now, since he's been killed, my husband has also lost his job because his permit to work in Israel was revoked. They said it was for security reasons.

Six days after Muhammad died, my father passed away. I took the news of his death so calmly that it surprised everyone. Since my son was martyred, I can no longer feel the pain of loss. There is no more pain after the pain over my son's death. I don't know how I can carry on living without him.