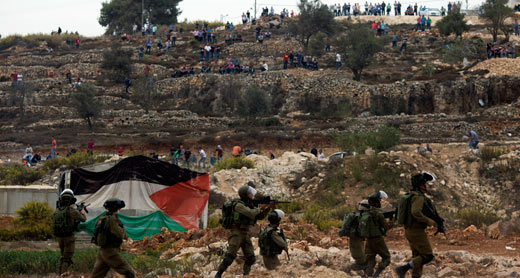 Protest near DCO Checkpoint, Ramallah area, 23 Oct. 2015. Photo by Oren Ziv, Activestills.org
Since the current round of violence began in early October, B'Tselem has been following with concern the sharp rise in the number of Palestinian casualties hit by Israeli gunfire during demonstrations. B'Tselem's investigation shows that, to date, five Palestinians have been killed by shots fired by Israeli security forces in the course of demonstrations and clashes in the West Bank (excluding East Jerusalem). Hundreds more have been injured. The proportion of individuals hit by live ammunition is particularly high. In addition, an unusually high proportion of those injured by rubber-coated metal bullets were hit in the upper body, placing their lives in jeopardy, despite open-fire orders restricting shooting to the lower extremities.
Monitoring by B'Tselem's field researchers shows that most of the clashes took place at the nearly daily demonstrations in the al-Birah area, near the DCO Checkpoint (by the settlement of Beit El), at the Huwarah Checkpoint south of Nablus, and in the city of Hebron. At most of the demonstrations and clashes, some protesters used violence, primarily in the form of throwing stones – and sometimes Molotov cocktails – at security forces. Israeli security forces employed diverse crowd control weapons, including the firing of teargas canisters and rubber-coated metal bullets, and even the use (sometimes intensive) of live ammunition.
B'Tselem researcher Iyad Hadad carried out inquiries regarding the Ramallah area, finding that during the period 1-24 October at least 149 people were injured by live fire at demonstrations near the DCO Checkpoint and at other locations in in the area; at least 154 people were injured by rubber-coated metal bullets. In addition, at least two people sustained injuries when they were hit by a teargas canister. Although the military's orders prohibit firing rubber-coated metal bullets at the upper body, at least 58 of the individuals injured this type of bullet were hit in the upper body. In two separate incidents near the DCO Checkpoint on 9 October 2015, two Palestinian youths each lost an eye due to injury by this ammunition.
In the West Bank as a whole (excluding East Jerusalem), five Palestinians were killed during this period at protests and clashes with Israeli security forces. Four were killed by live gunfire, including 0.22 caliber bullets (commonly known as "Two-Two"), and one person was killed by a rubber-coated metal bullet, according to the following breakdown: one person was killed by a rubber-coated metal bullet in the Hebron area; one person was killed by live fire in the Tulkarm area; two people were killed by live fire in the Bethlehem area – at least one of whom, a 13-year-old minor, was killed by 0.22 caliber ammunition; and one person was killed by live fire in the Nablus area.
A demonstration on 11 October 2015 at Huwarah Checkpoint south of Nablus was met with exceptional force by Israeli security personnel and resulted in an exceptionally large number of casualties. An investigation by B'Tselem researcher Salma a-Deb'i found that at this demonstration alone, 72 people were injured – 68 by live fire and just four by rubber-coated metal bullets. One of the casualties was a journalist who was hit in the leg by live gunfire. Four of those injured by live gunfire sustained serious injuries.
The large number of injuries caused by live gunfire, including 0.22 caliber ammunition, and the high proportion of those injured in the upper body by rubber-coated metal bullets during demonstrations in the area raises concern that security forces are employing excessive force in responding to demonstrations and clashes in the West Bank. The figures suggest that live ammunition is being used even in circumstances where no one is in mortal danger and despite the fact that security force personnel are equipped with alternative means of crowd control. Such use is disproportionate and unlawful.
B'Tselem's investigations also show that there has been a gradual erosion of the restrictions imposed on the use of 0.22 caliber ammunition by security forces during demonstrations and clashes with Palestinians in the West Bank. At many flashpoints for demonstrations, snipers now regularly fire 0.22 bullets at Palestinians, even in circumstances that are not life-threatening and are a far cry from those in which the law permits the use of live fire.
Journalist Salah a-Din Ziad injured by live gunfire while covering a protest near Qalandia Checkpoint, 6 Oct. 2015
On 6 Oct. 2015, Salah a-Din Ziad, a 39-year-old journalist, was hit in the stomach by a live bullet while he was documenting clashes near Qalandia Checkpoint.
The demonstration began with a procession of about 200 people that set out at around 1:00 P.M. from Qalandia Refugee Camp, heading toward the checkpoint. Dozens of soldiers and Border Police waited for the procession, and as it neared the checkpoint they began to fire crowd control means at the demonstrators. The protesters responded by throwing stones and a confrontation ensued. Border Police officers took up positions in an adjacent building under construction, and demonstrators threw an intensive barrage of stones at them. At a certain point some of the Border Police officers retreated, intensifying the severity of the clashes, which in turn led to the retreat of the remaining officers, under cover of additional security force personnel. A group of journalists stood near the building.
Salah a-Din Ziad, who was a part of this group of journalists, recounted the incident to B'Tselem researcher Iyad Hadad:
About fifteen minutes after the clashes broke out, I was standing with five other journalists 30 or 40 meters southeast of the building where six Border Police officers had taken up positions. The officers were firing rubber-coated metal bullets at the demonstrators. They pointed their weapons at us several times and threatened to shoot us if we don't leave, but we didn't comply. At a certain point, youths attacked the officers with stones from the north. For about 10 minutes the officers fired at them intensively, using rubber-coated metal bullets. Then four of the officers left the building. When the youths realized there were only two officers left in the building, they stepped up their stone throwing. The two officers were forced to retreat from the building, and they left firing an intensive volley of rubber-coated metal all the while. Another detail of soldiers provided cover, and also fired. I heard live gunfire as well, but I couldn't tell where it was coming from or how many shots were fired.

Things calmed down a bit and I began to move away together with another journalist, Khaled al-Faqih. As we were walking away, I felt something strike the left side of my stomach. I felt something hot in my stomach and I was very scared. I couldn't keep on walking. Khaled and some youths who were nearby carried me to an ambulance that was in the area, and I was taken from there to hospital in Ramallah. They took me into the ER and decided to operate immediately. The operation lasted an hour and a half. They removed the live bullet and repaired the wall of my small intestine. I spent four days in hospital and was then discharged home but am being kept under observation.
Dalia Nassar hit by live gunfire at a protest near DCO Checkpoint, 6 Oct. 2015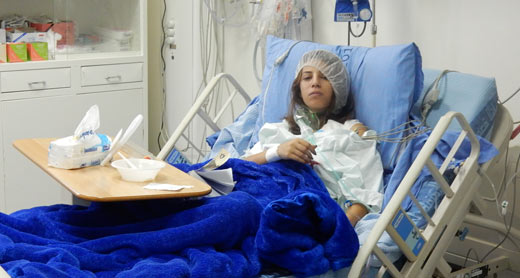 Dalia Nassar in hospitalin Ramallah. Photo by Iyad Hadad, B'Tselem, 7 Oct. 2015
On the same day that Ziad was injured, Dalia Nassar, 24, was seriously injured during a demonstration on the road leading from al-Birah to the DCO Checkpoint. Nassar was hit by a live bullet that penetrated her lung.
Sami Jaradat, a freelance photo journalist, spoke with B'Tselem researcher Iyad Hadad and recounted the circumstances in which Nassar was shot:
On Tuesday, 6 October 2015, I was documenting clashes at the entrance to al-Birah, near the DCO Checkpoint. At about 4:15 P.M. things were relatively calm. A few dozen demonstrators were gathered by the City Inn roundabout, and five soldiers stood about 60-70 meters away. One of the soldiers had a "Two-Two" rifle. The soldiers were standing behind an earth mound, and in front of them the road was blocked by barrels and burning tires.

I was standing close to the demonstrators. Dalia Nassar, whom I know, was among them. She was standing about 10-15 meters away from me, closer to the soldiers. A masked young man moved toward the soldiers, passed Dalia, and throw stones at them. I'd estimate he was about 40 or 50 meters from them. Suddenly I heard a single shot and saw the youth jump and recoil. I thought he had been hit by the shot and turned my camera toward him, but then I was surprised to realize that Dalia had been hit and had fallen to the ground. I was very surprised because I hadn't heard a second shot. I guess they fired at her with the "Two-Two" rifle, which sometimes doesn't make a noise. Then, right away, I saw youths who came from behind us pick up Dalia up and remove her from the scene.